In all the bars in Philadelphia, we had no idea we'd be drinking so much gin at a mezcal bar. That is, until we walked into Encima.
As we know by now, Philadelphia's cocktail scene is here to stay. The bartenders here are a small tight-knit community of people who have been working hard for the past 10 or so years to put their city on the cocktail map. Talk to anyone in the scene here and they'll mention that one of the first bars to kickstart Philly's cocktail resurgence was The Franklin, a serious, cocktail-forward speak that to this day draws a line of fans from places far away. And upstairs from The Franklin, run by the same people and featuring the same innovation and attention to detail is Encima, where we now sit.
"This space was always supposed to be a rolling concept," bartender Dan Suro explains to us, as he starts to make not one, but two, original Brockmans cocktails. It was a dive, a space for people to have a "citywide"—or, a beer-and-a-shot, a Philly staple—as they wait for a seat in the cocktail bar below. At some point it was transformed into a tiki bar, and that's where Dan got his start making drinks. But that was after growing up in his father's restaurant, leaving the business altogether, and then returning to the industry after deciding that he wanted to give the bar a go.
"At my dad's restaurant I was too nervous to try bartending; there were guys there that had been doing this for 20 years. But after I left, I never stopped going back." His father owns a tequila and mezcal brand and the owner of Franklin Mortgage would go down to Mexico with Dan's father and sometimes Dan. On one of those trips, the owner mentioned he needed barbacks and door guys so Dan decided to take the job. He was back in.
"Barbacking downstairs is the best training. Coming in, like me, not knowing how to make craft cocktails at all, you can barback downstairs for 6 months and have the skills to bartend anywhere in the city."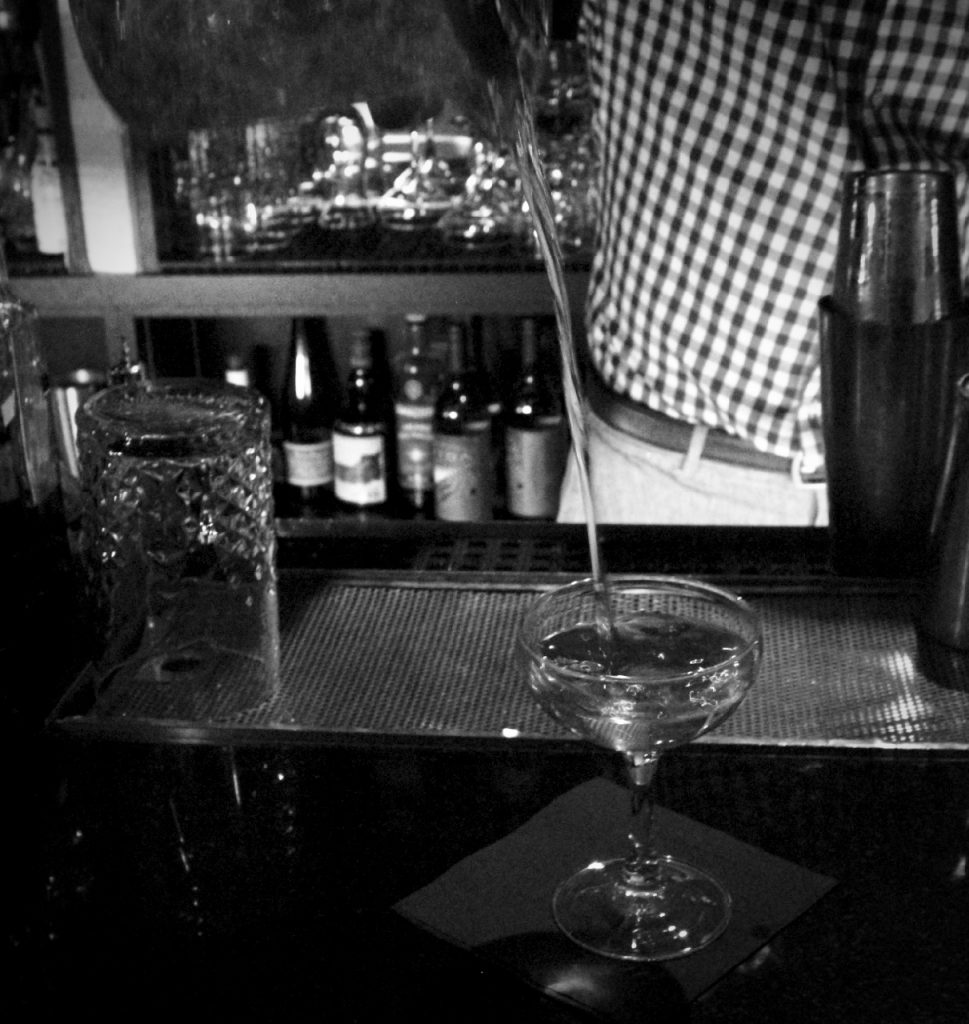 Then they turned the bar upstairs, what is now Encima, into a tiki bar, and Dan got to move to bartender and hone his skills even further.
"Tiki is what made me be able to handle myself when it's busy or shitty," he says. "Because tiki is really complicated. That's the type of learner I am, just throw me into the tiki madness."
As we mentioned earlier, Dan brought us here to make two Brockmans drinks. The first, "The Handshake is Dead," is a stiff tequila martini softened with Brockmans and Cocchi Americano.
"My coworker was playing around with a reposado tequila martini, and I suggested he try to split it with Brockmans, and it was like, holy shit."
For the next drink, "Gowns, Beautiful Gowns," Dan also did a split base with Brockmans and agave, but this time with tequila. A split base, for the unfamiliar, means that instead of using just one "base" liquor like gin, or one specific gin, you "split" the "base" with another liquor or another brand of the same liquor.
"I often use split bases, mostly because everyone's done everything already, so it's a way to make it a little more original. Also, when this was a tiki bar, we split based the rums all the time. And then I started splitting rum with mezcal. Then I thought, why not try splitting mezcal with Brockmans?"
While mezcal and gin may seem a little bit out there, the result is staggering. Resembling tiki, this drink features cinnamon tincture, walnut liqueur, and blueberry syrup, three flavours that work so well with the spice, fruit, and richness in Brockmans. The mezcal then gives it smoke and a subtle fruitiness, and the entire thing is far greater than the sum of its parts.
Philly has always impressed us, but the two drinks Dan has put forward at Encima, this dark, intimate mezcal bar, are next level. The scene may have come a long way since Franklin Mortgage Co blazed the cocktail trail all those years ago, but this space still has quite a few tricks up its sleeve.
The Handshake is Dead
by Dan Suro
Ingredients
.75 oz/20 ml Brockmans Gin
1.5 oz/40 ml reposado tequila
.5 oz/15 ml Cocchi Americano
1 teaspoon Maraschino liqueur
2 dashes orange bitters
2 dashes absinthe
Method
Add all ingredients to a mixing glass filled with ice.
Stir until very cold, about 15 seconds.
Strain into a chilled coupe glass.
Gowns, Beautiful Gowns
by Dan Suro
Ingredients
1 oz/30 ml Brockmans Gin
1 oz/30 ml mezcal
1 teaspoon walnut liqueur
.75 oz/40 ml lime juice
.5 oz/15 ml blueberry syrup
.25 oz/7 ml demerara syrup
4 dashes cinnamon tincture
4 dashes Angostura bitters
2 dashes orange bitters
Method
Add all ingredients to a shaker along with a small handful of crushed or pebble ice.
Shake vigourously for just a few seconds, until the ice has incorporated.
Pour without straining into a highball or Collins glass filled with ice.
Slowly top with seltzer, and garnish with a lemon twist.