When we first walk into Taproom on 19th, a proper wee pub in South Philadelphia, the first thing we feel is the familiarity. The dark, worn-in wood, the colourful tap handles, the stickers and "best of luck!" dollar bills plastered around the back bar. It's the early afternoon, not a typical time for drinkers to be out, but there are already a few friendly faces scattered across the bar, all of whom know each other, and all of whom are not shy. We're there to chat with Brian Padgett, the blue-haired gentleman who runs the place, but as we do, his buddies chime in. Bartenders themselves, they too have a lot to say about Philadelphia drinking culture, a scene with a rich history, many, many stories, and a lot of neighbourhood pride.
Although Philadelphia is quite a small city, its varying immigrant communities have laid down deep roots. The neighborhood we're in, Gerard Estates, Brian lovingly calls "Gerard O'States" because of its longstanding Irish population. Seamus, our local expert on bars guiding us around Philly, who is South Philadelphia born and raised, explains that these neighborhoods may not cover much ground, but are tightknit and change the complexion of the city depending on how many blocks you walk and in which direction.
"I live like three houses down," says Brian. "Two puffs of a cigarette away. But you walk a few more blocks and the neighbourhood completely changes."
We ask Brian, as we tend to do, how he got into bartending.
"I've been working in bars since I was 15, 16 years old," Brian says. "My dad owned a bar for a while, so I washed dishes, checked IDs, barbacked—you know, the shitty work—forever. Took me a decade to get behind a bar."
Not actually from Philadelphia proper—which, we're learning, is rare!—Brian grew up in the nearby Jersey Shore, and came to Philadelphia for university.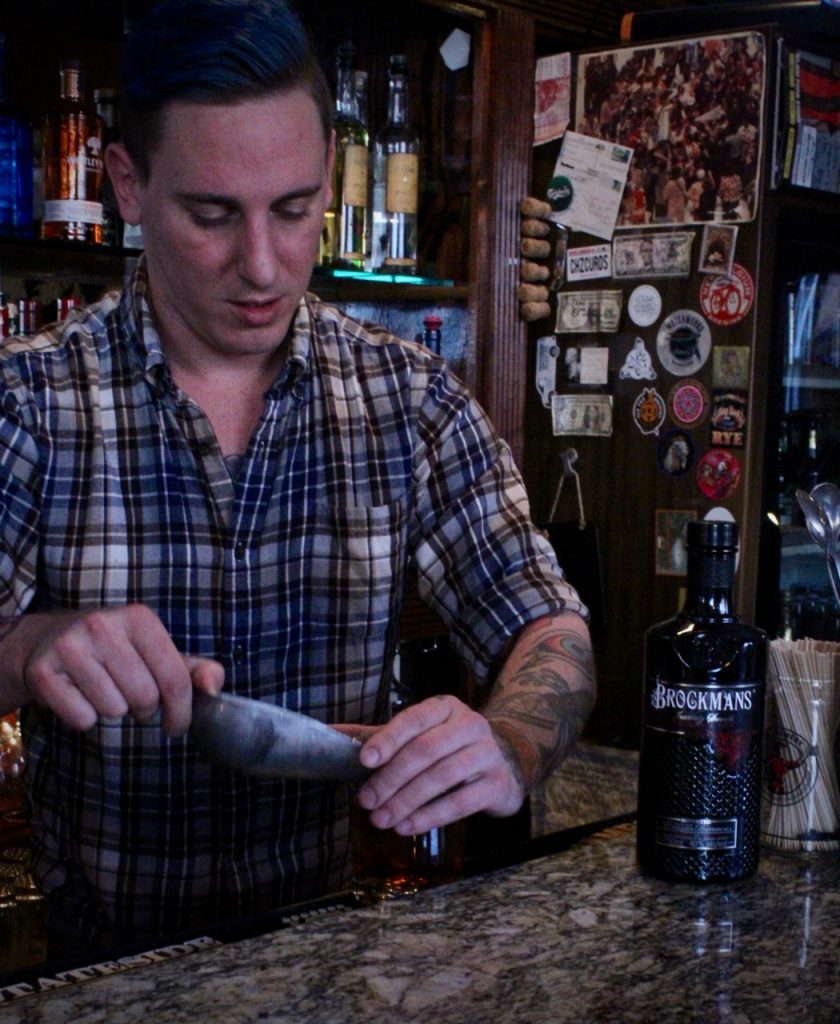 "I dropped out immediately," he says, chuckling. "I never wanted to go to college. My parents said I had to, so I did, and then I left. Why am I getting up early to go class when I could be staying up later and working?" The people around him vocalize their approval. "And now I make more money than my lawyer brother does, and he's $150,000 dollars in debt. And I have a house."
Although, slowly, society is starting to accept that tending and running bars is a "real," viable career, everyone at the bar chimes in with a story of how the people around them still don't take their work seriously.
"The stigma's not fully gone, not everywhere. Definitely not just outside of the city," one of them says.
"My old roommate asked me, this year, 'What are your plans for the future? When are you gonna be done bartending?'" adds another. "And I'm like, 'You've been out of a job for six months, with your degree!'"
Needless to say, the passion amongst Philadelphia's bartenders is strong. Although Taproom is clearly a beer-heavy place, the cocktails sell well, and that's in large part due to city-wide interest in well-made cocktails, no matter the venue. For example, Brian likes to serve Brockmans in a Negroni—swapping out a slightly less overpowering amaro for Campari—and although that's typically seen as an industry-leaning cocktail, its popularity has certainly spread outside of the industry. Brian confirms this, adding that no matter where you go, "everyone knows how to make a Negroni really well."
Brockmans Negroni
(with a slight Brian Padgett twist!)
Ingredients
1 oz/30 ml Brockmans Gin
1 oz/30 ml Amero Amaro (a grape-based, softer amaro)
1 oz/30 ml sweet vermouth
Method
Add all ingredients to a mixing glass filled with ice.
Stir until quite cold.
Strain over fresh ice into rocks glass and garnish with a flaming orange peel.