When we think of winter, we think of comforting, rich risotto… and of course, gin. (In our opinion, Brockmans should be enjoyed year-round…)
Imagine our excitement when Megan Neveu, of Olives N' Thyme, came up with a recipe combining both risotto and gin: her Brockmans Parsnip Risotto.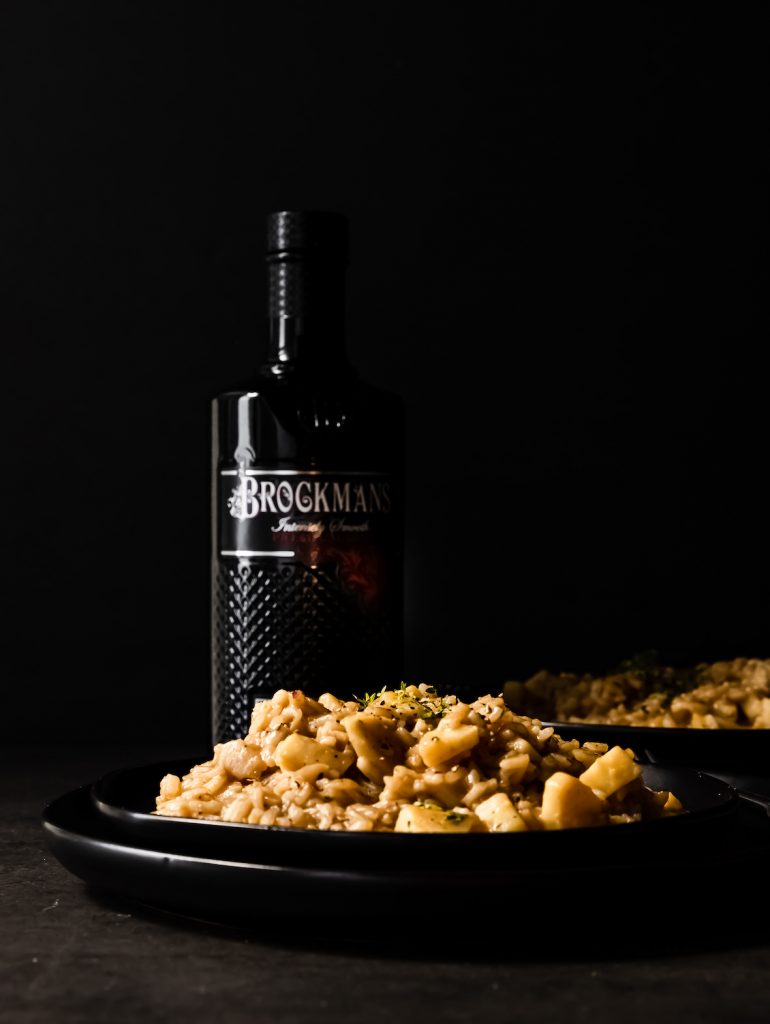 Megan is no stranger to elevating simple recipes: in fact, she describes her food blog, Olives N' Thyme, as 'easy, elevated recipes for the home cook', which pairs perfectly with her talent for food photography.
One look at her Instagram will leave you salivating, so tread with caution… there's something about her delicious recipes combined with her crisp, recipe-book ready food photography that can provoke instant hunger.
Think browned butter pumpkin bars, honey roasted carrots with burrata, cauliflower hommus, and prosecco popsicles to name a few…
It's the perfect mix of savoury and sweet. Much like this Brockmans Gin Parsnip Risotto she's created…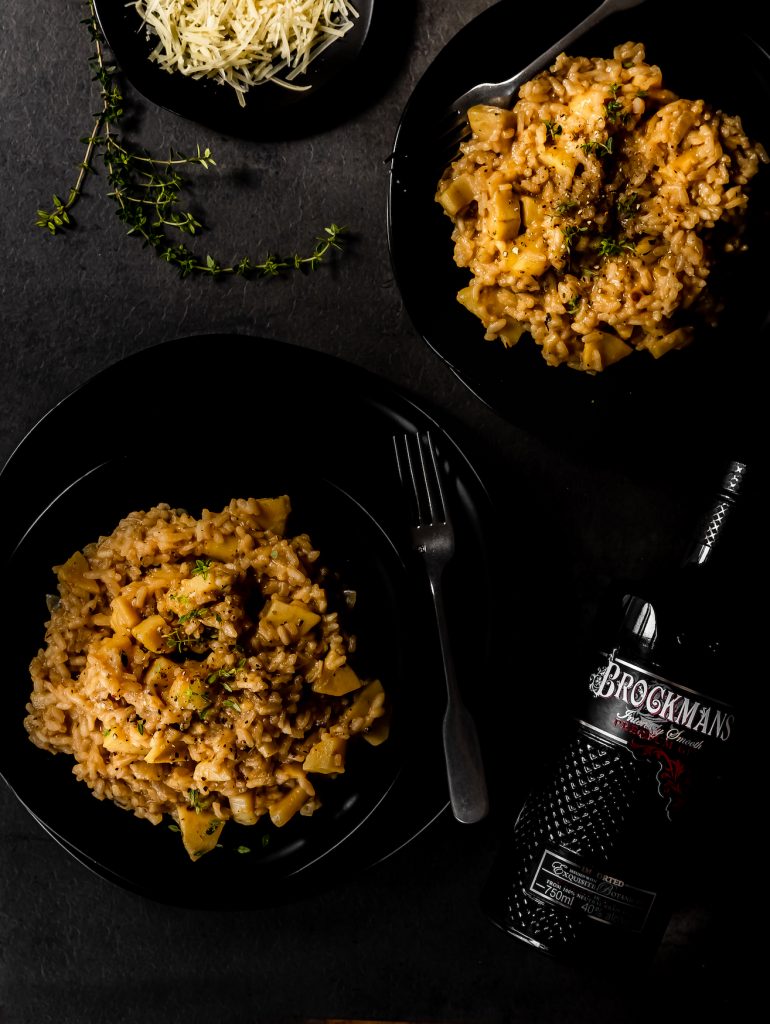 BROCKMANS PARSNIP RISOTTO
By Megan Neveu. Serves 4-6.
INGREDIENTS:
3 tbsp. unsalted butter
½ large onion, diced
2-3 large parsnips, cleaned and diced
1 tsp herb de Provence
1 cup/175g (uncooked) arborio rice
½ cup/125ml Brockmans Gin
4-6 cup/950ml vegetable or chicken stock
¼ cup/125g grated parmesan cheese
1 tbsp fresh thyme, roughly chopped (optional, for topping)
Salt and pepper to taste
METHOD:
In a small saucepan, heat stock to simmer over medium heat. Reduce heat so stock is hot, but not simmering.
In a separate heavy-bottom saucepan, heat 2 tbsp butter over medium heat. Once the butter has melted, add diced onions. Sauté onions until very fragrant and translucent, about 3-4 minutes.
Add diced parsnips (smaller pieces are better in this dish) and herbs and cook until parsnips are tender, about 10 minutes.
Add arborio rice to the butter, onions, and parsnips, stirring briskly to fully coat the grains in the melted butter. Sauté for another 30 seconds to 1 minute, until there is a nutty aroma. Be careful not to burn the rice. Add Brockmans Gin and cook while stirring until the liquid is fully absorbed.
Add a full ladle (about 1 cup) of hot stock to the rice and stir until the liquid is fully absorbed. When the rice appears almost dry, add another cup of broth. Repeat a cup at a time until the rice is tender but still firm, without being crunchy. This takes 20-30 minutes using 4 -6 cups of stock.
To finish, remove pan from heat, stir in remaining butter and parmesan cheese. Season to taste with salt and pepper. Top with fresh thyme.