The Bad Old Days in Ridgewood, Queens is an unassuming place. On a quiet, residential corner, so far into the young, hip neighbourhood of Bushwick, Brooklyn that it's actually no longer Brooklyn but Queens, one not in the know might walk right by. But those in the know know that inside is a cosy, inviting, eclectically-decorated bar with an everybody-knows-your-name feeling and an impressive array of craft cocktails. On a Monday we walk in to have a chat with bartender Dillon Locke, who is dressed more fashionably than any other bartender we have ever met in our many years drinking gin with bartenders: He is wearing a silver sequined top, a plaid blazer adorned with several sparkling broaches, and shiny silver dress shoes.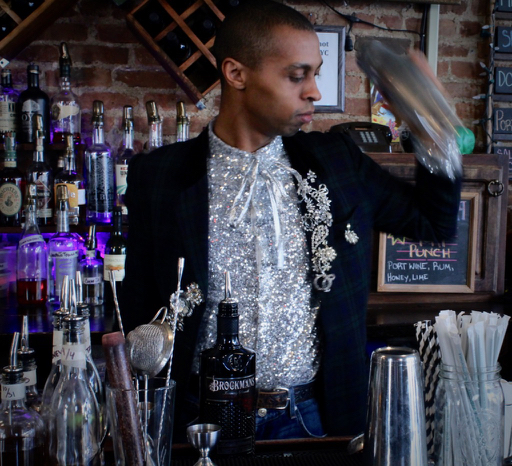 "This is just a Monday, actually," he says, coolly, after we ask him if he's dressed up for us.
Dillon then takes us through his journey to this bar, from growing up in a military family and thus living in many places, from Alaska to Turkey to Colorado. Two years ago he decided it was time to move to New York, as after art school he had "no obligation to the state of Colorado anymore."
Upon arriving in New York, Dillon got a job as a barback at The Bad Old Days, with no prior hospitality experience but having come to this bar a few times when he would visit.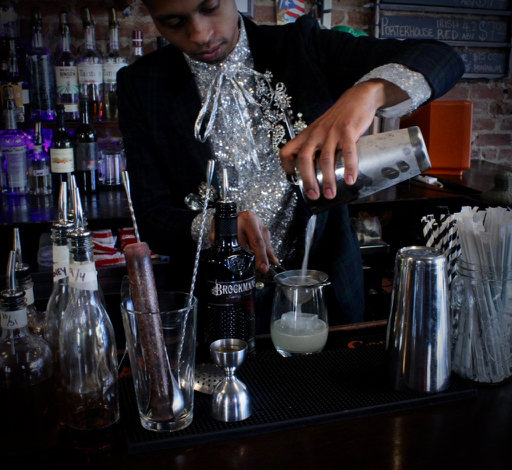 "Moving to New York was the best decision I've ever made. When I would visit, I always stayed in this neighborhood, and it was already a home base for me, and that's why working at this bar is very important to me. It fosters a sense of community."
An artist through and through, cocktail bartending came somewhat easily to him, as for him it's just another medium to express himself.
"Any sort of mixology is an amalgamation of palette, aesthetic attributes, chemical composition, and each spirit has its own story. You're really just creating a new story every time you create something new with alcohol."
As we chat, regulars filter in and, after ordering from the bar, place themselves at the various seating arrangements throughout the space—a linoleum checkerboard table, worn-in lounge chairs, floral velvet dinner chairs, wooden benches—as mellow rock music drifts lazily around the room. There is a beautiful calm in this quirky space.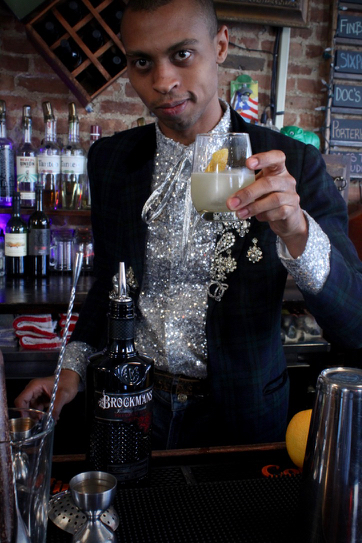 Dillon then makes us his Brockmans cocktail, called the "Windowpane."
"I feel like gin is such a great base for any cocktail because it is so malleable. And here we pride ourselves on being able to craft very interesting cocktails that sort of play with texture, scent, that sort of thing."
After adding his ingredients, shaking for a considerable time, and straining into a stemless wine glass, we understand what he means: he garnishes the cocktail not only with an orange twist, but with a spritz of orange blossom water.
"I was going for a glass of sunshine," he explains, smiling.
With orange curacao, dry vermouth, a bit of orange juice, and, of course, the strong citrus components of Brockmans, the "Windowpane" is indeed "sunshine in a glass." Although it would be perfect in the summertime, we sorely need it now as the days are getting shorter…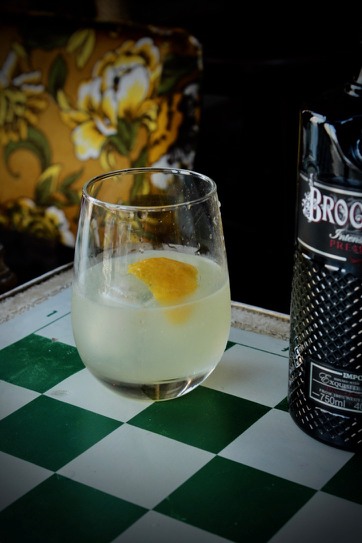 The Windowpane
by Dillon Locke
Ingredients
2 oz/60 ml Brockmans Gin
.25 oz/7 ml vermouth blanc
.25 oz/7 ml dry curacao
.75 oz/20 ml house-made "sour mix" (2:1:.5:.5 lemon juice:simple syrup:lime juice:orange juice)
orange blossom water
Method
Add all ingredients, except for the orange blossom water, into a shaker.
Shake vigourously until cold.
Strain over a large rock into a stemless wine glass, or a rocks glass.
Garnish with an orange twist and a spray of orange blossom water.