One reason to brave one of London's extreme downpours on a weekday afternoon? Cocktails, of course.
Walking down the stairs to London Cocktail Club's Oxford Circus location is like walking into a gangster's paradise-esque basement bar – complete with graffiti all over the walls. It's reminiscent of the university bars we used to flock to when we were younger – something that Head Bartender, Sam Boevey, says is all part of London Cocktail Club's appeal.
Sam explains that The London Cocktail Club is a ten bar chain, started in 2008 by JJ Goodman and James Hopkins. The founders discovered there was a strange discrepancy between the bars you could go to in London – either bars with really great drinks but so quiet it was like being in a library, or bars you could go to for a really fun, crazy night… but with terrible, overpriced drinks. London Cocktail Club sits in the middle of these two typical London bars: at the London Cocktail Club, you can let loose and have a fun night, without sacrificing the quality of your drinks. Win-win in our books.
We're here to try out their new cocktail of the month: Eyes Wide Shut, celebrating 20 years since the release of the iconic film. Made with Brockmans, Briottet Crème de Fraise, red wine, sugar syrup, tonic and lemon – it's a truly delicious cocktail, complete with a mask – just like the movie.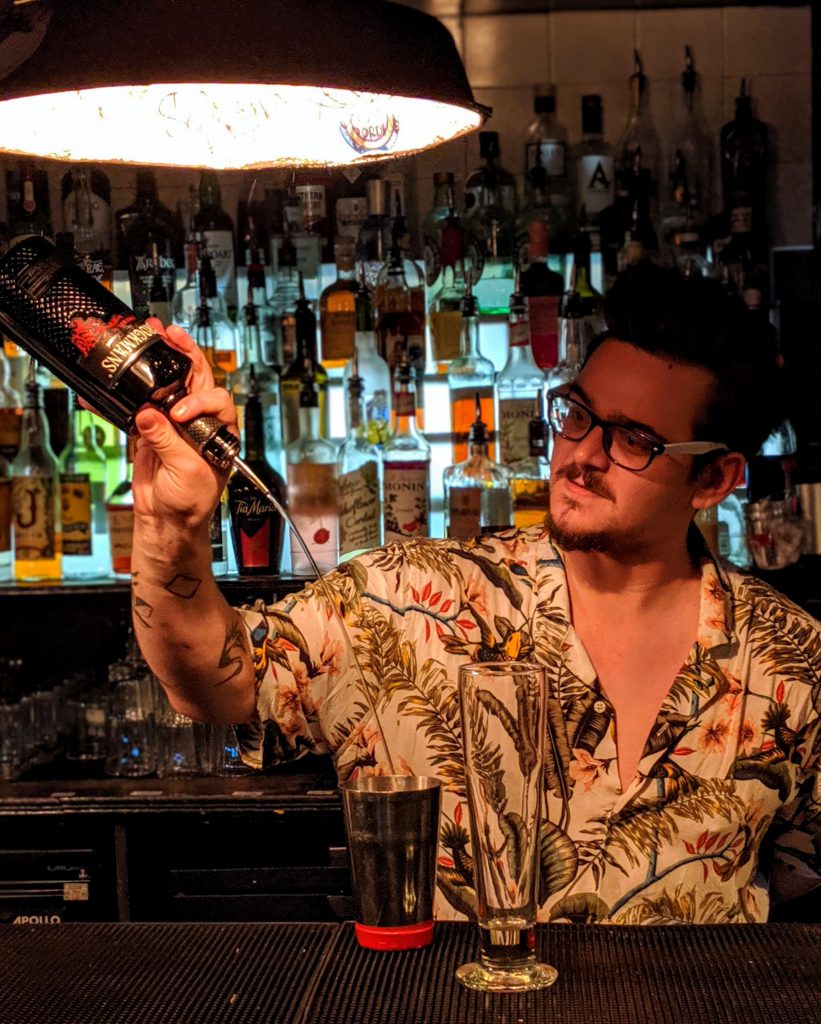 As Sam makes us our very own Eyes Wide Shut, we chat about how he got into bartending.
"I used to be a sound engineer when I was younger for live music venues in Cambridge, so I've always been comfortable in bars. I went to university in Nottingham, got a job in a student pub but they didn't have enough hours for me so they moved me to a cocktail bar. That was my first experience with cocktails and I loved it. The service industry, the history of spirits and cocktails, the knowledge you can pass on to others – everything. I finished my degree alongside working at the bar, moved to London, and came straight to London Cocktail Club. I've been here for over two years now. I joined as a barback, and after a year, I was the group head bartender."
A quick sip of his tipple definitely explains why he shot to head bartender after one year – the drink is incredible.
Sam explains that these days, his favourite part about the job isn't the drink making (although that comes in a strong second), but it's the training that he loves.
"I love seeing people who remind me of me all those years ago, who have no idea what's going on behind the bar. I don't want to be a person who looks down on someone for not knowing something, I want to help them learn. Someone's unintentional ignorance is not their fault, but their intention to learn is their responsibility. Anyone can learn how to shake a drink, it's hard to teach someone how to be a good person and want to learn. That's important to me. If you aren't hospitable, don't work in the hospitality industry."
That's the most truthful thing we've heard all year.
WHAT'S THE BEST THING YOU'VE OVERHEARD AT THE BAR?
I used to have this regular customer called John, who was a heavy drinker. He used to tell me all sorts of crazy stories like the time he woke up in a skip, in another country, etc. Eventually, he stopped drinking but would still come in for a chat. He used to say "What's your most expensive whiskey?" to which I would reply, "Johnny Walker Blue Label." He'd reply "I'll have one of those, and a coke. Hold the whiskey." He just wanted to feel like he was ordering stuff, and I loved that.
WHAT WAS YOUR FIRST ENCOUNTER WITH BROCKMANS?
It was last year. My brother got my uncle a bottle for Christmas and it was gone by the end of Christmas day. The whole family loved it.
WHY DO YOU THINK GIN IS SO POPULAR?
Because it's so easy to make. You just need a neutral spirit, botanicals and a bit of equipment. It's low risk, which is why I think the category itself got massive. Also, we are in England…
IF YOU COULD HAVE ONE LAST DRINK BEFORE YOU DIED, WHAT WOULD IT BE?
A daiquiri. Rum, lime sugar. It's a good test for a bartender – if the person who's killing me is making me a drink, it'd be nice to find out if they're a bad bartender or not. It's like that movie where I can only be killed by someone who's a better bartender than me: Okay fine, that's a great daiquiri. You can kill me.
---
EYES WIDE SHUT
By Sam Boevey.
INGREDIENTS:
30ml Brockmans Gin
15ml Briottet crème de fraise
25ml Venganza Tinto red wine
50ml Tonic water
15ml Lemon juice
15ml Sugar syrup
METHOD:
Pour Brockmans, Briottet Crème de Fraise, Venganza Tinto red wine, lemon juice and sugar syrup into a shaker with ice. Shake.
Pour into a tall glass with crushed ice.
Garnish with a slice of lemon (and mask).