We see your store-bought donuts and we raise you our home-made blueberry Brockmans donuts with grapefruit glaze (also made with Brockmans.)
It's truly a match made in heaven. We'll be forever indebted to recipe creator, Gretta Scholten, of Gretta Bakes.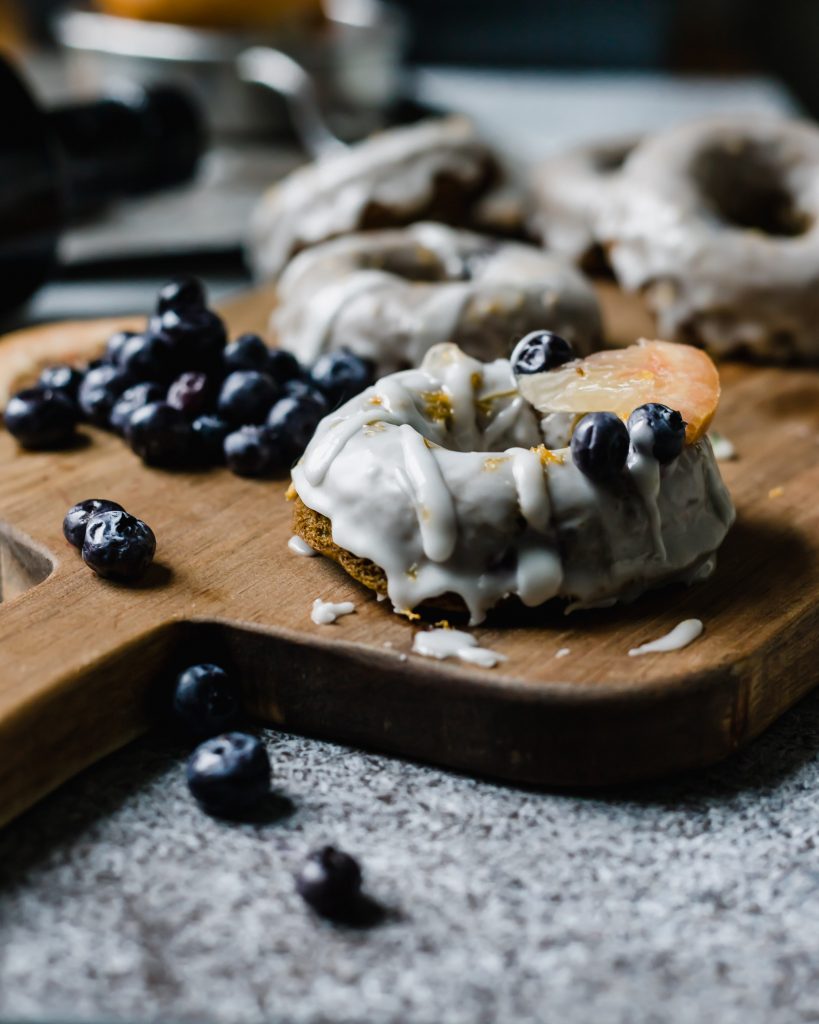 Gretta was very quick to come up with the idea. One look at her Instagram is all it takes to see her indulgent treat addiction – from snickerdoodle cookies, cheesecake bars, and a whipped cream to cake ratio of 2:1.
As we all know – (if you don't, this tip may be a game-changer) Brockmans is best paired with premium tonic, ice, two blueberries and a twist of pink grapefruit. It's our perfect serve – and since these donuts are also blueberry and grapefruit flavoured, we think it should be mandatory to enjoy one of these with the Brockmans Perfect Serve. You're welcome…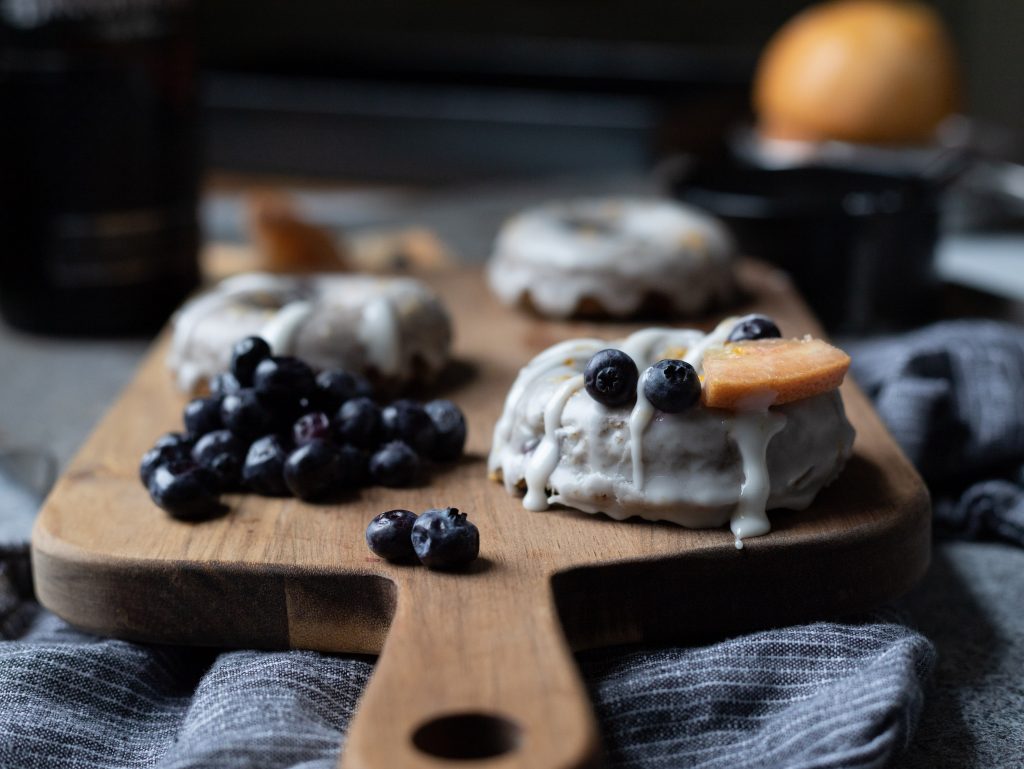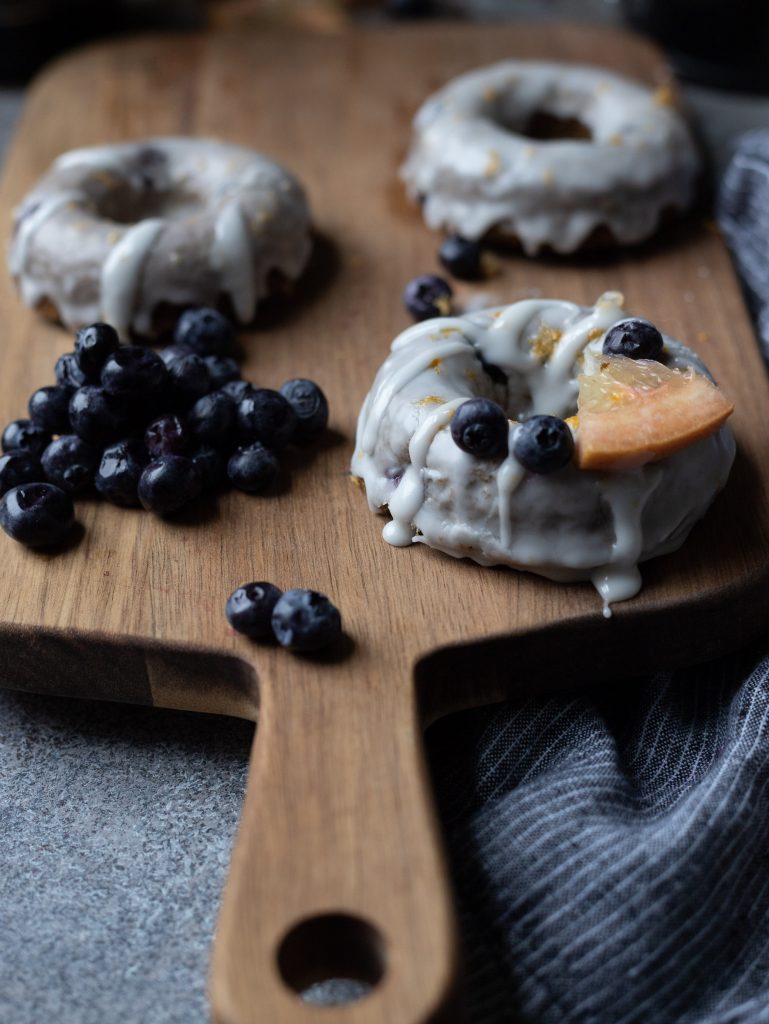 Brockmans Blueberry Gin Donuts with Grapefruit Glaze
By Gretta Scholten. Makes 12-15 donuts.
INGREDIENTS:
Donut:
1 cup/128g sugar
2 cups /256g flour
1 3/4 tsp baking soda
1/2 cup/64g vegetable oil
1/2 cup/64g blueberry juice from concentrate
2 tablespoons Brockmans Gin
2 eggs
1 tsp almond extract
1/2 cup/64g blueberries (frozen or fresh)
Glaze:
3 cups/384g confectioners sugar
2 tbsp grapefruit juice, strained
2 tbsp Brockmans Gin
zest from 1 whole grapefruit
METHOD:
Donut:
Preheat oven to 375F/180C, grease donut pan and set aside.
In a large bowl, combine all dry ingredients. Whisk to combine.
In a separate medium-sized bowl, add oil, Brockmans gin, blueberry juice, eggs, and almond extract. Whisk vigorously until well combined.
Pour wet ingredients into dry. Stir until almost combined, with a few flour streaks remaining. Stir in blueberries until batter comes together completely.
Scoop batter into a ziplock-style bag or piping bag and cut off 1/4-1/2" of the corner/cut off the tip of the piping bag. Squeeze a shallow layer of batter into the donut pan in a ring – about 1/2 full. Don't overfill!
Bake for 10 minutes or until edges of the donuts have just started to brown.
Let cool for 5 minutes and then transfer to a wire rack to cool, or onto a baking sheet.
Glaze:
Set two cooling racks on top of a cookie sheet aside.
In a medium bowl, add confectioners sugar. Cut grapefruit in half, juice one half of grapefruit. Strain the grapefruit juice.
Add 2-5 tablespoons of strained grapefruit juice, depending on if you want a boozy glaze (2 tablespoons) or grapefruit only glaze (4-5 tablespoons). Stir in Brockmans gin. Stir until well-combined. If the glaze is too thick, add 1/2 teaspoon of strained grapefruit juice at a time until you reach desired consistency.
Zest 1 grapefruit and add zest from grapefruit into glaze. Stir to combine.
Dip the top of the donuts into the glaze and set glaze side up, on cooling rack placed on top of a cookie sheet.
Continue with all donuts until all have been glazed on one side. Repeat the dunking process once more either double-glazing the top or glazing the bottom of each donut, if desired.