Many bars attempt to create an old ambience, a throwback to Art Deco New York, when bartenders were your therapist and when gin was the most popular liquor in America. Valerie, in New York's Midtown, succeeds in strides. Tall-ceilinged, dramatically lit, and generous with its gin, this bar truly knows how to transport you back in time and make sure you drink something delicious.
And just when you think that's it, you walk upstairs, past a velvet rope and have a seat at Blushing Bar, Valerie's exclusive bar-within-a-bar featuring darker lighting, its own cocktail menu, and Brendan O'Sullivan, whom we've come here to see. He's created for us the "Melody Lane," a stiff, stirred Brockmans drink with the addition of oolong tea-infused tequila, yuzu bitters, and orange blossom water. We detect an Irish accent, so we simply must know how he ended up here.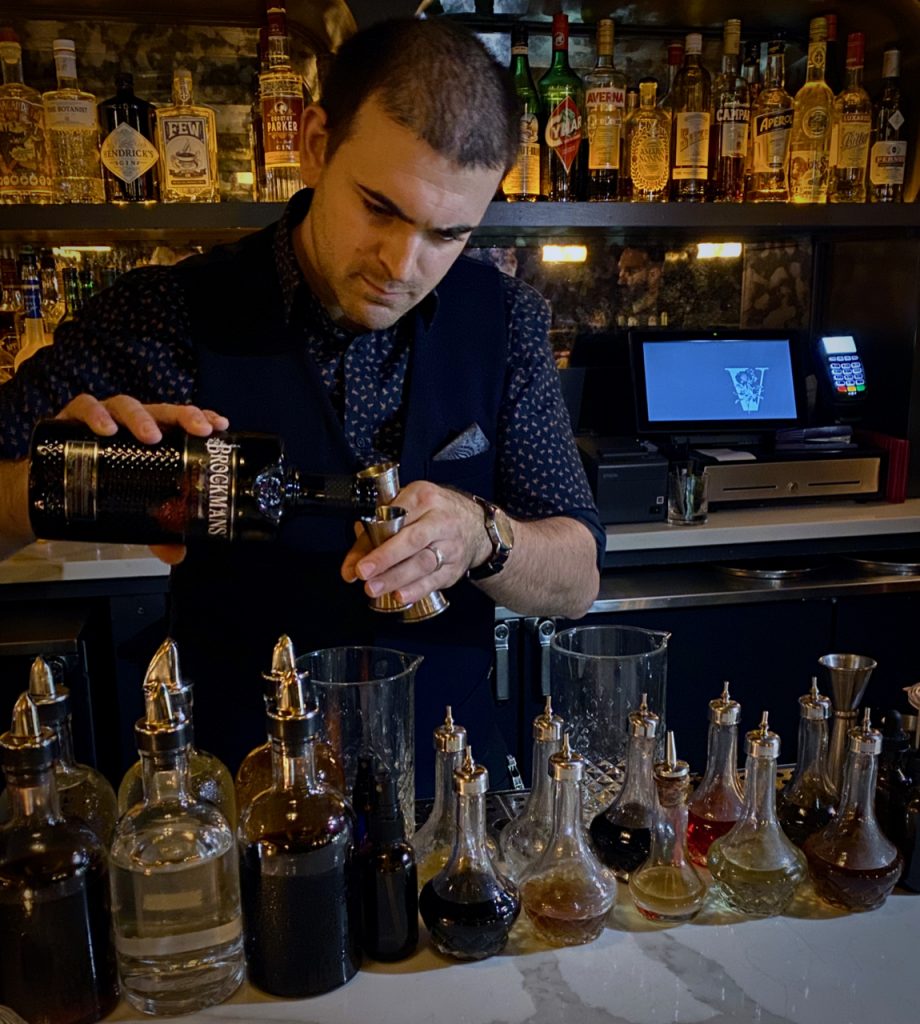 "I actually was born here, so I have dual citizenship," he says. "I was planning on moving back here from Dublin when I was much younger, but then I met my now-wife. I swore no girl would make me stay in Ireland, but she did."
Like many bartenders we chat with, Brendan started behind a bar as a means of getting himself through college.
"I was studying medicinal chemistry, and as much as I loved it, it didn't like me too much. So I dropped out and stayed with bartending. The way I tell think about it, I started medicating people with different chemicals."
As we sit here, Blushing Bar begins to fill up with New Yorkers of all stripes, all there for a bit of escape, a bit of luxury. Brendan starts to get busy but he never breaks a sweat and never ceases to make us feel like we're getting individual attention.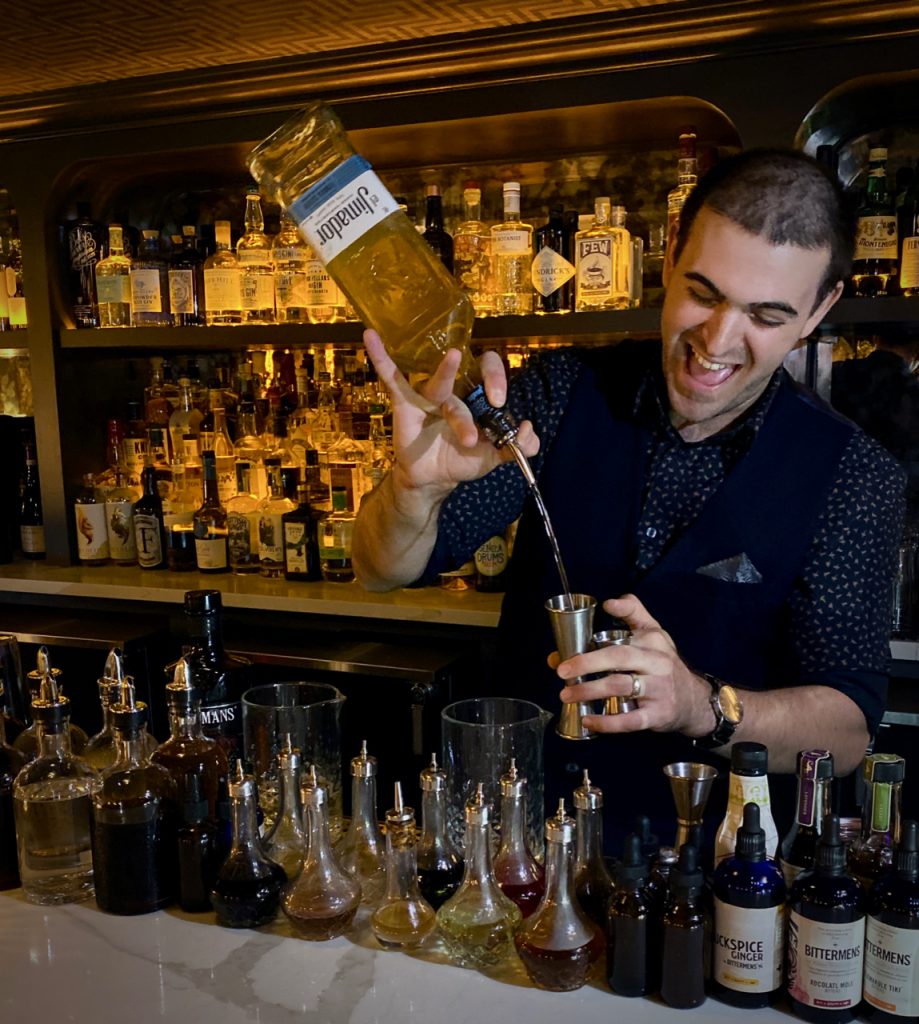 So he stayed in Dublin for his wife, but now, of course, he's here. We ask him why.
"Cost of living is roughly the same in Dublin—rent's the same, drinks are the same, but the money you make in bartending over there is negligible compared to here. We work for tips over there too, but people tell people who come to Ireland not to tip, that we're not a tipping country, so that's pretty frustrating. So my wife suggested we go to New York, make some money, and then plan for the future."
He tells us they've only been here for a few months, so we're curious how the transition has been. New York, after all, has an outside reputation for being harsh.
"I came over with the biggest fear about how people would be, but I've found here that if you put positivity out, you get it straight back. You hold the door for someone, they say thank you—even in Dublin people don't do that. It's such a big city but I still feel a community here—I'll be on the subway, and there will be some crazy guy, but I'll notice everyone making eye contact with each other, sort of saying that we have each other's back."
By now, we're halfway through our "Melody Lane", and boy does it not hold back. With such an interesting combination of flavours—oolong tea, orange blossom, tequila, Brockmans, we must know how he came up with it.
"So the name comes from a bowling alley near where I live in Sunset Park, Brooklyn—a neighborhood that has a strong Latin American culture, but you walk a few blocks over, and it's Chinatown. So I wanted to make something that was a little Asia meets Latin America, if that makes sense. And then the Brockmans, with its citrus and fruit, just sort of brings everything together and balances it."
Needless to say, we always love the unexpected, and the "Melody Lane" certainly fits the bill. Smooth, complex, smoky, bitter, and citrusy, it's amazing how many flavours can fit in such a small glass and work so well together. But isn't that what New York City is all about?
Melody Lane
by Brendan O'Sullivan
Ingredients
.75 oz/20 ml Brockmans Gin
1.5 oz/50 ml oolong tea-infused tequila
.5 oz/15 ml Salers aperitif
1 dash yuzu bitters
1 dash mole bitters
1 drop orange blossom water
Method
Add all ingredients to a mixing glass.
Stir until very cold, about 20 seconds.
Strain into a chilled coupe, and garnish with a dehydrated lime wheel.