Name one thing better than babka soaked in sweet, sticky, Brockmans Gin syrup. Not much compares…
We have a unique recipe for you – a Cranberry and Walnut Babka, with Brockmans Gin Syrup. We wish we could say we came up with this delicious creation, but all credit needs to go to Julia, of Bread & Basil NYC.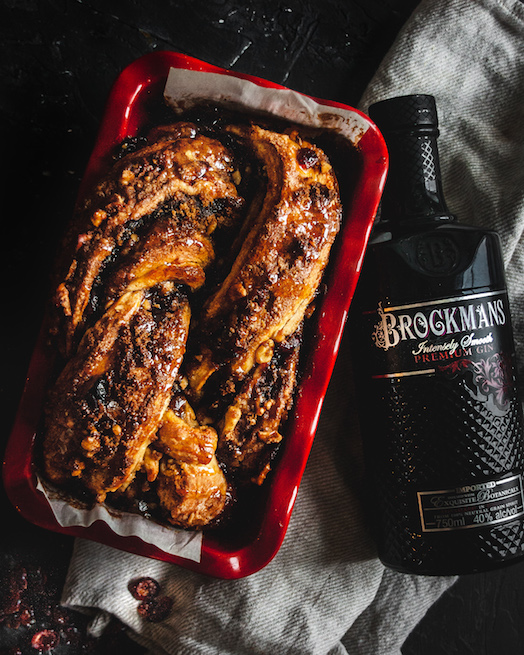 Julia has been obsessed with baking for as long as she can remember, spending her school lunches in the library reading pastry technique cookbooks from cover to cover before coming home and baking into the evening.
She lives in New York, working with food both behind and on-camera, so it's only fitting she created a Babka infused with Brockmans – one of New York's favourite desserts (or any-time snack, if you're like us.)
We suggest using the additional cranberry-soaked Brockmans from Julia's recipe in our Brockmans cosmopolitan cocktail for a delicious cranberry hit.
Find the recipe below…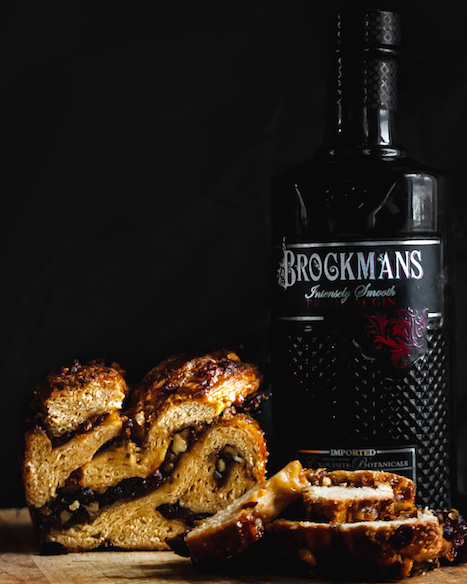 CRANBERRY AND WALNUT BABKA WITH BROCKMANS GIN SYRUP
by Julia Estrada.
Makes one loaf.
INGREDIENTS:
For the syrup:
1 cup / 200 g sugar
3/4 cup / 180 ml water
1/4 cup / 60 ml Brockmans Gin (plus 1-3 additional tsp if desired)
For the filling:
3/4 cup / 90 g dried sweetened cranberries
1/2 cup / 120 ml Brockmans Gin
1 cup / 220 g dark brown sugar
2 tsp / 6 g cinnamon
Zest of one large orange
1/2 tsp / 3 g salt
1/2 cup / 65 g finely chopped walnuts
For the dough:
4.5 cups / 480 g all-purpose flour
1 packet dried instant yeast
1/4 cup / 60 g brown sugar
1/2 tsp / 3 g salt
3 large eggs, at room temperature
1/4 cup / 78 g full-fat plain yoghurt, at room temperature
1/2 cup / 112 g butter, melted
METHOD:
In a medium saucepan, stir together water, sugar, and Brockmans Gin (excluding additional teaspoons). Bring to a boil and then reduce to a simmer. Cook for 15 minutes, then remove from heat. Taste; if additional "kick" from gin is desired, add 1-3 teaspoons once the syrup has cooled. Cover and chill until ready to use.
Combine the cranberries and Brockmans Gin for the filling in an airtight container, seal, and soak overnight. (This is done while the bread is rising)
In a large mixing bowl, mix the flour, yeast, 1/4 cup (60 g) brown sugar, and salt until well combined.
Whisk together the eggs, yoghurt, and melted butter in a small bowl, then add to the flour mixture. Use a dough whisk or spatula to bring the dough together into a rough, shaggy mixture, then knead by hand until a smooth ball is formed. It should take about 5 minutes.
Place dough in a large, lightly oiled bowl, and allow to rise, covered, at room temperature for 2 hours, until doubled in size. Place dough, covered, in the refrigerator overnight to rest.
The next morning, remove the Brockmans Gin simple syrup from the refrigerator and allow to come to room temperature while you prepare the babka.
Prepare a 10 inch x 5 inch/25cm x 12cm (or similarly sized) loaf pan by generously buttering the interior. Lay a 5 inch wide strip of parchment paper along the length of the pan across so that you can easily lift the bread out when done (see photo for paper).
Strain the soaked cranberries from the gin over a small glass until well-drained. Keep this extra gin to add to cocktails or enjoy it as-is, and set cranberries aside.
In a medium bowl, combine the brown sugar, cinnamon, orange zest, and salt for the filling. Set aside.
On a floured work surface, roll out the chilled dough to a rectangle that is 1/4 inch thick and approximately 12 x 20 inches long. Pause for 10-15 minutes if the dough resists being rolled out – it is normal that it wants to shrink back a bit.
Sprinkle the brown sugar filling over the rolled-out dough, leaving a 1-inch border around all edges. Distribute the gin-soaked cranberries and walnuts evenly over the filling, then tightly roll the dough along the long side to create a 20-inch long roll. Place the seam against the counter and press down gently to seal dough.
Use a very sharp knife to slice the roll in half, leaving an inch at one end intact. Being careful to keep the cut sides facing up, gently twist the loaf around itself to create a rope with two strands. Pinch ends together to create a seal, then fold the braid in half around itself to fit in the loaf pan, with the cut side still up. Tuck the ends underneath the loaf.
Allow shaped babka to rise at room temperature until fully proofed, about 2 hours. You will be able to tell the bread is proofed when a gentle poke with your finger leaves a slight indent and the loaf looks puffy and full.
About 1 hour before baking, preheat the oven to 350 degrees F / 175 degrees C with a rack in the centre of the oven.
Bake proofed babka until deeply browned, with filling bubbling, about 1 hour. It is helpful to use a thermometer to ensure the center of the bread has reached 200-210 degrees F / 93-98 degrees C.
Cool in pan for 15 minutes. Pour as much Brockmans Gin Syrup as desired over loaf, using a pastry brush to gently encourage it into all the nooks and crannies, then run a knife around the edge to loosen any sticky sugar and use the parchment paper "handle" to lift the bread gently out of the pan. Reserve leftover syrup for cocktails or other uses as desired (it's delicious over fruit!)
Allow bread to cool completely, slice, and enjoy. Leftovers can be kept on the counter, covered, for up to 3 days, but babka is best enjoyed the day it is made.