Rick Blumberg, the general manager at Marlow's Tavern in Atlanta, Georgia is one of those people whom we could not fathom in any role other than hospitality. The man, simply put, is one of the warmest, least intimidating, most inviting people we have ever met on our decade-long tour of Brockmans bars around the world. It is only fitting, then, that he helms the ship at Marlow's, a restaurant with several locations but which makes it its mission to make each location an integral part of the local community.
"We don't like to talk about how many locations we have, because we want the guest to come in and feel like this is their own," Rick tells us, as he looks out at the large dining area before him with an easy smile. For example, he points out, there are two beer taps in every Marlow's, the beers of which the individual operator gets to pick for their market.
"This one's the neighborhood tap, and I love this one, because the idea is to support your brewery down the road, but in this case, we asked the neighborhood what they want to drink, and they said Dos Equis. So our 'neighborhood tap' is Dos Equis, which is pretty funny to me."
Rick is not originally from Atlanta, having grown up moving around with his Navy father.
"I did go to four years in one school, which is rare for army kids. It was amazing!"
After majoring in hotel restaurant management, he moved through the ranks in the Washington D.C. area most notably as a manager in a two-restaurant operation in D.C.'s Union Station. The fancier, larger restaurant of the two, aptly named "America", served everyone from tourists, to Supreme Court justices.
"It was kinda neat!" Rick says, again with that smile. "Really weird mix, but a lot of fun."
After that, his wife got a job further south in Atlanta, and the two of them figured they'd "try it—live here three, four years. And here we are, 20 years later."
We ask him how Atlanta has changed, if at all, in the 20 years he's been here. Aside from growing massively—two million more people in 20 years—the cocktail scene has certainly exploded in the past decade or so. It all started with a few dedicated bartenders, who worked to elevate everyone along with them. This speaks to a feeling we've gotten in our time in Atlanta—although city is large, and continues to grow considerably, there is a palpable, inviting community in the industry.
By now, Rick is ready to make us a cocktail, an original creation he calls the "Rambling Rose." He came up with this drink shortly after tasting two spirits, back to back, for his first time. The first was Brockmans.
"I had a nose and I was overwhelmed with the beautiful fruit, and I knew this would be great in a bramble."
Ten minutes later he tried Vicario—an aperitif made one state over in South Carolina by a husband-and-wife duo that features lemon verbena grown on their personal organic farm.
"They have such a neat story, they built their distillery on their property, and when it's time to infuse the herbs, they pick them from their garden and put them straight into to the batch. I had to put this together with Brockmans—I love the craft aspect of Brockmans, the humility of Brockmans. And the flavors work so well together."
The "Rambling Rose" is somewhere between a Bramble and a Clover Club—in his tin, Rick muddles a blackberry, and then adds Brockmans, Vicario, lemon juice, simple syrup, and aquafaba (a vegan substitute for egg white made of the liquid in a can of chickpeas). It is floral, herbaceous, fruity but not too sweet, and quite velvety. Like Rick, and Marlow's Tavern, it is supremely approachable, and yet also full of complexity, nuance, and warmth.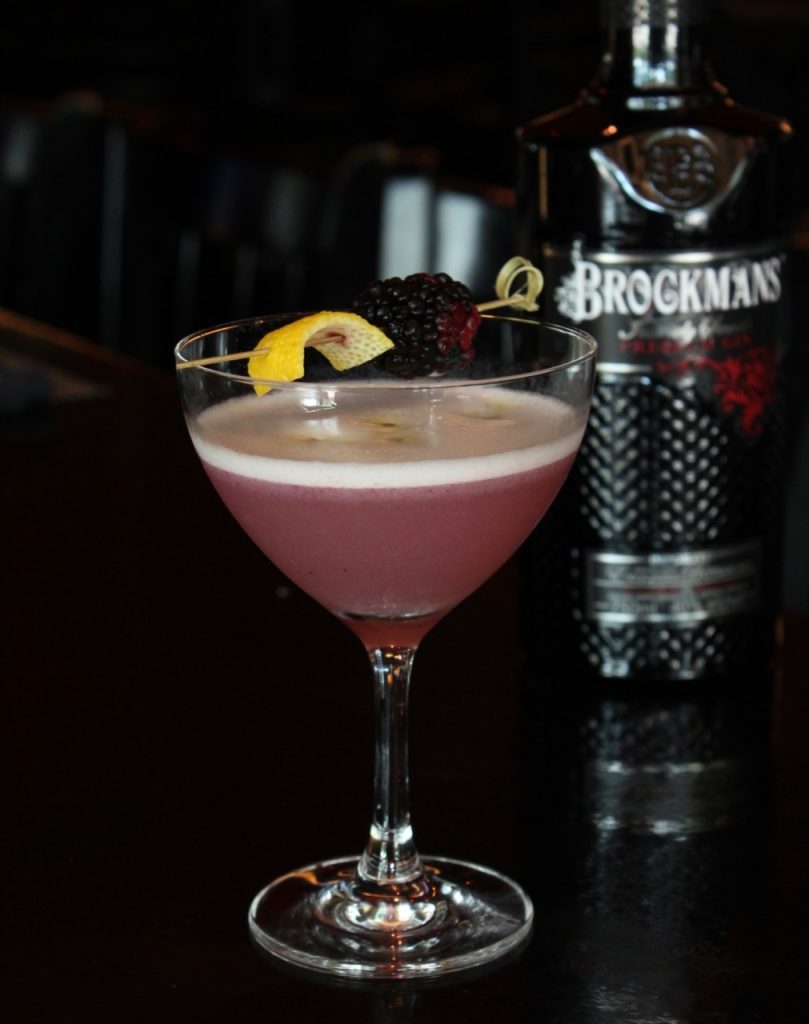 Rambling Rose
by Rick Blumberg
Ingredients
2 oz/ 60 ml Brockmans Gin
.5 oz/ 15 ml Vicario lemon verbena liqueur
.75 oz/ 20 ml lemon juice
.5 oz/ 15 ml simple syrup
.5 oz/ 15 ml aquafaba (or an egg white)
1-2 blackberries
lavender bitters
Method
At the bottom of a shaker tin, muddle blackberries with simple syrup.
Add the rest of the ingredients, except for the lavender bitters.
Dry shake (without ice) vigourously, for 10 seconds.
Add ice and shake again, for about 8 seconds.
Double strain into a chilled coupe, garnish with a skewer of blackberries and/or a lemon peel, and a dash or two of lavender bitters.