If you haven't had drinks at Searcy's at The Iris Bar — The Gherkin, you might want to put it on your list – especially after reading this…
Arguably London's most unique building (it's certainly the most recognisable), we've arrived at The Iris Bar today on a quest to try "The Bloody Brockmans," a new take on the traditional Bloody Mary, created by Searcy's Bar Manager, Tommaso Proni.
Upon arrival, we're whisked to level 39, and then escorted up the stairs to level 40. What. A. View.
We're greeted with floor to ceiling windows, highlighting panoramic views of London – all under a dome-shaped roof. For the staff who work here, this has to be the best office view in the world.
Bar Manager Tommaso (or Tommy, as he likes to be called) gestures for us to take a seat front and centre at the bar while he begins to construct his masterpiece. There are no seats at the bar, he's just giving us special treatment by carrying two stools over. Unsurprisingly, the conversation turns to cocktails. He shares how he got into the hospitality industry.
"I started in hospitality when I was 17 – nineteen years ago. I started in a small bar in Italy, and I was lucky to have an amazing bartender take me under his wing and train me. I decided to do a bartending course to supplement my skills, working in a few different places teaching myself new tricks and ideas, and reading a lot of books on the art of mixology."
Tommy moved to London in 2012 in search of new opportunities. During his 5 year stint at Drake & Morgan, he was introduced to Brockmans. It was love at first sight. After joining Searcy's at The Gherkin three years ago, Tommy had to change the cocktail menu – so of course, he added Brockmans.
"I love Brockmans. I think it's the nicest gin you can drink neat. The taste is softer than other gins, it's unique. Other gin brands are going to give you more or less the same flavour. With Brockmans, you have the juniper berry flavour come up. It's easy to play with for cocktails or a mixer, which is so important in a bar."
He says that this is the third time he's used Brockmans on the menu at Searcy's. A mixture of unique, elaborate cocktails, spirits, wines, beers, and mocktails, Tommy reveals how he comes up with each menu…
"The first menu was inspired by nations and countries. We had different cocktails highlighting a spirit that had come from that region. For example, Brazil was cachaça, Mexico was Mezcal. The second one was inspired by the markets in London (Alexandra, Borough, Spitalfields and Portobello.) For our market-inspired cocktails, we've created a few using vegetables – shallots, mushrooms, and celery, for example.
Tommy explains he enjoys experimenting with classic cocktails, re-defining the rules to produce something exceptional. Just like the Bloody Brockmans…
Tommy wanted to create a unique twist on the classic Bloody Mary, a cocktail traditionally made with vodka. He had the brilliant idea to replace the vodka with Brockmans, balancing the flavours with raspberry and blackberry notes, and surprisingly – olive oil.
With this, he presents two Bloody Brockmans, in both a highball and martini glass. They look delectable, garnished with two blackberries and a dried slice of parma ham for some extra saltiness.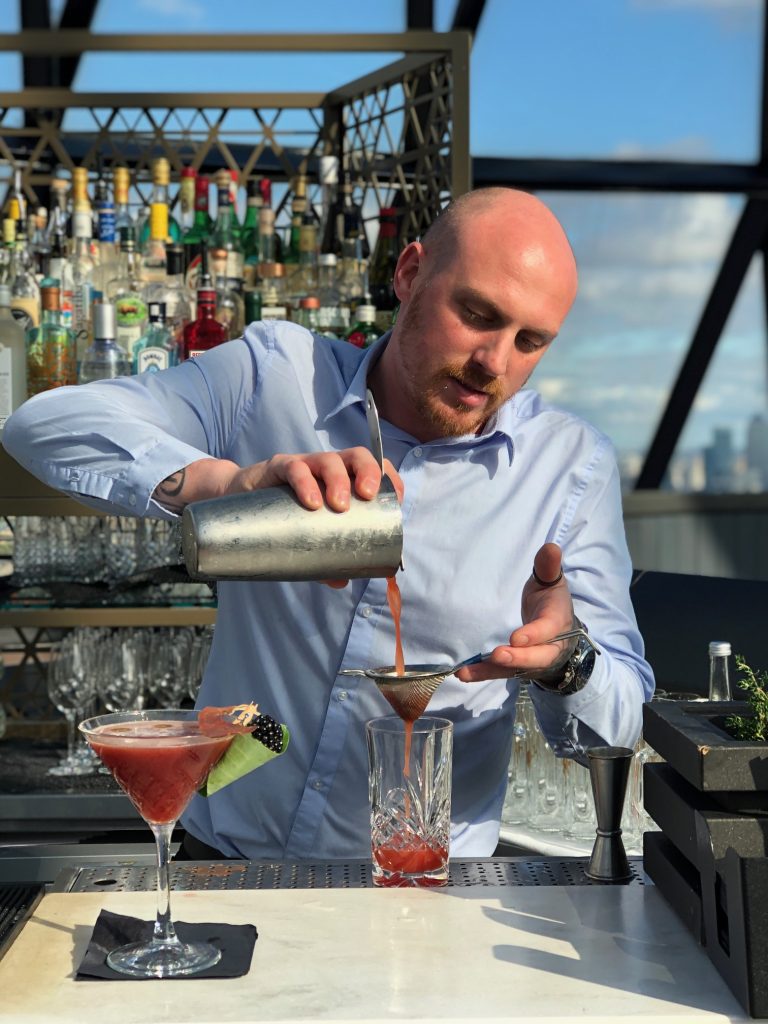 On first sip, we're speechless.
We're not exaggerating when we say this is one of the most clever cocktails we've ever tasted. We wonder how someone could ever come up with such a well-paired flavour profile.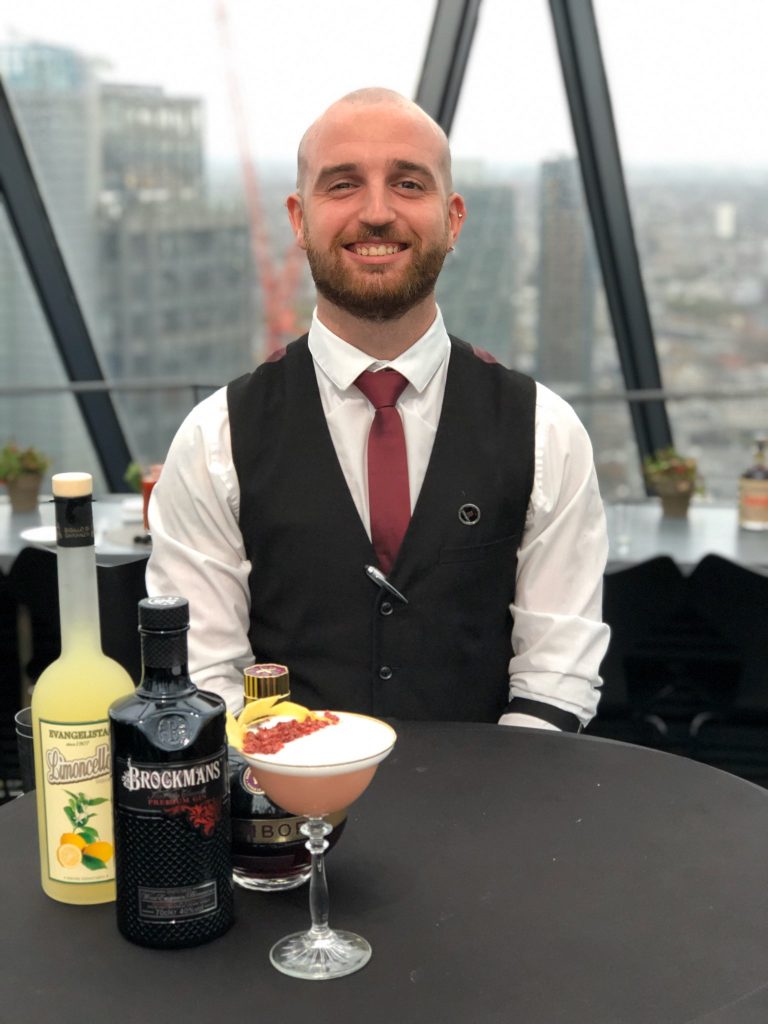 Alessio Aufiero, Head Bartender, (and Tommy's right hand man), thinks he has the answer.
"Italian bartenders are different. We are so close to our family, we always bring our personality, our family, our story, inside the glass. I think this is how we are able to balance flavour profiles so well."
"It works so well for cocktails, especially making bespoke ones. I usually ask my guest, where do you come from, what did your mother/grandma cook for you, what flavours do you like, and start to mix all these ideas and information inside the glass. I always say we are like the chef, but better because we can talk to our guests."
Either way, we know one thing for certain: once people begin to experience the Bloody Brockmans, we're sure the classic Bloody Mary will be obliviated into non-existence. Lucky we have the recipe for you…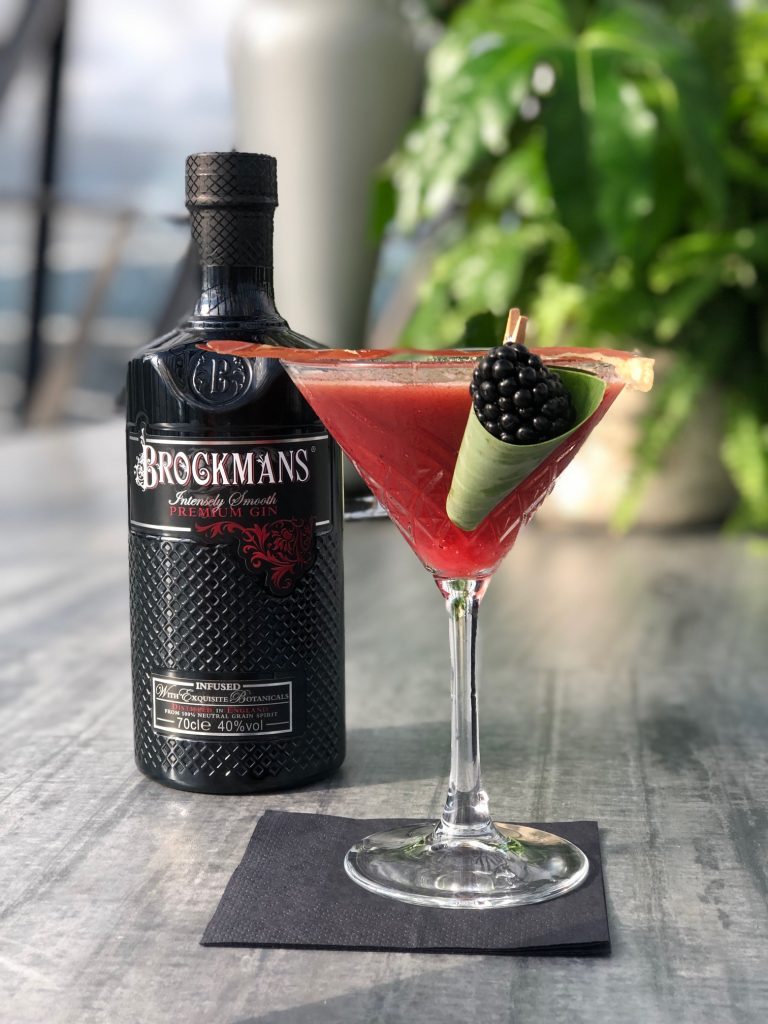 BLOODY BROCKMANS
By Tommy Proni
INGREDIENTS
50 ml Brockmans
2 blackberries
2 raspberries
20 ml simple syrup
10 ml of jalapenos tabasco
pinch of salt
pinch of black pepper
10 ml of lemon juice
70 ml of tomato juice
5 ml extra virgin olive oil
METHOD
Muddle blackberries & raspberries.
Add all ingredients into a shaker.
Quick shake and fine strain into a highball glass with fresh ice cubes.
Add two blackberries dried Parma ham to garnish. Complete with 3 drops of olive oil.
For the Bloody Brockmans in a Fancy Martini glass, reduce the tomato juice to 60 ml.