We don't know what we expected, walking into German Gymnasium near London's King's Cross station on a rainy Wednesday afternoon. Not an extravagantly large flower installation dedicated to the late Karl Lagerfeld, that's for certain…
The space, originally built in 1864, was England's first purpose-built gymnasium. Refitted in 2013, the building is now home to the German Gymnasium, a little slice of German culture in London – through food, dining, and drink.
We take a seat upstairs in what's called the Meister Bar, where we meet with Bar & Restaurant Manager Edgars Zavoronkovs (who you may remember from our visit to 100 Wardour St). He explains the concept behind the award-winning bar and restaurant.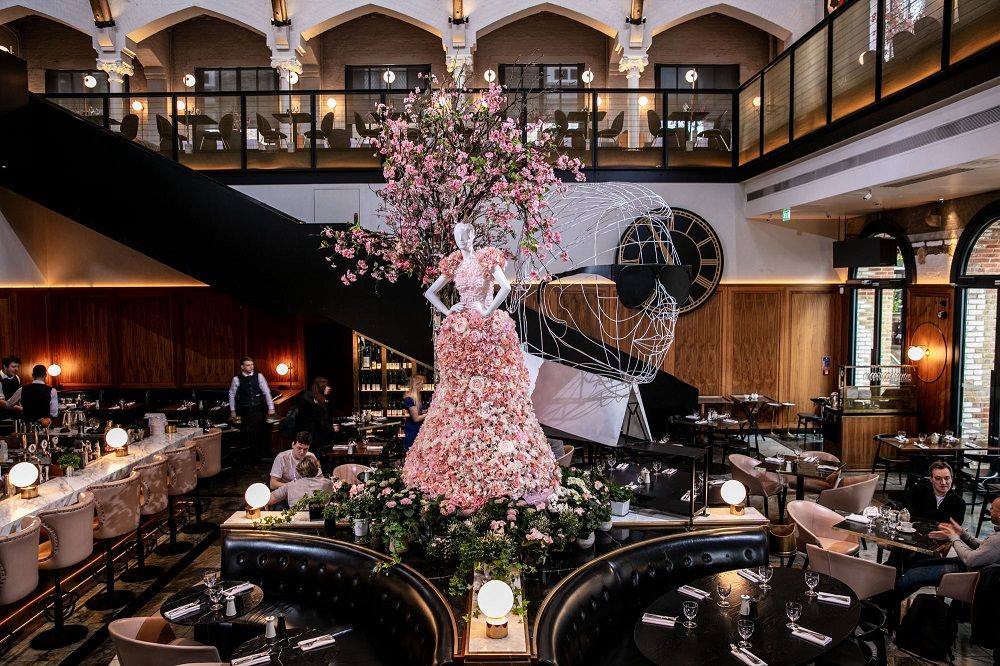 "The reason why it is called German Gymnasium is because this building, the gym, was created by a German society here in London. It was originally a gym – this is why we still have some hooks in the wall for equipment, some paintings on the wall representing gymnastic activity. In the late 19th century, the first-ever London Olympics were held in this building. It's had a bit of history. We took it over in November 2015, built this extra level, and German Gym was (re)born".
The layout is remarkable. Truly one of the most stunning restaurants we've ever been to. It exudes luxury, from the mittel-European grand café downstairs, to the chevron blue leather seating, white brickwork, and rose-gold mirrored kitchen found upstairs. The attention is in the details.
Edgars explains downstairs serves typical German cuisine and drinks, while upstairs serves food and drink influenced by Germany and its culture.
"The Meister Bar is where you'll find drinks that are more infused. The drinks are more creative, more bold, they take more time to create. Take the Karl for example…"
Ahh. Suddenly, the flower installation makes sense… We ask him about the Karl.
"Every one to two months, we do a floral installation to display in the centre of the restaurant. As you would know, a few months ago, Karl Lagerfeld, the creative director of French house Chanel, passed away. He was German, so we thought it would be a nice courtesy to dedicate our installation to him, especially as we are a German bar and restaurant. Our menu upstairs at the Meister Bar is based around fashion and art, so it seemed appropriate to dedicate a cocktail to him, too."
Naturally, talk of cocktails spikes our interest. Edgars motions to his bar staff to bring us a Karl to try, an offer we of course, accept. Especially as it is made with Brockmans…
A tall, vibrant, berry coloured drink is brought to our table, in a very dramatic and elegant champagne flute. Ahhh. This must be the Karl. We take an initial sip, and we're decidedly very impressed with what we taste.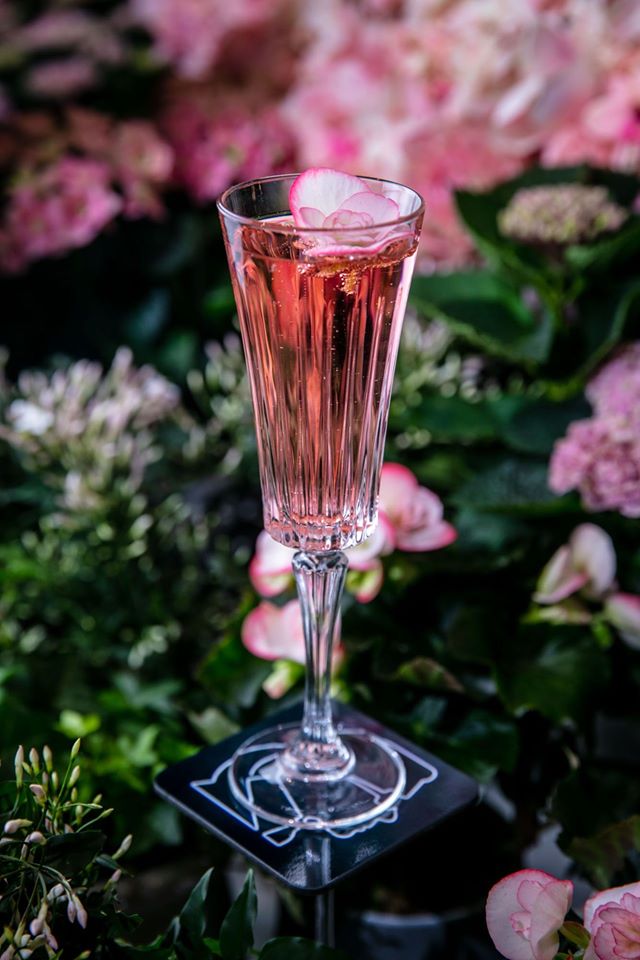 Made with Brockmans, Campari, rosé champagne, and cherry liqueur, there's a lot that goes into this deliciously decadent, yet bitter cocktail. This drink has layers.
Edgars tell us how he came up with the recipe…
"It's a super cheesy story. My girlfriend and I were going to a picnic. I had actually received the Brockmans Black Book of Gin Cocktails a week earlier and she liked the summer negroni recipe, so I took a pre-batch with us. We also took some sparkling rosé, as it was a summery day. We ended up mixing the drinks together, and I was very surprised at how well it worked. It was very fruity, but still has a bitter note. I decided to base the Karl on this creation. I think it worked out ok."
….We think it turned out more than ok. Try it for yourself. The Karl is available upstairs in the Meister Bar at German Gymnasium until October – trust us, you're going to want to.