If you know anything about Vermont, you probably know about Burlington—not its capital, but definitely its buzziest city. But just one town over, in Winooski, is a rapidly-growing food and drink scene, home to some captivating bartenders and their captivating cocktails. One of the largest of these Winooski restaurants is Waterworks Food + Drink, an expansive, large-windowed restaurant that overlooks the eddying Winooski River. We're here chatting with Nadia Womble, the lady at the helm of this impressive drink program.
"I call Waterworks the Wild West," Nadia starts, laughing. "Some days there are tumbleweeds in the lounge, and other days you can't see the door because there are so many people in here."
Right now we're about in the middle—not too quiet, not too loud. A bubbly lunch crowd surrounds us as the natural light makes everyone's food and drink look even more delicious. Nadia starts building us her latest Brockmans creation as she tells us how she wasn't always planning on being a bartender.
"I wanted to be a librarian. I still want to be a librarian—it's my lifelong dream—but I need a masters for that, and that's going to be expensive."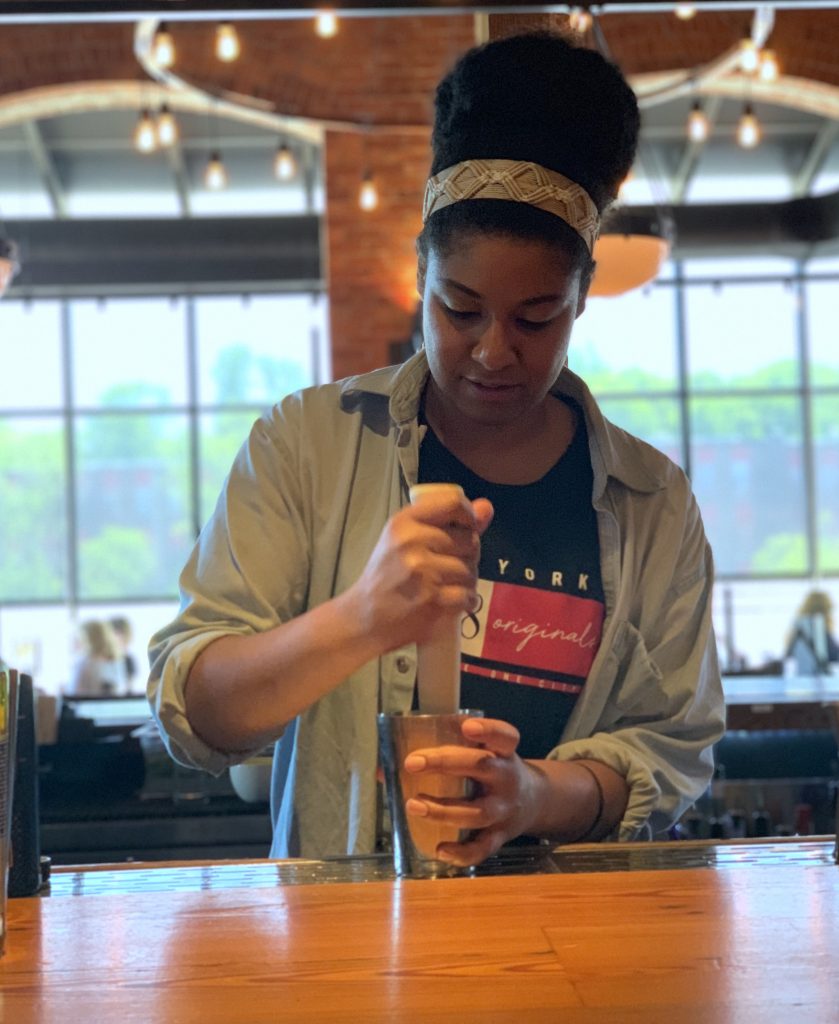 In the meantime, however, Nadia is quite happy doing what she's doing. She describes a small, supportive bar community that brought her to where she was and that is constantly looking out for each other. Already in our time in Vermont other bartenders have spoken of this community—instead of looking at other bars as competition, all the bartenders here encourage their customers to check them out all, try out this drink, meet this person.
"Even when I started, if someone asked me where to go for drinks, I had a hard time answering. But now, I can name 5, 6, 7, 8 places you can go. It's a really up-and-coming scene. I've also noticed so many women in this scene–I can name probably four managers, bartenders, who were working the ranks when I was, and now we're running our own places and doing our own thing."
Nadia does, however, make a point to mention that although this is a supportive community, and Vermont, on the whole, is known for being progressive, tolerant, and open, as a bartender of colour she still faces moments where people do not take her seriously behind the bar.
"It's so wild, sometimes, the way people talk to me. I'll ask them if I can get them a drink and they tell me they're waiting for the bartender. I say ok, and I find them someone else. Then that person comes over and says, 'Oh, by the way, that person runs this place, she's the boss.'" Nadia sighs, then smiles.
"Ultimately, I am the proprietor of all the alcohol in this building. If you would like a drink, it has to come through me. I am ok with that, and everyone who works here knows that too."
Strawberry Fields
by Nadia Womble
Ingredients
1.5 oz/45 ml Brockmans Gin
.5 oz/15 ml yellow Chartreuse
.5 oz/15 ml Amaro Meletti
.25/7 ml cinnamon syrup
.25/7 ml agave syrup
1 oz/30 ml lemon juice
2-3 whole strawberries
Angostura bitters
Method
Muddle one strawberry with the cinnamon and agave syrups at the bottom of a cocktail shaker.
Add the rest of the ingredients, except for the Angostura bitters, to the shaker.
Shake vigourously and quickly, for not as long as your standard cocktail.
Strain over crushed ice into a hurricane glass.
Garnish with a heavy dose of Angostura bitters over the ice, a healthy bunch of mint, some zested lemon peel, and a strawberry.