"My journey actually started when I was performing burlesque," Maureen tells us, with a look that betrays a bit of mischief. "During one of our shows a bartender was injured, so I took my headset and microphone off, and jumped behind the bar. I drank enough to know what I was doing, at least at that venue."
We're sitting at Fishtown Social, a cocktail and natural wine bar in the young hip neighborhood of Fishtown in Philadelphia, and suffice it to say, Maureen has come a very long way from pouring shots in a corset. Born and raised in gritty Philadelphia, Maureen's career in hospitality took her to Texas, Puerto Rico, New York, and the French countryside, before she decided to come back to the city of her youth. She'd had her adventures, and she was ready to come back to be near her father.
"I was a very rambunctious daughter. It was time for me to come home and give back."
Knowing that Philadelphia has changed quite a bit in the past decade—especially when it comes to the food and beverage industry—we ask Maureen if it was a bit of a shock to return.
"Oh, it is definitely polished a bunch more than it was when I left," she says. "I always liked how crazy and dangerous this city was, it was part of why I loved growing up and running around in my 20s here. But it's still Philly. You can put up as many 450 thousand-dollar condos up as you want, but it's still Philly."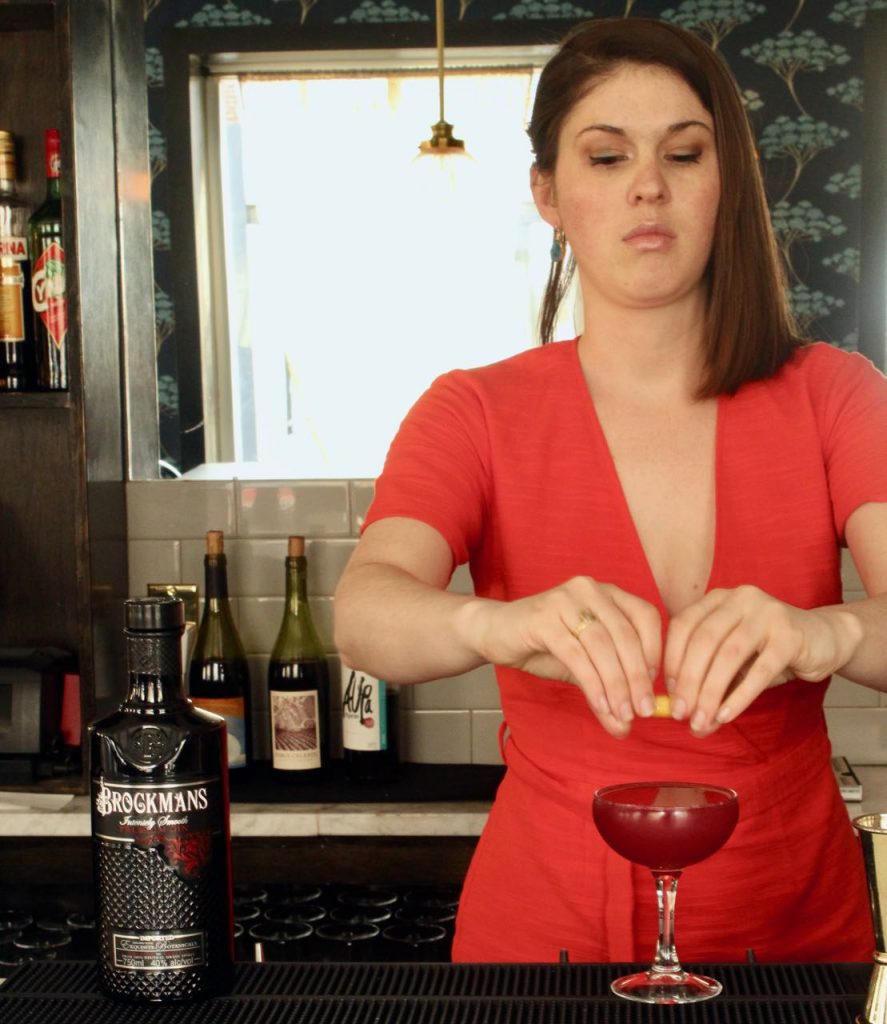 Having acquired a love for simple crafted cocktails as well as natural wine, when Maureen walked into Fishtown Social after she moved back to Philadelphia, she knew she had found her place.
"I literally walked in and said to myself, I am going to work here. I might even take someone's job."
We laugh, but by this point, we are not surprised by this statement. Maureen is confident, assertive, driven—a seasoned hospitality professional who knows what she wants and what she can offer.
"As fate would have it, the General Manager left shortly after that, and I got the position."
As we chat, one of Maureen's bartenders, Amber Smith, whips us up Maureen's newest Brockmans creation, a French 75 riff that Maureen is calling the "BFF 75." The drink will be part of a fundraiser Fishtown Social is hosting during the month of June for the animal shelter across the street.
"I wanted to put a cocktail together that people know, people love, it's a no-brainer, and you can drink it outside on the patio with your dog."
To the Brockmans Amber adds blackberry syrup, a blueberry shrub, some lemon, and, after shaking and straining, some bubbles. As Fishtown Social is known for its natural wine selection, Amber uses organic cava.
"We're going to sip a lot of gin and bubbles til the Fourth of July," Maureen says, quite pleased with the prospect.
BFF 75
by Maureen Shannon
Ingredients
1 oz/30 ml Brockmans Gin
.5 oz/15 ml homemade blackberry syrup
.5 oz/15 ml lemon juice
barspoon homemade blueberry shrub
organic Cava
Method
Add all ingredients except for the Cava to a shaker.
Shake vigourously until cold.
Fine strain into a chilled coupe.
Top with Cava.
Garnish with a blackberry and lemon twist skewer.
And don't forget that a dollar from every BFF 75 sold in the next month at Fishtown Social goes to an animal shelter! As if you need another reason to drink Brockmans…