We just cannot get enough of Miami's hotel bars, and Edge Steak and Bar in the Four Seasons is no exception. Tucked away in an uppermost floor of this luxurious hotel, Edge is a remarkably welcoming space, where locals and hotel guests lounge amongst sun-drenched tables while sipping an array of wine, beer, and cocktails—from time-tested classics to Miami originals. It is always warm here, the weather always perfect. We could get used to this.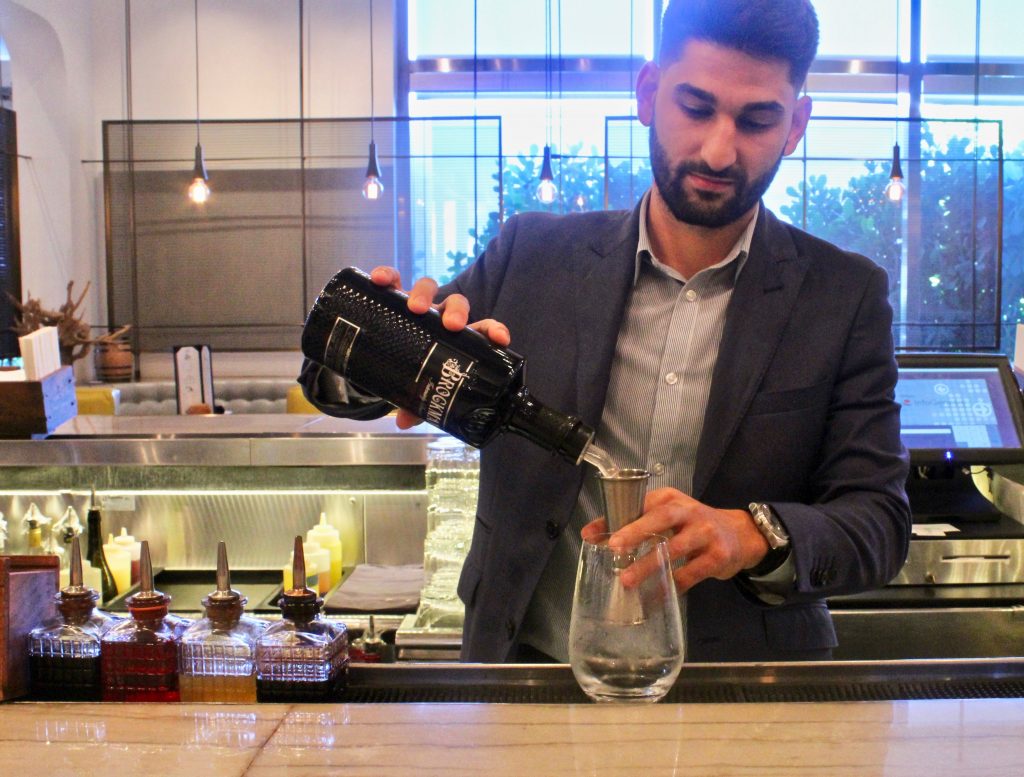 "Here in Miami we try to think we can do seasonal," Sean Benna, Assistant Food and Beverage Manager, tells us, laughing. "It's like, 'Oh it's winter, let's have red wine or cider,' but it's hot here in December."
We're not complaining. After all, as several Miami bartenders have told us, this means that gin is always in.
"Miami is a melting pot of many different cultures, it's very international, and everyone loves gin. And Brockmans in particular, it's premium, it's flavourful. You can make a craft drink with it, you can drink it on ice, with tonic, a lot of different ways it can be offered. It is so great for Miami."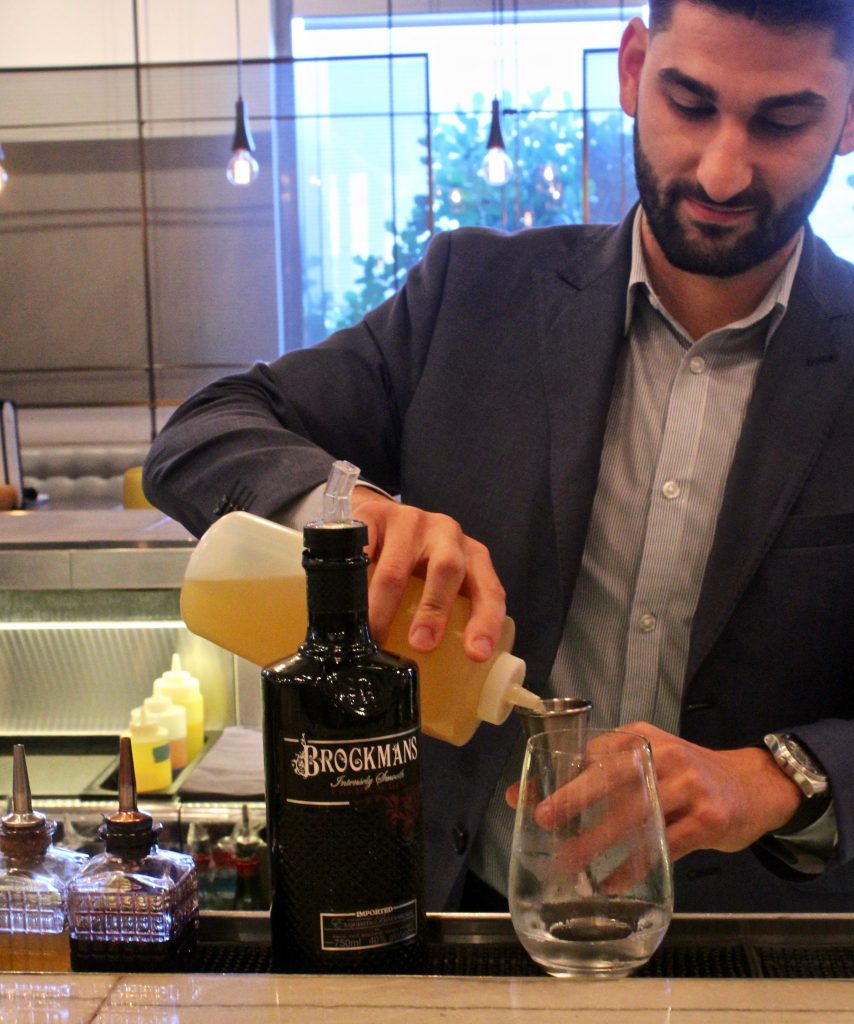 Speaking of the many different ways Brockmans can be offered, Sean makes us his Brockmans original as he talks, the "Fancy Shandy." It takes a matter of seconds because it is three ingredients—Brockmans Gin, pineapple shrub, and pilsner. It is exceptionally complex for its simplicity; the pineapple shrub is tart and savory, the pilsner is dry and bubbly, the Brockmans is rich and fruity. We are impressed by how much depth of flavour exists in this uncomplicated, golden-hued cocktail.
"Beer cocktails work really well for us here. For those who can't decide if they want beer or liquor, here you have both. We wanted to highlight a local beer, as well as tie in some Miami with the pineapple—pineapple is always a win in South Florida. And then the Brockmans, with those dark berry notes, we knew it would all work."
We have to know more about Sean's background, about what led us all to be sitting here together over this delightful beverage. Turns out, while Sean grew up around restaurants, and always felt comfortable in hospitality, his first post-university career took a surprising turn.
"I went to school for accounting, and all I knew after college was I wanted to be in Miami. So I sold my stuff, filled my tank, came down here, and crashed on my buddy's couch for six months. My brother was working on Capitol Hill at the time, and he told me that Barack Obama's reelection campaign was hiring. So I ended up involved in a financial fundraiser for Barack Obama. Of course, after he won, I was out of a job. So I went back to hospitality. And I've been here ever since."
Fancy Shandy
by Sean Benna
Ingredients
2 oz/60 ml Brockmans Gin
2 oz/60 ml house made pineapple/cilantro shrub*
pilsner
Method
Add gin and shrub to a rocks or wine glass.
Add ice and give a quick stir.
Top with pilsner, and garnish with a pineapple frond and/or a dehydrated pineapple slice.
*For the shrub:
Add chopped pineapple to a container, and enough of an equal parts apple cider vinegar-sugar solution to cover the pineapple.
Let sit for at least a week.
Add a handful of cilantro, and blend everything together.
Strain.