We've learned a lot about Miami in the time we've been spending here. For one, it is vibrant—warm year-round, the architecture, the clothing, and the cocktails are full of colour. Another major feature of Miami is the prominence of their hotel bars—these chic, trend-setting locales are where tourists and locals alike go to enjoy craft cocktails and learn the latest liquor trends. So we're at MO Bar in the Mandarin Oriental to experience some of that Miami hotel bar hospitality. And to drink some Brockmans Gin, of course.
Upon sitting down we can already see that Lora Nefiodchina, bar manager at MO Bar, has a few tricks up her sleeve. We see a smoking gun, some dry ice, an array of syrups and garnishes. For Lora, this is clearly her career, and she tells us she always knew she would be. Her parents have always been in the business and her mother owns five restaurants in her home country of Moldova.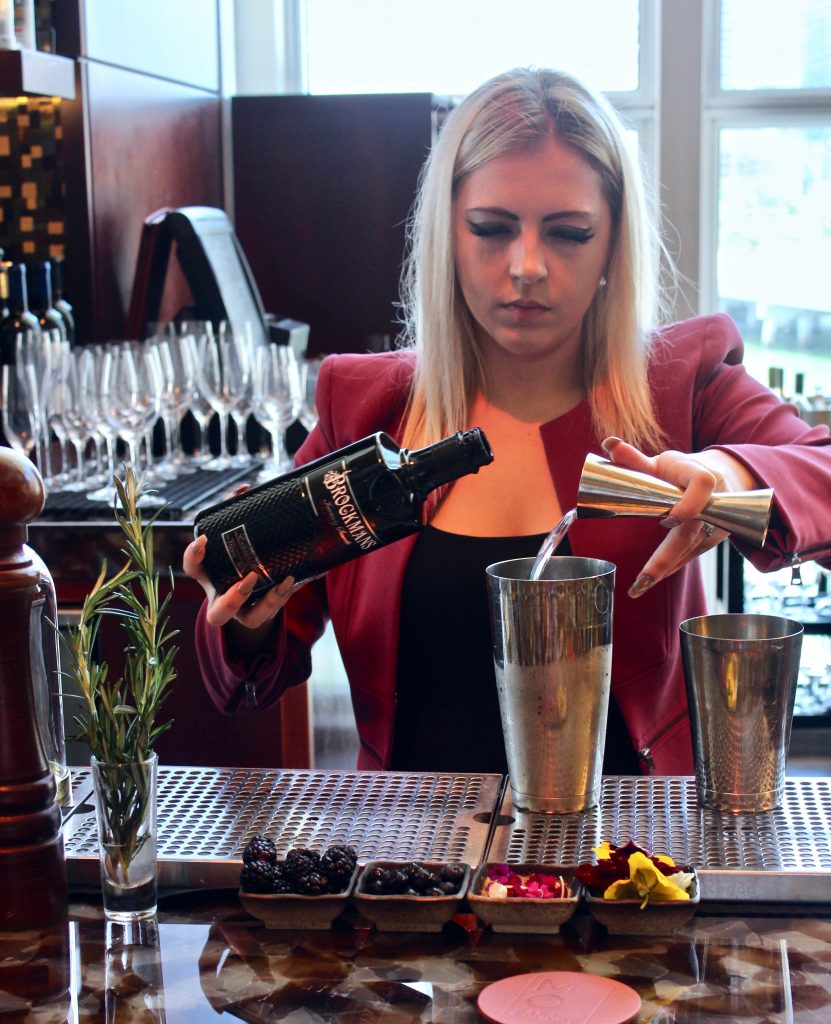 "I always begged her to take me to work with her as a kid. I was always playing with the bartenders, I would pour the soda, whatever I could do. My mom was kind of against me going into hospitality, and they put me in business school. I said, I can graduate for you, but I won't like it. So they let me go to hospitality school in Switzerland, when I was 16."
In school, Lora learned about all aspects of the industry, but her heart was always behind the bar.
"I had really great teachers in Switzerland. And over there, there aren't any barbacks, you do everything. You're doing prep, you're making syrups, you're serving, everything."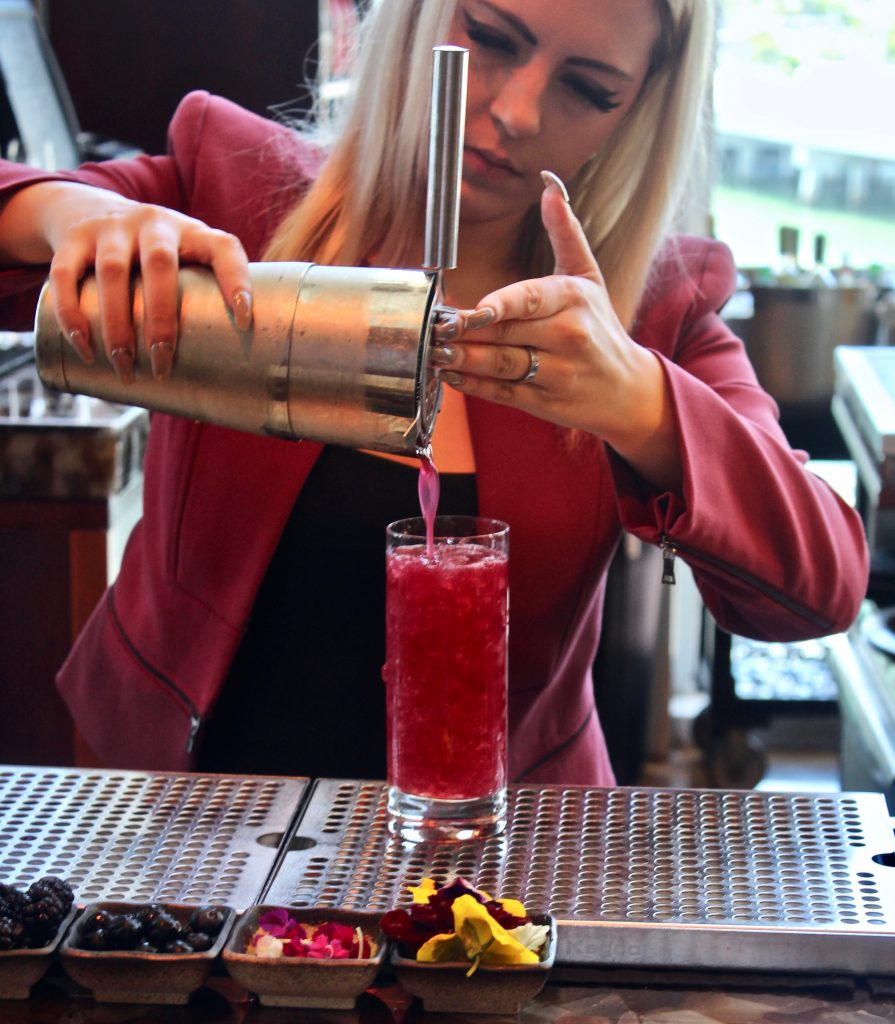 During school, Lora was working in bars, and honing her craft. She had a year-long stint in Dubai, returned back to Switzerland, and was ready for another change. Then she was approached for a management exchange program in Miami and hit the ground running.
"It was a big culture shock coming here, for sure. Everything is a lot more casual, and I wasn't used to that." She laughs. "If you talk in a hotel in Europe, you're very polite, very professional. Some people find me cold, but it's just the way I've been raised. I'm not trying to be arrogant, I'm just keeping it professional. I'm still getting used to it."
The Mandarin Oriental wasn't her first job in the States, but she is quite happy to be here now.
"I have very high standards, and care about the little details. Here at the Mandarin, we are all about raising the standards. We also have to be creative here, which I love. I used to draw and play piano, now I put everything in the drinks."
Remember the smoking gun we mentioned earlier? Well, Lora has made us a cocktail and garnished it, but she is not done. She places the cocktail under a glass case, feeds the smoking gun into it, and lights it. The case fills with applewood smoke. It is quite a spectacle. When we lift the glass, smoke billows out, carrying with it a pleasant aroma. The drink itself is quite simple—Brockmans Gin, Licor 43, lemon, and a blueberry cordial. The smoke adds a welcome, but not overpowering, complexity.
But she's not done. Lora gets right to work on another drink she's been playing around with, this time muddling blackberries, rosemary, and black pepper at the bottom of her shaker. She adds lime, simple syrup, and Brockmans. After a good shake, she strains it into a chilled martini glass, where she's already placed a few cubes of dry ice. Vapor pours out over the glass, creating another impressive sight. We wait until it mellows before we sip. Another winner.
We're starting to understand why hotel bars are so popular in Miami.
Spring Into Spring
by Lora Nefiodchina
Ingredients
1.5 oz/45 ml Brockmans Gin
.75 oz/22 ml blueberry cordial
.5 oz/15 ml Licor 43
.5 oz/15 ml lemon juice
Method
Add all ingredients into shaker.
Shake briefly; do not dilute too much.
Strain over a highball filled with crushed ice.
Garnish with a skewer of blueberries and an edible flower.
*If available, place under a case and smoke with applewood smoke.