Last year we brought you a chocolate flourless cake. You devoured it. Then towards the Christmas season we had the idea for a chocolate gin mousse. That proved to be even more popular. So before the weather gets too hot, we decided to merge the decadence chocolate desserts into our newest creation: Dark Chocolate Gin Mousse Cake.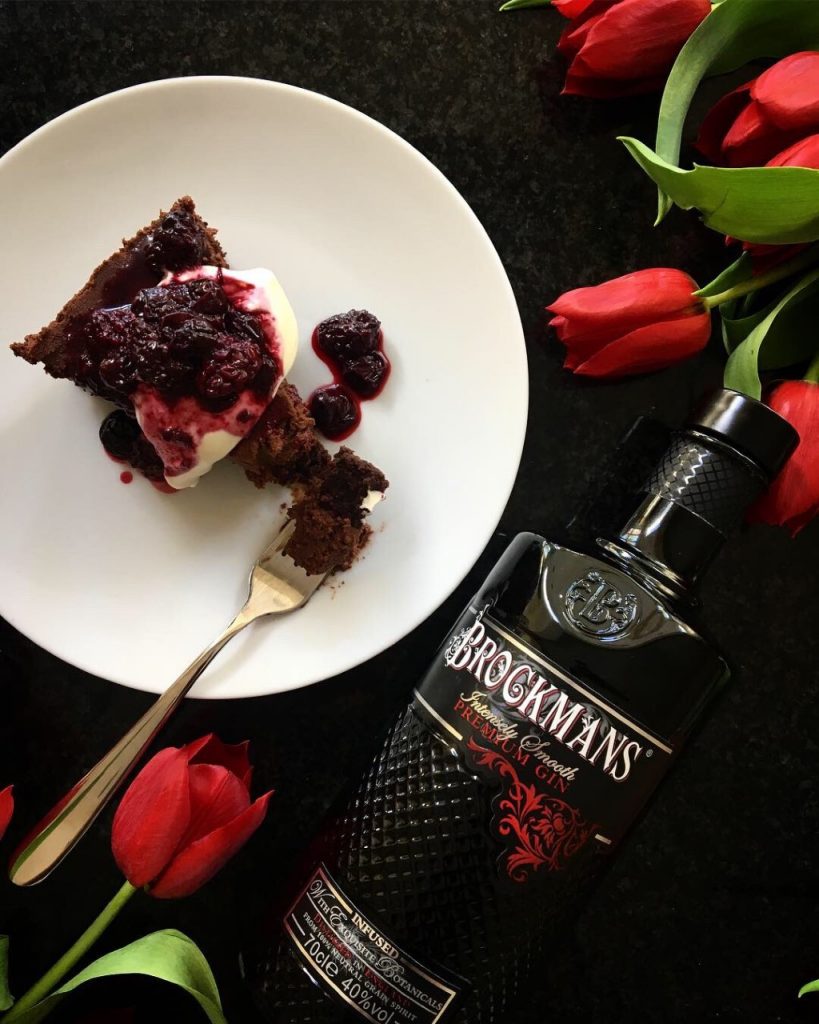 It wasn't really our idea. Thida Bevington developed the recipe for us in her Norfolk kitchen. She's beloved for her stunning sweet creations inspiring her fans to bring more colour and creativity into their baking. She's known for her piping techniques on her intricate cakes which she creates bespoke for customers, mastering knots in bread baking, and incorporating floral elements into her seasonal creations. Thida's journey began when she was a little girl picking rhubarb from the garden to create her first crumble and inspiring her through soul-crushing years as an accountant. Now a mother of four, she spends her time baking and wandering the countryside with her children, a journey you can follow along on Instagram. But before you get carried away with recreating her other cakes, start with our dark chocolate gin mousse cake. It goes perfectly with our Perfect Serve.
Dark Chocolate Gin Mousse Cake
By Thida Bevington
Preheat your oven to 180C/350F. Grease a deep 9" cake tin with a removable base.
Ingredients
Flourless chocolate cake:
300g dark chocolate
275g caster sugar
165g unsalted butter
1/4tsp salt
2tbsp Brockmans Gin
5 medium eggs
1.5tbsp ground almonds
Dark chocolate mousse:
250g dark chocolate
100g sifted icing sugar, separated
175g unsalted butter5 eggs, separated
3tbsp Brockmans Gin
150ml double cream
Gin infused Blackberry & Blueberry Compote:
500g blackberries and blueberries
100g caster sugar
50ml water
3tbsp Brockmans Gin
Method
Flourless chocolate cake:
Place the chocolate, sugar, butter, and salt in a large bowl and either melt in the microwave in 30-second bursts or over a bain marie. Once melted, add the gin and stir until thoroughly combined. Set aside.
Whisk the eggs and ground almonds together in a bowl. Add to the chocolate mixture and mix in vigorously until the cake batter thickens.
Pour the cake batter into the cake tin and bake for 30-35 minutes, rotating the tin halfway through the baking time.
Remove from the oven when a skewer comes out almost clean.
Leave to cool for at least 2 hours.
Dark Chocolate Mousse:
Melt the dark chocolate in the microwave in 30-second bursts. Add 50g sifted icing sugar and stir until combined. Add the butter and mix again until thoroughly combined. Add the 5 egg yolks one at a time, stirring well after each egg yolk. Mix in the gin and then set aside.
Whisk the egg whites with a hand-held electric whisk or in a stand mixer until firm peaks form. Add the remaining 50g sifted icing sugar and whisk again until thick and glossy. Set aside.
Wash the whisk of the electric whisk/stand mixer and whip the double cream until thickened and soft peaks form. You don't want to overwhisk it.
Add one-third of the egg whites to the chocolate mixture and fold in carefully. Fold in half the whipped cream gently but make sure there are no white streaks. Fold in another third of the egg whites, then the last half of the whipped cream. Finally, fold in the last third of the egg whites. When there are no white streaks, pour the mousse into the cake tin on top of cooled chocolate cake. Smooth the surface with an offset spatula and chill overnight.
Gin infused Blackberry & Blueberry Compote:
Place all the ingredients in a medium pan and heat on low heat, stirring for about 5 minutes once simmering until the juices are thickening.
Remove from the heat.
To serve: Remove the cake tin from the fridge. Boil a kettle, pour some boiling water into a jug, dip a palette knife or offset spatula into the hot water, wipe dry then slide it around the edge of the mousse cake, making sure to get to the bottom. Push the mousse cake up out of the tin and place on a serving dish.
Use the offset spatula or palette knife dipped in hot water then wiped dry to smooth the sides.
Serve with the blackberry and blueberry compote and creme fraiche or Greek yogurt.