"It's nice to just bartend," Colin Shearn tells us, not a few minutes into our chat. "I don't have to worry about doorknobs or bar tops or where to install things. I get to just work." We're at The Oyster House, a Philadelphia institution in the center of town, and Colin is waxing poetic about how lovely it is to be back behind a bar. After all, this was his first love, but he took a hiatus a few years ago to do something completely different: work in an office.
"I needed a break," he says. "I had been doing nothing but open new concepts. From 2012 to 2016, I opened nine cocktail bars. I was tired of owners, tired of their demands, tired of not sleeping. I was burnt out."
Making his much-desired return to bartending, Colin is now transitioning into the bar manager position at The Oyster House. It is more responsibility, but it's hardly as frantic as opening a brand new place. In contrast, this place is an established, well-oiled machine. Colin clearly appreciates the difference.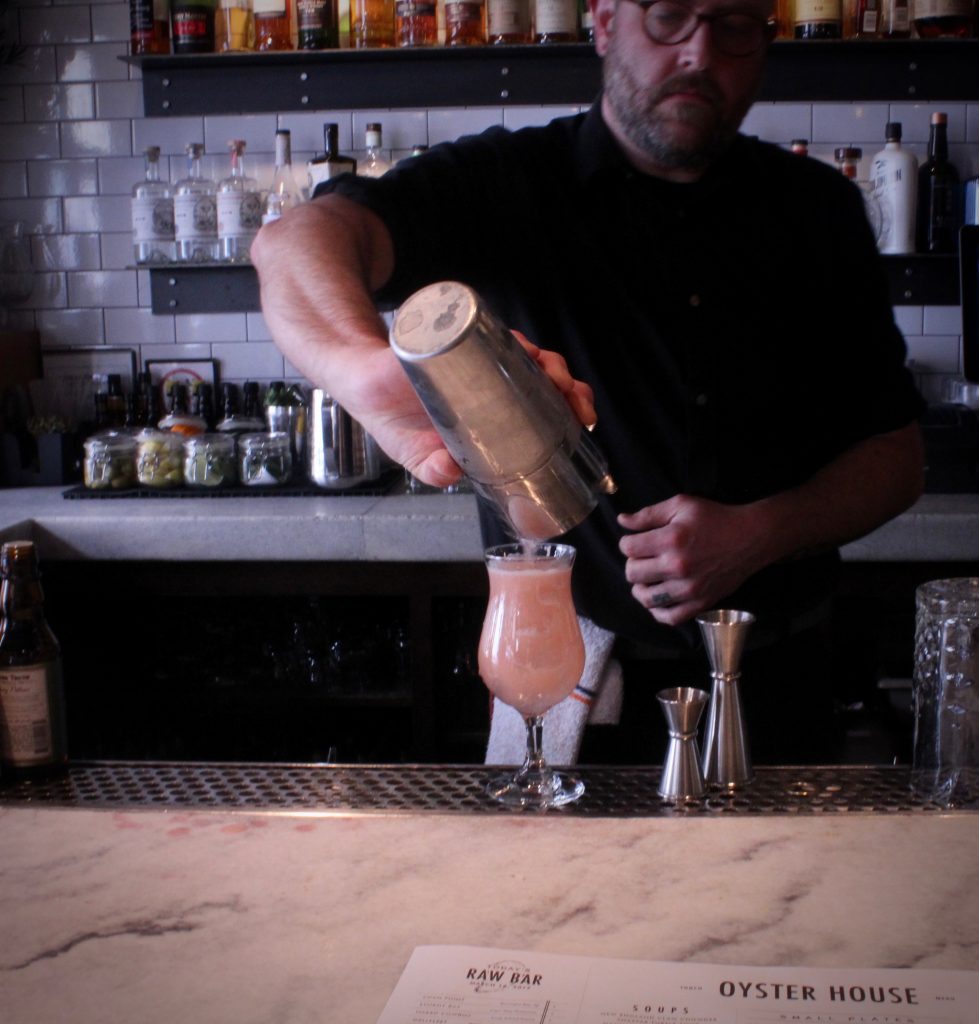 "I just get to work," he says, his face relaxing into a smile.
Around since 1969, The Oyster House has tremendous history, but it still feels effortlessly fresh. Natural light bounces off of the white tile and treated metal. All around us families, suits, and hip locals alike are taking down oysters, martinis, and other intriguing craft cocktails. The menu features seafood, and the back bar is almost entirely devoted to our favourite spirit. We feel right at home here. The gin selection is impressive, but, of course, we care about our sleek black bottle standing out amongst the rest.
"If you've never had gin before, it is a great place to start," Colin says, pulling out Campari, lychee liqueur, and grapefruit juice. These ingredients are not on the menu. Colin has tricks up his sleeve.
Just as effortlessly, Colin whips up his Brockmans cocktail du jour, which he calls the "Beach House." Bartenders we chat with often pair other fruit with Brockmans to bring out its uniquely fruit-forward taste. But we're not sure if anyone has paired Brockmans with lychee, grapefruit, and Campari. The result is greater than the sum of its parts: fruity, a touch bitter, fresh, supremely drinkable. We could be biased, but we're glad Colin, too, is back behind a bar.
Beach House
by Colin Shearn
Ingredients
1.5 oz/45 ml Brockmans Gin
.5 oz/15 ml lychee liqueur
.5 oz/15 ml fresh grapefruit juice
.5 oz/15 ml fresh lemon juice
.5 oz/15 ml 1:1 honey syrup
.25 oz/7 ml Campari
Method
Add all ingredients to a shaker.
Shake vigourously until cold, and strain over fresh ice into a hurricane glass.
Garnish with a cherry and a lemon wedge