Sure, it is great to be in Manhattan, but every once in a while we love to pop on over to New Jersey and have a Brockmans on the other side of the river, while taking in the Manhattan skyline from afar. We are doing just that at Hudson & Co., an expansive, airy new restaurant with sweeping views of Manhattan and some great drinks. Accompanying us is General Manager Brian Niedswiecki, who, at one point, had a far different life planned for himself.
"I was gonna be a cop," he says, slowly revealing a smile. "My dad is a retired New York City cop, I was always going to be a policeman. I majored in history in college, because it doesn't matter what your major is when you know you're going to be a cop."
He tells us how, as he was going through the police academy, he bartended at a handful of New York's busiest and hippest clubs, where he would work until 5, 6 in the morning. Seeing as how Brian's having a gin with us and not out patrolling the streets in the uniform, we have to know what happened.
"So I had to have one final physical, I had a job already, it was all happening. And the appointment was in the middle of nowhere, at like nine-thirty in the morning, and I got out of work at six. I drove to the appointment and took a nap in my car, that was the only way I was going to make it. And I woke up a little before the appointment, and I'm walking to the corner store to get a banana and a coffee, and I see these hookers across the street, and they're being harassed by a bunch of drug dealers, bottles getting thrown at them. Now this is eight in the morning. Then I see a cop walk by me, to go deal with this, and he looks exactly like me. He's my age, he could be my brother. And I say, 'Hey, how's it going?' And he looks at me and says, 'I'm f**king miserable.' And a lightbulb went up above my head. Nah, I'm not going to do this. Best decision I ever made in my life."
We can't help but laugh. What timing… We've spoken with plenty of bartenders about the moment at which they realised this was a career, and not just a means to an end. But as of yet, nobody's tale has involved prostitutes and a miserable doppelganger police officer.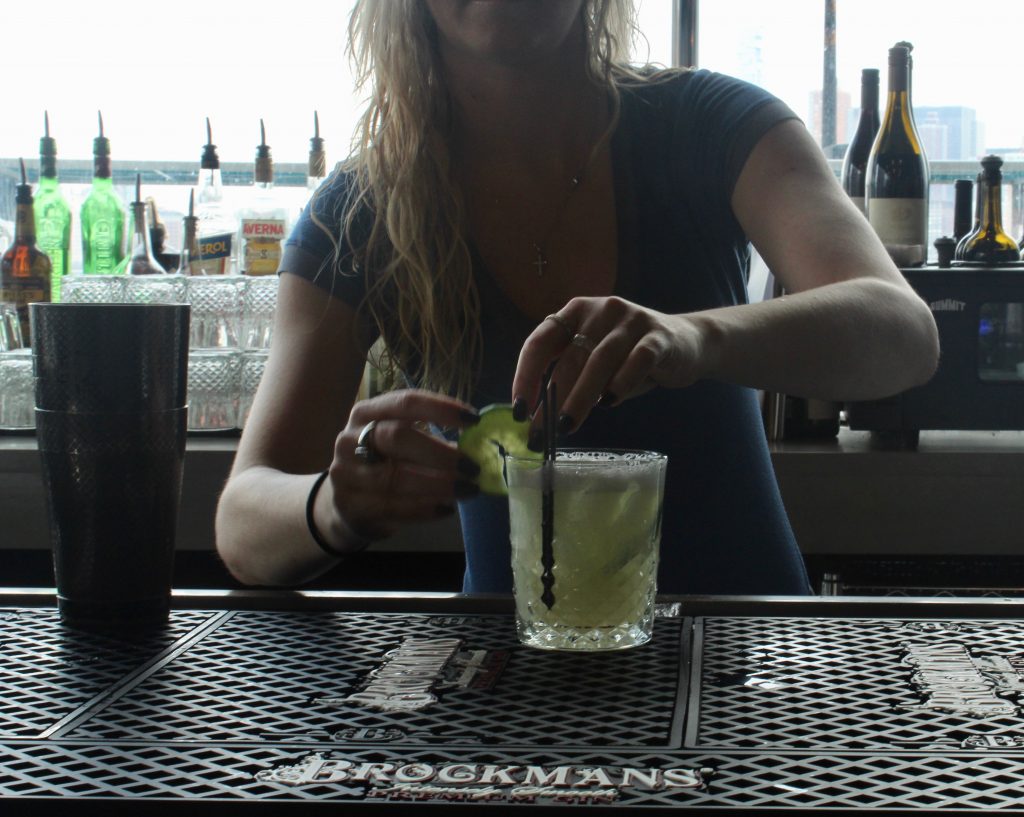 Meanwhile, bartender Jessica Wlazlowski, makes us Hudson & Co's Brockmans cocktail, the "Cucumber Bliss." This drink features muddled cucumber, which is a lovely compliment to the rich citrus and berry notes we know and love in Brockmans Gin. It tastes like summer, although we're not quite there…yet. It is a fitting metaphor for the fact that we're just across the river, looking at Manhattan but not quite in it. For Brian, who had been Manhattan-focused for most of his bartending career, living and working New Jersey has been a transition.
"There are some great restaurants opening up here, and the city itself is getting more and more artsy, but when I tried to get bar staff for this place, people were hesitant. I think that will change, eventually. And when it gets warm, and this place goes into full swing, more and more people will realize what Jersey City has to offer."
Maybe we're biased, but we're already sold. A crisp, refreshing, easy-drinking Brockmans cocktail and stellar views of New York? Absolutely.
Cucumber Bliss
from Hudson & Co.
Ingredients
2 oz/ 60 ml Brockmans Gin
2 cucumber medallions
1 oz/ 30 ml simple syrup
.75 oz/ 22 ml lemon juice
Method
Muddle the cucumber medallions with the simple syrup at the bottom of a shaker.
Add the lemon juice and Brockmans Gin, and shake vigourously until cold.
Dump everything into a rocks glass, and garnish with a fresh cucumber slice.