Kari Rosenfeld has always known that the restaurant life is the life for her. Some bartenders fall into this career, starting off as a means to an end and then realising, perhaps in one day, that this is real. But not Kari, now head bartender at the Thirsty Soul in Philadelphia. Kari always knew.
"Growing up in Philadelphia, my life was not always secure and safe. But restaurants were always a safe place for me, and I knew in restaurants I would always have a place to go, whether life was good, bad, ugly, or sad."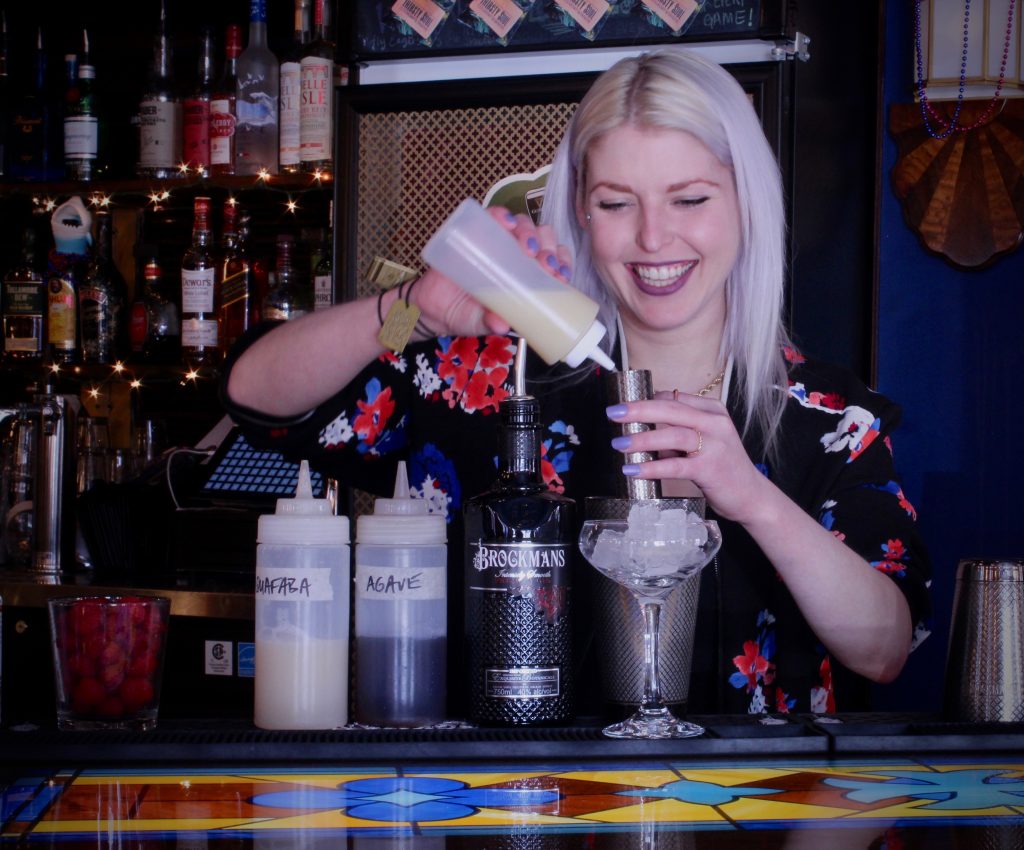 There is no denying that Kari is in the right place. She stands comfortably behind the Thirsty Soul's long wood bar, gliding around as she talks to us, as if this were her living room and we were her guests and she was thrilled to be hosting us. She is cheerful and chatty, and the affection she has for this industry is clearly authentic, and not at all new.
"I never felt happy doing anything else but being in restaurants," she says, grabbing raspberries, grenadine, and a squeeze bottle of aquafaba. "The only thing I ever felt passionate about was the belief that food, and booze, and bedding, and family are the only things that really matter."
The Thirsty Soul has been open for just six months, but it has that comfortable worn-in feeling that draws you into a place. The décor plays cheekily on a church theme, with bits of the bar mimicking stained glass, and a real-life confessional, just off the entrance, that leads to a secret back room.
"It's casual here, and it's fun, but I get to be creative, which is what I need," Kari tells us. "Anyone who makes cocktails for a living needs creativity."
Lucky for us, Kari's creativity is now on full display, as she has finished making us a drink. It is a play on a Clover Club called the "Lawn Party" with grenadine, agave, and the ever-trendy aquafaba, a vegan-friendly egg white alternative. Needless to say, it's delightful. Bright, frothy, fruity, and just tart enough.
That said, for Kari, being a bartender is about far more than creativity.
"My initial goal walking into this career was, if I could make someone smile within 15 minutes of getting to work, then that's a good thing. People come to a bar to feel comfortable and to feel at home without being at home. So when people come in and you already know they're not having a good day, but you can make them laugh or smile, that's what's so special."
Lawn Party
by Kari Rosenfeld
Ingredients
2.5 oz/75 ml Brockmans Gin
.75 oz/22 ml grenadine
1 oz/30 ml lemon juice
1.5 oz/45 ml aquafaba
.5 oz/15 ml agave
ice
Method
Add all ingredients to a shaker.
Dry shake vigourously, without ice, slightly longer than you would with an egg white.
Add ice to shaker, and shake vigourously again for 10 seconds.
Double strain into a chilled coupe glass, and garnish with a skewer of three raspberries.