Heading to Erv's, in the Brooklyn neighborhood of Prospect-Lefferts Gardens, you may not think you're in the right place. It's on a small, dead-end street, off a busy avenue, and the awning hasn't changed from when it was a laundromat. But as you approach and see the people through the windows, some crowded around the small bar, others perched studiously behind a computer or having a laugh with a friend, you know you've come to the right place.
"We started off as a 250-square-foot bar," bar manager Leo Cazares tells us, pointing to the area in the ceiling where a wall used to be. It is difficult to imagine this. The place is pretty small to begin with, but before, there was just room for the bar, nothing else. Then they expanded into the space next door and tripled in size. With the expansion they brought in high top tables, places to perch along the wall, and a few booths carved out of wood. The wall facing the street houses a garage door, which opens up in the warmer months and allows the reverie to spill out onto the quiet street. We gaze off for a minute, getting lost in the thought of warmer months approaching…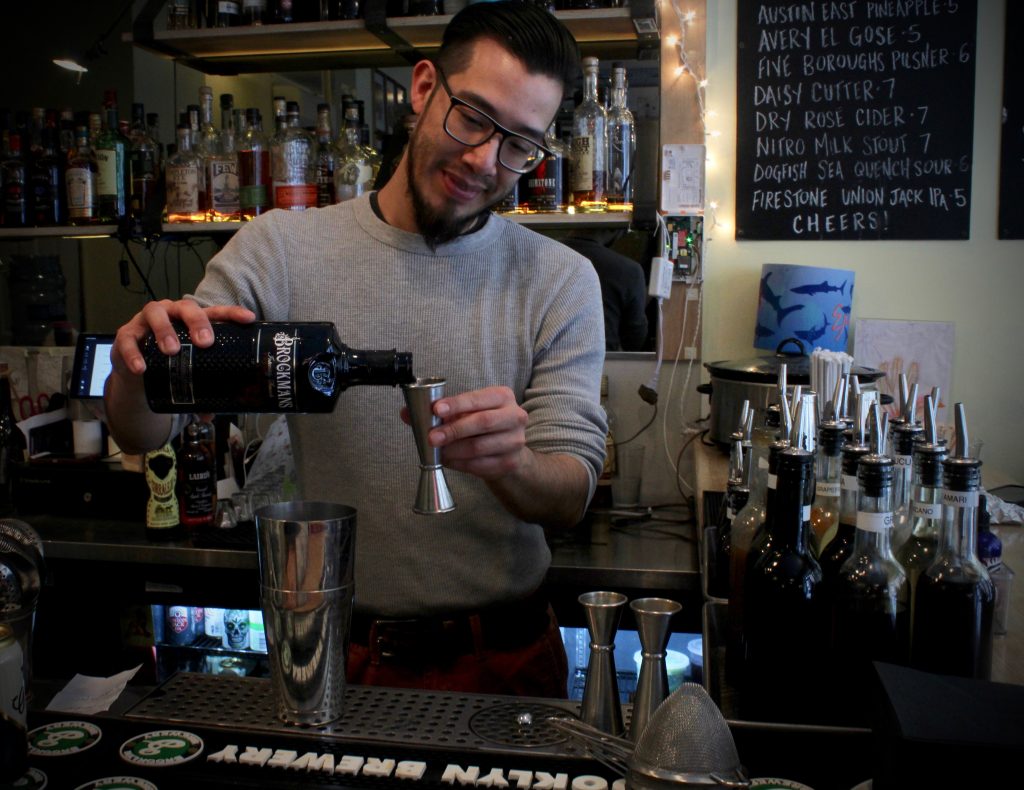 But Leo gets our attention back with a cocktail (that always works). Clearly also dreaming of summer, he adds cucumber vodka, coconut rum, and grapefruit juice to the Brockmans. Our interest in piqued.
"I don't think there are enough tiki cocktails out there with gin," Leo says, adding lime juice and house-made pistachio-almond orgeat to the shaker. "And when I tried Brockmans, I thought, I had never tried a gin that was this intense in flavour. I had to make a tiki drink with it."
And if the amount of ingredients in this drink seems like a lot, we have a look at the current cocktail menu, a giant laminated single sheet with 27 drinks on it, all packed with flavours, all given playful names, all grouped together by spirits. We ask Leo how it works to have so many cocktails.
"You know, it really works. We change the menu twice a year, so we can really give ourselves and our customers time to learn all the drinks. We wanted our menu to be different—you go to a cocktail bar in Manhattan and the drinks are 16 bucks a pop and there are only eight or ten to choose from, for the whole season. Our menu has something for everybody. And the people here love it."
Leo is a treat to talk to. Affable, his mind always seems to be churning. As we chat, people walk in and say hi to him. He's clearly a fixture of the place. He is, after all, the only remaining member of the team that opened this little bar almost five years ago. Born and raised one neighbourhood over, it was easy for this bar to become his home.
"Everyone who works here lives nearby, actually. It means nobody can ever call out sick and lie about it." He laughs. "It's like, 'no man, I saw you on Flatbush Ave earlier today, you're fine, come to work.'"
It is no wonder that Erv's, this little cocktail bar on a little dead-end street has become a neighborhood staple. It may be unassuming to the untrained eye, but inside it is packed with people, flavours, and corners to congregate. Oh, and that Brockmans tiki cocktail? Absolutely sublime.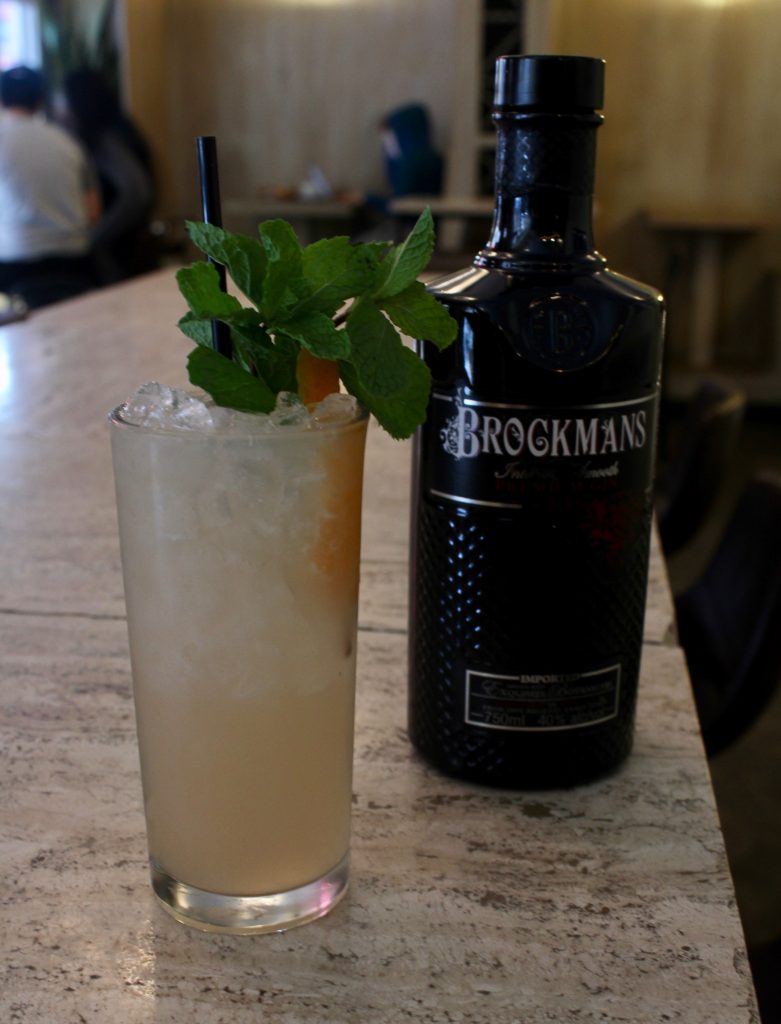 Summer Angel
by Leo Cazares
Ingredients
2 oz/ 60 ml Brockmans Gin
.5 oz/ 15 ml cucumber vodka
.5 oz/ 15 ml coconut rum
.5 oz/ 15 ml pistachio/almond orgeat
.5 oz/ 15 ml grapefruit juice
1 oz/ 30 ml lime juice
club soda
Method
Add all ingredients except for club soda into a shaker. Shake briefly to lower the drink's temperature.
Strain into a highball glass filled with crushed ice.
Garnish with a mint bunch and an orange peel.