There's been a lot of press about the use of plastic straws in bars. Perhaps you went to your favourite bar to have your regular Brockmans and tonic only to discover it no longer came with a straw, or the straw was made of metal, paper, or of…pasta! Whilst we were in the US, we decided to stop by some of our favourite bars to get the bar staff's views on the way forward for the bar industry.
In the bars we've been visiting, whether they be high end, speakeasies or anything in between, they are not just getting rid of plastic; they're finding their own (sometimes unique) ways to replace them.
Paper or Metal?
Although some may want to see all straws eliminated completely, straws play a large role in bar culture. Customers love to drink with them, certain cocktails seem to require them, and many bar owners implore that their bartenders taste each cocktail before serving.
What prompted bartender Melissa Markert at Dead Rabbit, the well-known Irish pub and cocktail bar in lower Manhattan, to minimise plastic straw usage was how tired she was of seeing the number of straws that ended up in the rubbish bin each night.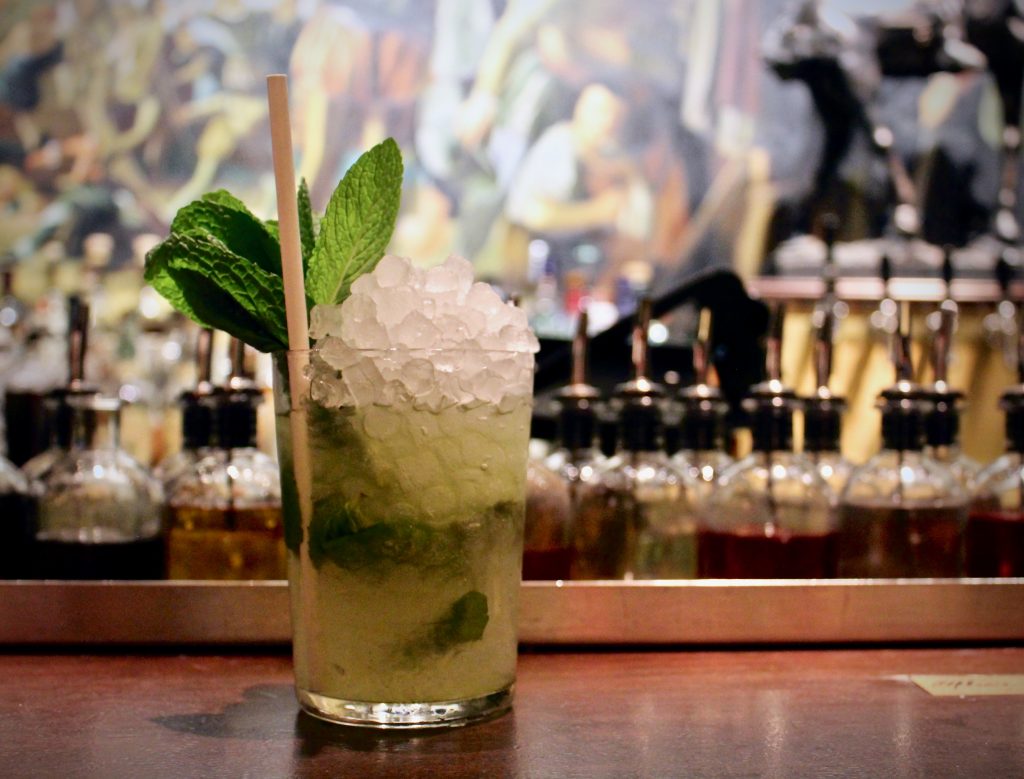 "We would taste every drink, every time, with a plastic straw," she told us during a chat at Blacktail at Pier A, Dead Rabbit's sister bar. "I knew there had to be a better way. Somebody just had to go out and make it happen."
Now the official overseer of the sustainability program at both bars, she has instituted a strict policy: paper straws by request only, and in drinks served on crushed ice. For the bartenders to taste their drinks before serving, they must use metal straws that then get washed.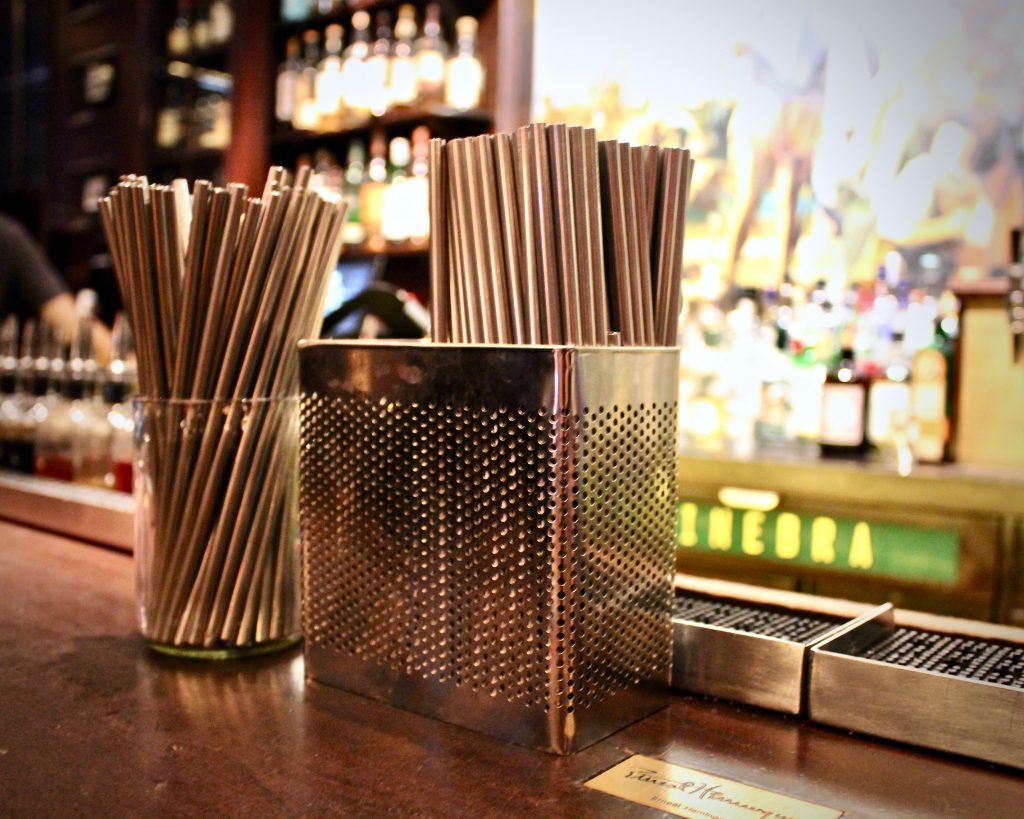 Amongst the other bars that have embraced metal straws as their alternative to plastic is Friends and Lovers, a high-volume bar and venue in Crown Heights, Brooklyn. Programming Director Dash Speaks opted for metal only when he found that customers didn't enjoy their paper straws turning soggy.
But the downside to metal straws, as Melissa at Blacktail explained, is that people like to steal them. As both Blacktail and Dead Rabbit attract large crowds, it is hard to ensure they get their straws back. Dash's solution at Friends and Lovers?
"We charge a dollar for each straw. Customers get to keep their straws if they want, and proceeds from the sale go to Oceana, an ocean conservancy nonprofit."
Still, many bars are choosing paper over metal. One of the companies that has been supplying a majority of New York's bars with its colourful paper straws can't keep up with demand. This has been in large part due to Brooke Toscano, head bartender at Pouring Ribbons in Manhattan. Brooke secured a deal to provide a year-long discount for straws to any one of her Angel's Envy accounts that wishes to switch to paper.
"I also offer to come in and take all their plastic straws away, if they like," Brooke told us, smiling. And where does she take them? "Right now, they're all in my apartment. I'm going to make some sort of art project with them, but for now, my apartment is filled with plastic straws." She shrugged. "Thankfully, my husband understands."
Straws by Request Only
Friends and Lovers, Dead Rabbit, Blacktail, and Pouring Ribbons all employ a "straws by request only" policy. Melissa, of Blacktail and Dead Rabbit, believes that most of the time, people will use a straw simply because it's there, and will not notice if it's not.
"If you don't automatically get it, people don't even think about it. And if someone really wants one, they can ask for one." For her, the "by request" model is the perfect conversation starter, whereby a bartender can explain their environmental mission. "Afterward, most of the time, our customers say, 'It's ok, you can keep the straw.'"
Not everyone is a fan of this "by request" policy, however. Allison Kave, owner of Butter and Scotch in Crown Heights, feels just as passionately about her bar's environmental impact. But she believes the effort should not be at the expense of proper hospitality.
"As the owner of a bar, it's my job to create a context in which customers don't even have to worry about how they consume their beverage. You're putting people in this position where they have to ask for something, and make this moral decision every time they have a drink. Why don't we just pay a few pennies extra and stock things we won't feel guilty about serving?" Her solution? Compostable straws. They look exactly like plastic, but they biodegrade. Every highball gets one, no questions asked.
"Personally, I love drinking out of a straw," Allison told us. "And I don't like giving someone a highball without a straw to drink it with."
Over at Honey's in Bushwick, Brooklyn, the bartenders are aware that choice of glassware can affect whether or not a customer needs a straw.
"It's definitely caused us to examine what kind of cocktails we put out," says bartender Torrey Bell-Edwards. On their current menu, they only have one highball. Their plastic straw alternative? Bucatini (yes, the pasta). It's affordable, compostable, lasts longer than a paper straw, and makes people laugh.
"The best part about it is, the length is adjustable. If someone wants one for their short drink, we can just snap it."
Pushback from customers
Knowing how popular straws are, we were particularly curious about how their customers are taking all this change.
Most of Melissa Markert's customers are completely fine with it, and happy to be spending their money at an establishment with an environmental mission. At Honey's, Torrey told us that most people get excited when they figure out what their straw is made of, especially if they guess correctly.
Brooke Toscano admitted she has had more issues with certain owners than with customers, either because they fear pushback from customers, or because they're "too old school, and set in their ways." She must have honed her persuasion skills because she added, "For the most part, everyone is on board."
"A terrible thing that's happening right now, is people are saying 'We got rid of straws! We're done!'" bemoaned Melissa. "But there is so much more that can be done."
Brooke Toscano could not agree more. At Pouring Ribbons, she regularly creates cocktails that use "trash." When remains such as citrus peels and pineapple skins would normally be tossed, she repurposes or reuses them for garnishes, syrups, and cordials. Could this be the next big thing?