Chris' Jazz Café, a Philadelphia institution, is not too far from what you might conjure when you think of an old-fashioned jazz club. It is dark, intimate, peppered with cozy corners, and full of history. Around for 30 years and in the center of town, this place still has live jazz every night and bartenders whose personalities have become embedded in the fabric.
"We're one of the older guys in the game, for sure; there are only about five or six bars that are older than us," bar manager Brittany Koole tells us. "But we're still here and we're still cool!" She laughs.
Brittany is a far more recent transplant to Chris', as well as to Philadelphia itself. She group in New Orleans, and learned the trade from being a promo model for liquor brands to working for Tales of the Cocktail back when it was but a small conference very few people had heard of.
"Back then, the seminars were 'How to Get Over a Hangover,' and 'Which Glassware is The Best'—things we would scoff at now."
We ask her why she chose to move to Philly.
"I was tired of hurricanes," she says, matter-of-factly. "Before moving here I lived in Houston, and after Hurricane Harvey I came up here for a vacation. I was with some friends, and we were day drinking at a popular bar nearby, and one of my friends just said to me, 'You should move here.' And I was drunk enough to buy myself a one-way ticket to come back a week later. The next morning, when I remembered what I had done, I said to myself, 'Well, I better find a job then!'. And I moved here a week later."
We go on to talk about how sometimes, you just need to make a big decision in a moment.
"It definitely needed to happen. I think I was waiting for someone to tell me, 'it's ok to move, you can do this.'"
Having been here a year, Brittany already feels well-adjusted, especially that she found her place at Chris' Jazz Café. Hailing from New Orleans, a city whose intertwined industries are tourism, hospitality, and music, Brittany is no stranger to the marriage of jazz and cocktails. This bar had always served craft drinks, but she joined the team to liven up the program, and to remind the city that Chris' is very much a part of Philly's exploding mixology scene.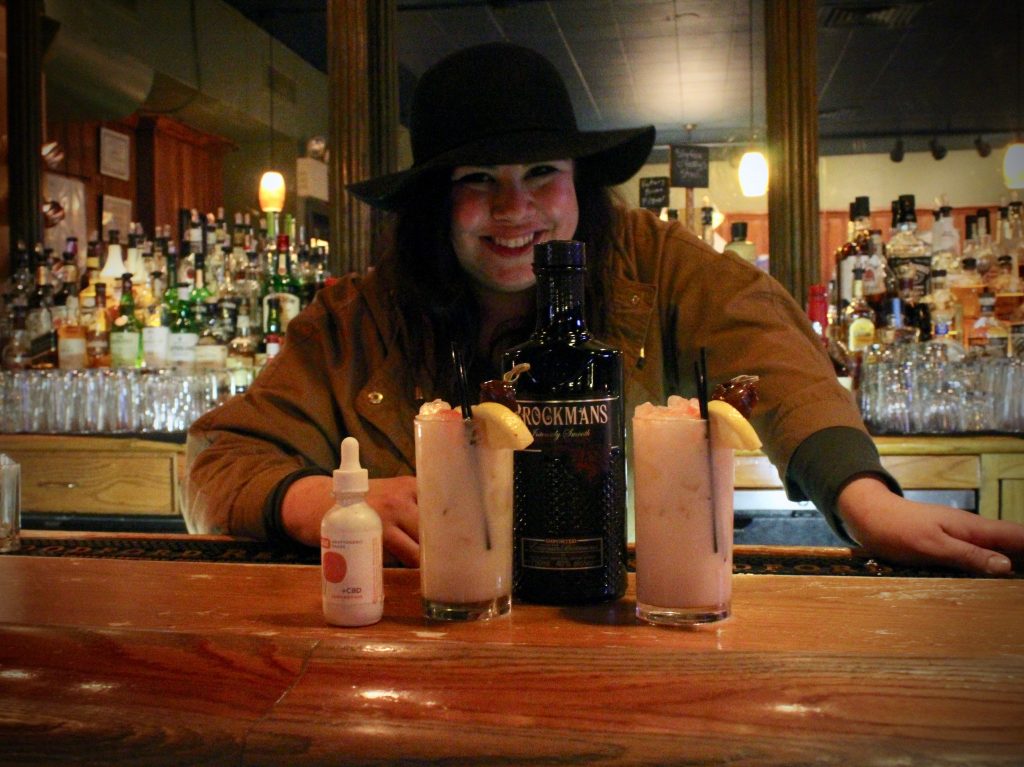 "Philly is definitely known for its great dive bars, and on the other side of the spectrum now we have a bunch of high end, small, cocktail bars too. But I think what we're missing is something in between—something high volume that also serves a great drink."
It is clear that Brittany is keen on making Chris' Jazz Café just that place—a 30 year-old institution with history in its walls and bustling jazz every night, yet also somewhere that's known for its innovative cocktails. To demonstrate, Brittany makes us one of her Brockmans creations, the "Gin and Chronic." We'll let the recipe say the rest…
Gin and Chronic
by Brittany Koole
Ingredients
2 oz/60 ml Brockmans Gin
2 oz/60 ml coconut cream
1 oz/30 ml lemon juice
3 droppers-full of lemongrass CBD oil
ice
Method
Add all ingredients to a shaker.
Shake vigourously for 15 seconds, then pour straight (without straining) into a chilled highball glass.
Garnish with a skewered cherry and a lemon wheel.