"I had to make a choice. I could stay in New York City, where I was angry at my underperforming job, and I was never going out and never able to do anything, or I could go to Providence," Kevin tells us, looking down at his bar tools and letting out a laugh. There's more to the story. "My girlfriend lived here, one of my oldest friends lived here, and I had art projects waiting for me. It became an obvious choice."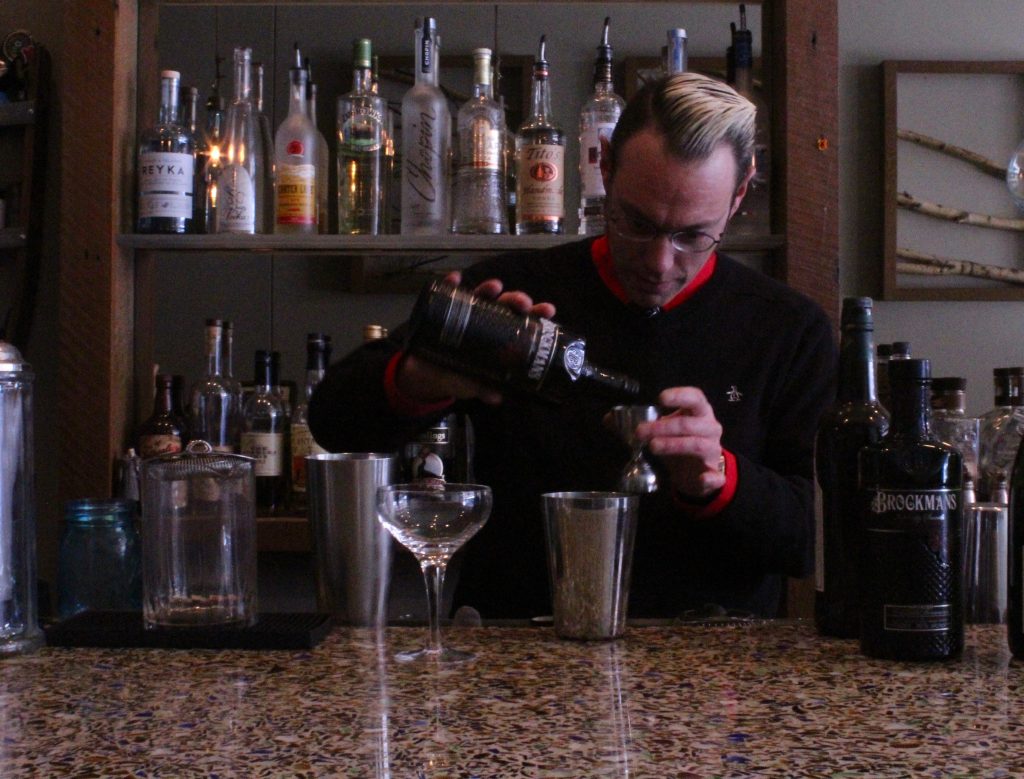 We are in Providence again, and this city is just as quaint and unassuming as ever. At Figidini, a charming, cozy, string lights-strewn Italian restaurant, Kevin manages the bar and its small tight-knit team, and has been doing so for five years, since he decided to leave his New York life behind.
Kevin admits that he and said girlfriend have since broken up, but he does not regret his move. Although New York is known for its big cocktail and bar scene, what he's found in Providence—and what we're starting to realise too—is a loyal drinking audience that is on board to try new things. Although Figidini is known for its pizza, the backbar here is impressive. The bartenders here like to experiment. Kevin's face lights up when we ask him if his creative ventures are well-received.
"We have a pretty strong group of regulars here, and they're always willing to play along. What's great is, the owners follow the same philosophy as we do. The pizzaiolo will one day decide to throw a bunch of weird stuff on a pizza and see if it works. That's kind of what we do behind the bar too."
As a perfect example, Kevin takes out a bottle of plum-infused amontillado sherry, something one of his bartenders, Cait, was tinkering around with and discovered it worked (we try it, it does). Kevin had been looking for a way to use this nutty/fruity creation, and remembered a gin drink he once had at a Japanese restaurant that used umeshu, or plum wine.
"Brockmans had to be the gin in this drink, of course, because of its dark fruit."
Not much else is needed in this drink—just some lemon to marry the Brockmans and the plum sherry.
"And I topped it with cava, because that is always a good idea."
We will not argue there. This cocktail is both simple and quite complex, rich and light. The fruit of the gin and the plum is quite present, but so is the nuttiness of the sherry, and brightness of the cava. It almost feels like these contrasting flavors and textures should not work, but they really do. We see why Figidini's owners trust Kevin and his team to play. We also see why Kevin decided to go to Providence.
Plum the Depths
by Kevin Toth
Ingredients
1.5/ 45 ml Brockmans Gin
1 oz/ 30 ml plum-infused amontillado sherry (infuse for at least a week)
.75 oz/ 20 ml lemon juice
cava
Method
Add first three ingredients to shaker.
Shake vigourously.
Fine strain into a chilled coupe, top with cava, and garnish with a lemon twist.
If visiting Providence, be sure to pop over to Kleos and Rosalina after Figidini…