"Downside: I will never be a hand model," Sean McGuire tells us, laughing. We've asked him if there's anything he doesn't love about bartending. "My hands always look like garbage," he says.
We're at a.bar, a sleek, intimate cocktail bar attached to the AKA hotel in Rittenhouse Square in Philadelphia, having a chat and a dram and watching the bar fill up on a Friday afternoon. For a small space, a lot of people are managing to fit in, slowly but surely filling up every corner there is to fill. As it is attached to a hotel, there are certainly the tourist sort scattered through the crowd, but there are regulars and locals too.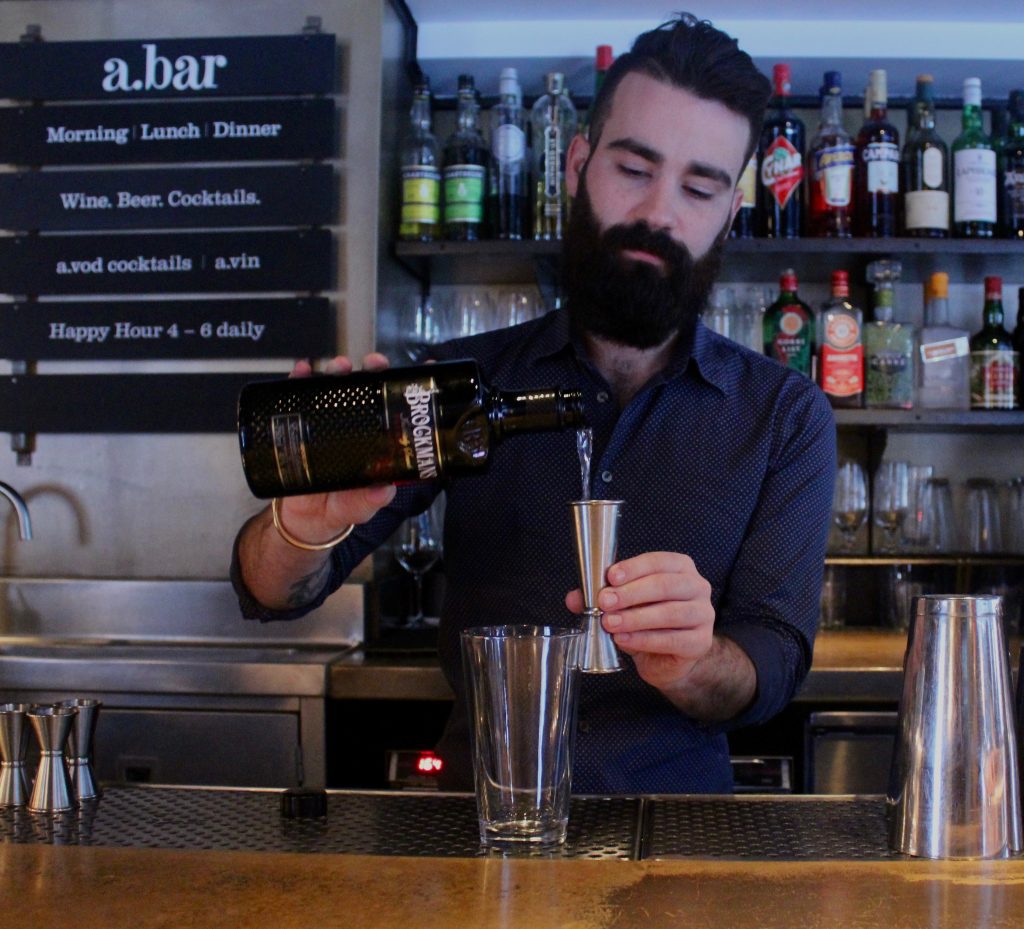 "The crowd here is definitely eclectic," Sean tells us. "When I first started here I thought we would just attract tourists, but there's a great 'neighbhourhoodiness' about it here too. I have a book behind the bar with all of my regulars."
Sean exudes that warmth that is so necessary to be a good bartender. You know he knows what he's talking about, but also that he takes none of this too seriously. He smiles a lot. He shows his cards. He's been at a.bar for three years, which, in an industry that sees a lot of turnover, is a testament to how much he enjoys it here.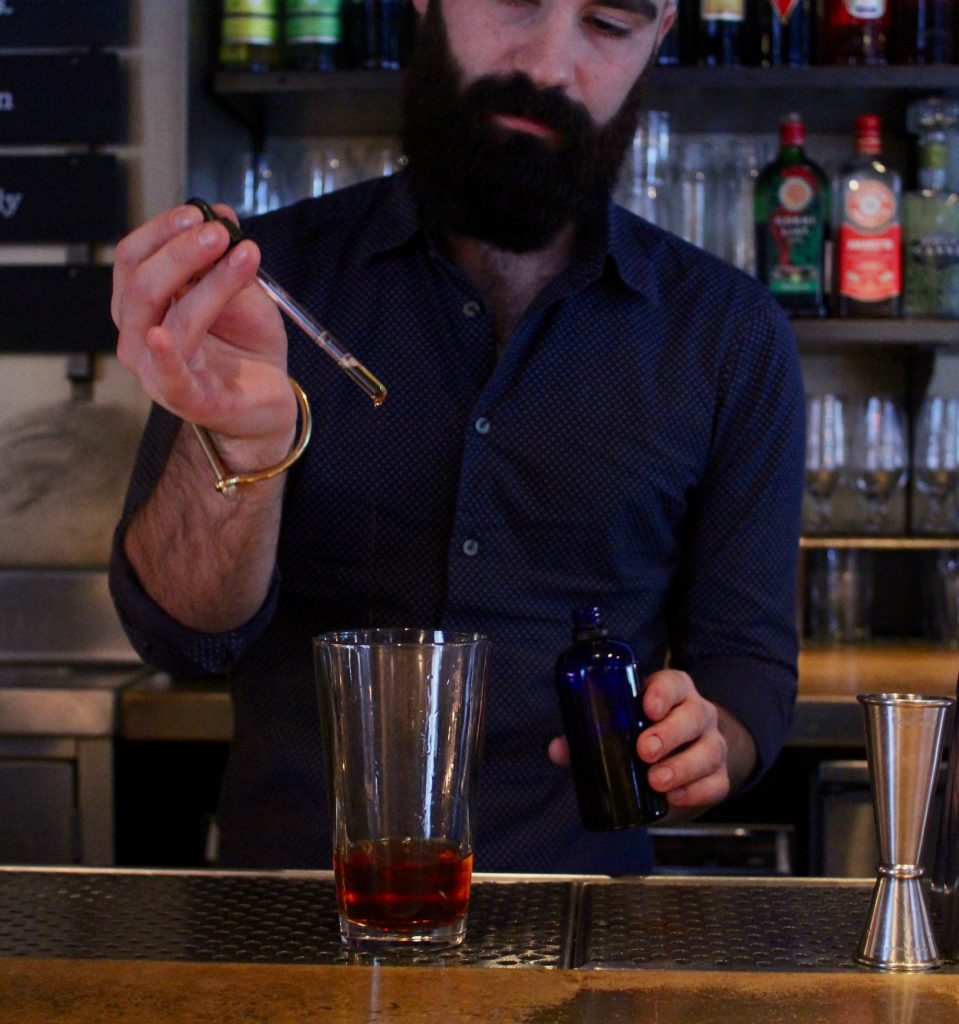 "I found a job where I can get paid to be social. I also really like to sleep until noon, or 1, or 2, or 3. I would rip my hair out if I worked a desk job."
Sean makes us a drink, a stirred Brockmans cocktail with amaro, orange blossom water and absinthe. He admits he came up with it not too long before we arrived. If he hadn't told us, however, we wouldn't have noticed. This drink is smooth, floral, bitter, and fruity and makes perfect sense.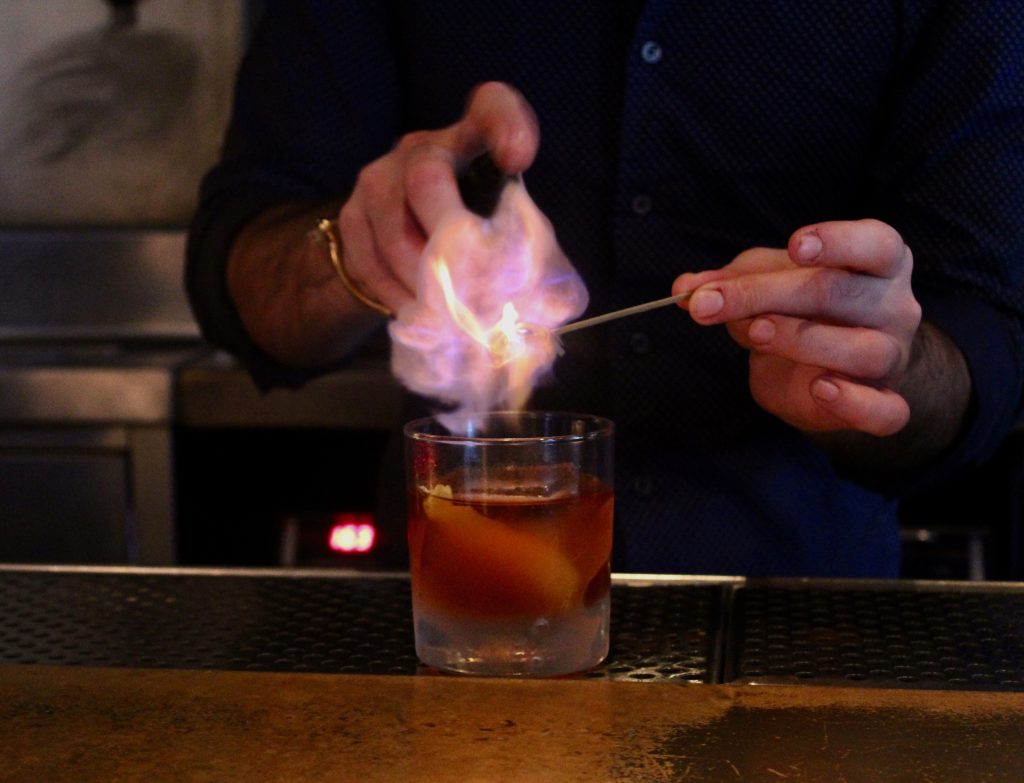 "I like stirred gin drinks!" he proclaims. "I like them boozy, a little sweet, a little herbaceous, and with amaro." We take another sip. Perfect. "To be honest, I do not love juniper-forward gins, which is why Brockmans is one of the few gins I actually drink. This one came easy."
The bar is quite full now, which signals our time to leave. But if you find yourself in Philadelphia, give yourself the time to visit Sean at a.bar. He'll be the one smiling, and he may or may not have less-than-perfect hands…
.something stirred and fruity
by Sean Mcguire
Ingredients
2 oz/60 ml Brockmans Gin
.25 oz/ 7 ml demerara syrup
.25/ 7 ml gentian amaro
3 drops orange blossom water
3 dashes angostura bitter
absinthe
Method
Add all ingredients except absinthe into a mixing glass.
Stir for about 15 seconds until quite cold.
Rinse a rocks glass with absinthe and dump the excess. Add ice.
Strain drink into glass. Garnish with a flamed lemon twist.