We here at the Brockmans team are so thrilled to be in Philadelphia, a charming little city packed with history, proud residents, and a dazzling array of places to drink. Our first foray into the Philadelphia drinking scene is at Spice Finch, a Mediterranean restaurant with a notable cocktail menu, located right in the center of town. We're sharing war stories with Michael Haggerty, the bar manager and born and raised Philadelphian.

"So in my last semester of college, I realised no, I do not want to pursue a career in anthropology," he starts, provoking a laugh. "I bartended through school, and I would go to class during the day, and work at night. During my last semester I was working every day, alone, in a lab. Anthropology is, of course, the study of human beings, language, culture, etc, but I spent my mornings studying it, alone. Then I would go to work, and I would spend the entire time talking to people, interacting, actually studying human beings and being around people. I thought that was ironic. I decided, yeah, definitely not doing this."

Michael is quite easy to talk to. From the moment we sat at his sleek, square-shaped bar, we feel like we could spend all afternoon laughing and talking shop. We ask him if there was a moment when he realized this job was more than just a means to an end.
"Well, I bought a house," he says, chuckling. "And I realised, okay, this is a career, this is my career. After that, I finally stopped hating when people would ask, what's my real job? What do I really do?"

Still a young guy, Michael is already 14 years into the business. His first bartending gig, at 19, was selling beer in the nosebleeds section at Philadelphia Eagles games.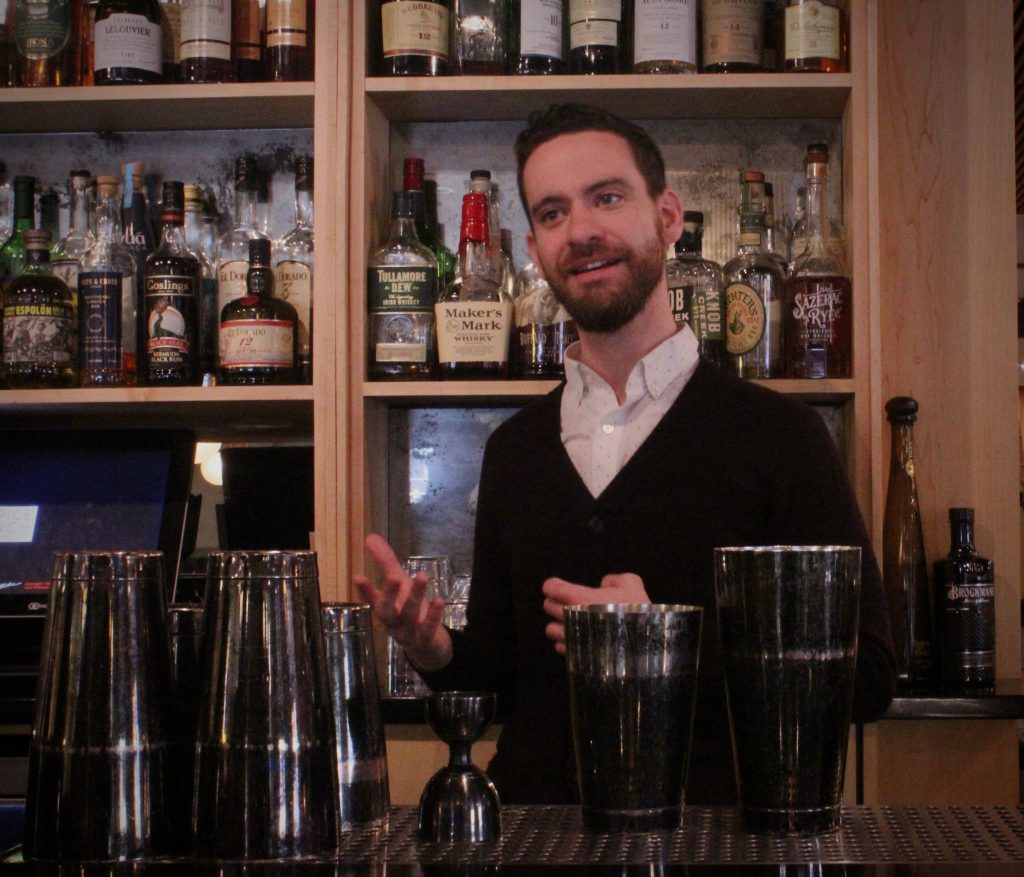 "Technically I was a bartender, right? A roving bartender." He chuckles. "So on my very first day, I'm pouring a beer for this lady, and I was getting a huge head of foam, and I know I'm fucking it up, and the lady says, 'No, you have to pour it down the side,' and she's trying to tell me how to do it. And I have no idea where this came from but I said, 'I'm sorry ma'am, but do you pour beer for a living? Because I do.' On my first f*cking day."

Michael has come a long way from pouring beers at football games though, and has witnessed firsthand how the cocktail scene has exploded in the States, and specifically in Philly.
"When I was starting off, I was lucky that one of my first gigs was at the Four Seasons. I started as a busboy, and moved my way up, talking the bartenders' ears off so I could learn. When I started bartending at the hotel, it was old rich people drinking things other people wouldn't order at a regular bar—manhattan, rusty nail, rob roy—I had to learn all of them. All of a sudden, 20-something kids started showing up at the bar, ordering cocktails. I thought, what is happening?"
By now, Michael has made us his Brockmans cocktail, which he has named "Moving Parts." It is a long drink, featuring fortified wine, tarragon, a fir liqueur called Sapins, and celery soda. We love when bartenders pair Brockmans with herbs–they're an earthy, unexpected compliment to the spice and citrus of the gin. Suffice it to say, we are really, really pleased to be in Philadelphia.
Moving Parts
by Michael Haggerty
Ingredients
1 oz/30 ml Brockmans Gin
1 oz/30 ml Lillet
.25 oz/7 ml Sapins liqueur
.5 oz/15 ml lemon juice
2 dashes tarragon tincture (or muddled tarragon)
celery soda
Method
Add all ingredients except the celery soda to a shaker.
Shake vigourously for 10 seconds.
Strain into a highball glass over fresh ice.
Top with celery soda, and garnish with a sprig of tarragon.