Explorateur, right in the middle of Boston, is an impressive undertaking. Part café, part restaurant, part bar, in one corner you may find students and work-from-homers typing away on laptops and in another you may find regulars enjoying a long lunch. Being in the theater district, they also cater to pre- and post-show crowds, and with a noteworthy yet approachable cocktail menu, they have a steady cocktail crowd each night.
"There are indeed a lot of moving parts around here," admits Ian Swindlehurst, the cheery, affable bar manager. "But I just try to sell liquor despite all that."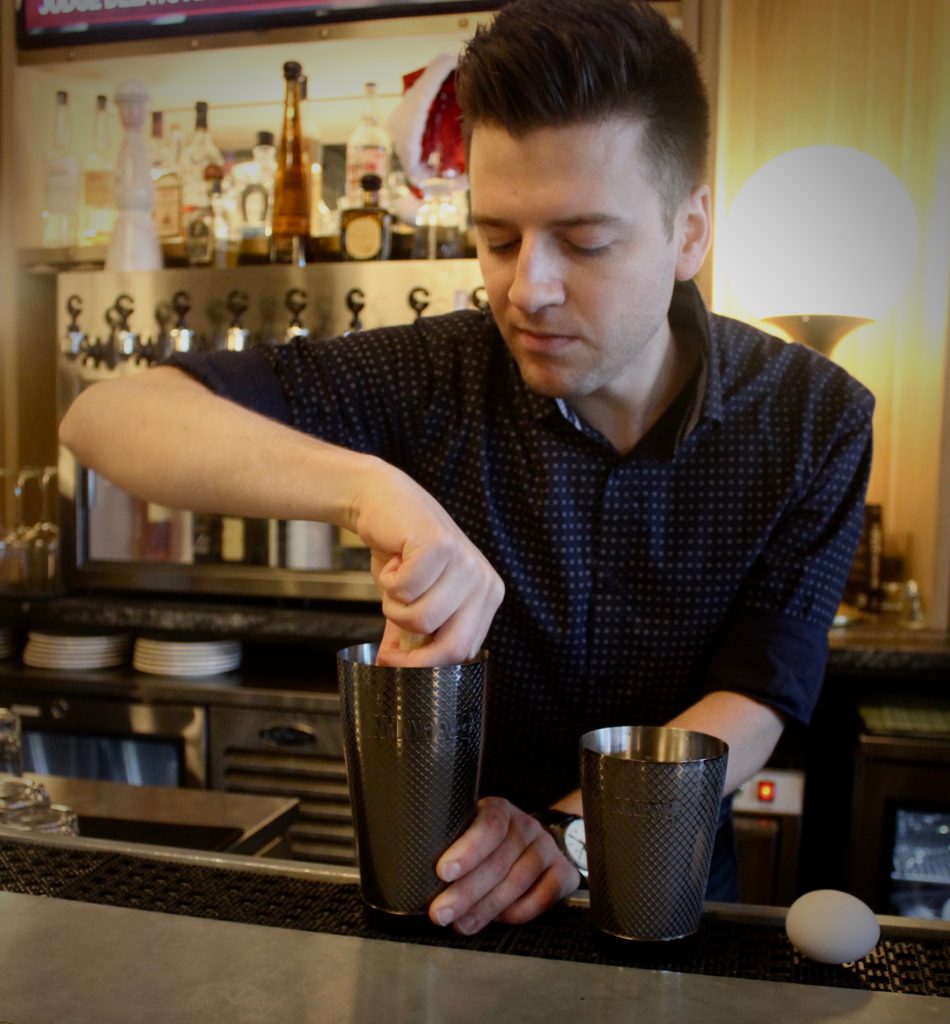 And sell liquor Ian does, with a rotating drink menu with which he has a lot of latitude to play. Largely self-taught, Ian worked around the city before he was hired to open and run the bar at Explorateur.
"When I saw my first cocktail on a menu, it felt amazing," he says, as he starts to make his Brockmans creation in front of us. He adds Brockmans and an orange peel, and starts to muddle. "This is the first place, outside of my apartment, where I was able to get feedback on my cocktails."
Hailing from a small town in the Berkshires, Massachusetts, Ian never saw himself as a big-city bartender.
"But then I moved back home after college, and after six months I said, oh my god, I gotta get out of here."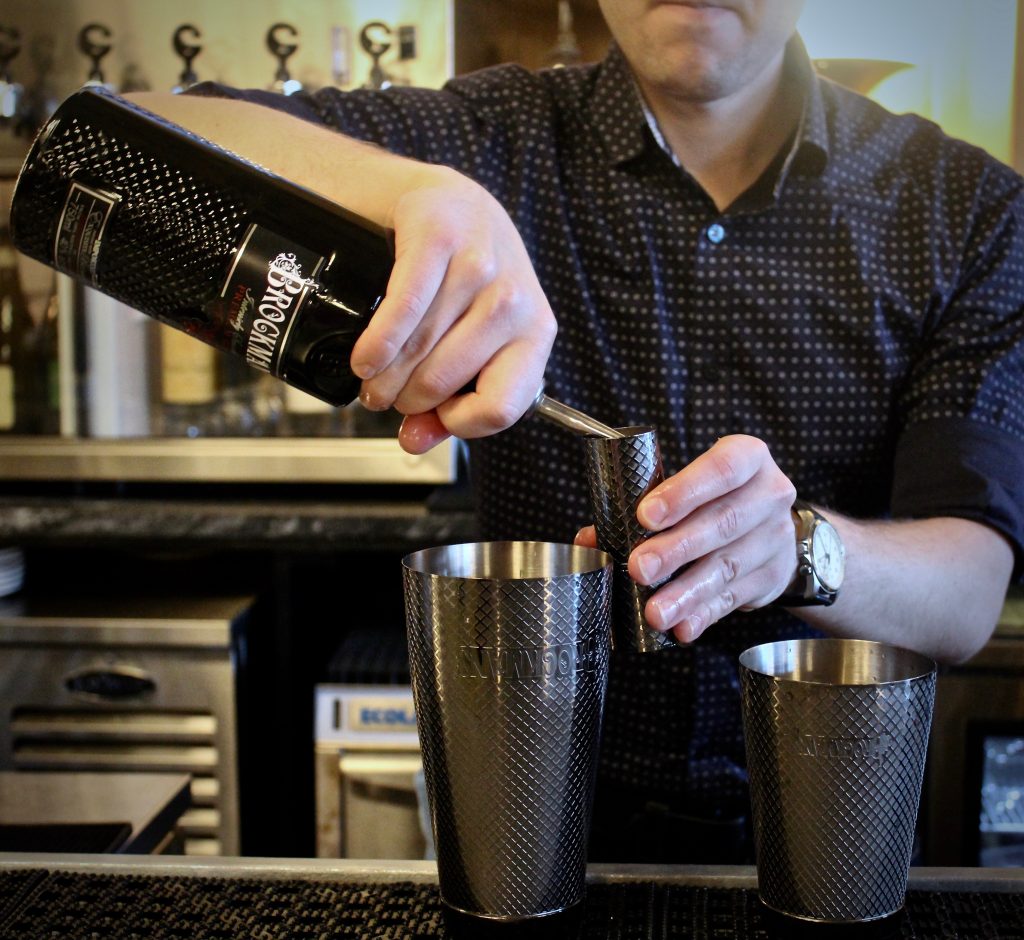 As he talks, he's adding egg whites to the shaker, ginger honey, and fresh orange juice. We're suddenly very thirsty.
"I moved to Boston and got a gig hosting at a restaurant, but I found myself gravitating toward the bar. I felt like my brain was dying after I graduated college; I needed to learn about something. So I built up my home bar and taught myself."
Now, as the bar manager at Explorateur, the brass gives him a lot of freedom to create each menu—"as long as it's not too science-y. The crowd here is interested in trying new things, but it needs to be approachable."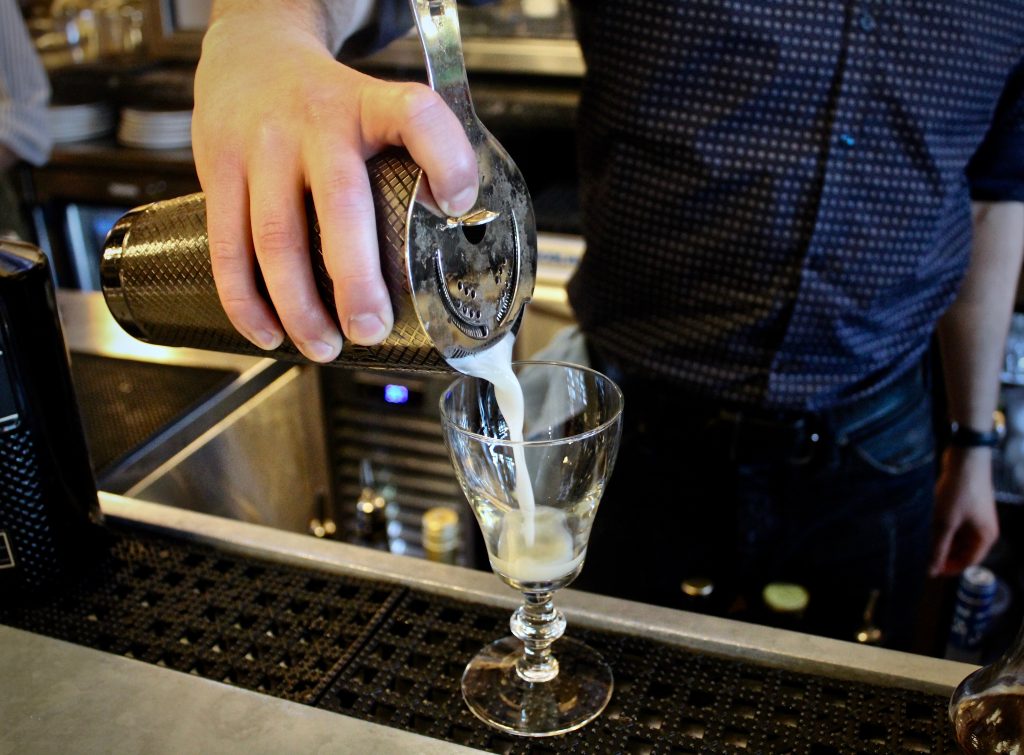 Each season he tries to go heavy on one spirit, both for his own interest and for his clientele's.
"Last spring we focused on gin. We wanted everyone to drink gin, and it totally worked. In fact, we tested recipes only on people who claim they don't like gin. And you know what? They realized they loved it."
We ask Ian why he thinks people think they don't like gin.
"It's either because of college, their dads or grandfathers, or because they think gin is one thing, or one brand. Of course, that's not the case."
Ian strains the foamy drink into a beautiful glass in front of us, and finishes it off with drops of angostura bitters that he drags a straw through, to create a nice design. The drink, called "The Dutch Club," is airy, juicy, slightly spiced, and quaffable.
For this drink alone, we, selfishly, are pleased he got away from the small town and moved to the big city.
The Dutch Club
by Ian Swindlehurst
Ingredients
2 oz/60 ml Brockmans Gin
.5 oz/15 ml ginger honey syrup
.5 oz/15 ml fresh orange juice
.5 oz/15 ml lemon juice
1 egg white
one orange peel
Angostura bitters
Method
Add orange peel and ginger honey syrup to the shaker, and muddle to release the orange oils.
Add the rest of the ingredients, except for the Angostura bitters.
Dry shake (without ice) vigourously, to emulsify the egg whites.
Add ice and shake vigourously again.
Double strain into a chilled coupe or Nick and Nora glass.
Carefully add drops of Angostura bitters to the foam, and drag a toothpick or small straw through the the drops to create a design.