Some would call it a speakeasy, others more of a club. Graphic Bar in Soho is one of London's more versatile bars…
We've walked into Graphic Bar in London's Soho neighbourhood on an afternoon when the team is transforming the space for a private party. Chairs are stacked in front of the painted garage doors, but the DJ station is prominent underneath the colourful light bulbs that hang from the ceiling. We can tell it gets rather wild here in the evening, something Marco, the bar manager confirms as he greets us. He points us towards the large bar to have a conversation.
Curious about his accent, we ask where he's from. Marco moved to the UK from Italy three years ago, starting as a barback here before working his way up to bar manager. He'd place himself in front of the mirror at home practising tending bar, crafting cocktails after reading about all of the classics and spending months studying spirits. During that time he came to love gin, which is clearly mimicked by the back bar of Graphic Bar.
Since he's had three years to study his audience in Soho, it's allowed him the opportunity to transform the menu to cater to their needs. "People often look at price to determine what they should order, rather than flavour profiles. So we're thinking of making the cocktail menu all one price, to make that one extra decision easier, and to bring the focus back to the spirit." He's also noticed many just look at the first cocktail on the menu and make that their drink of choice. Or they simply look at the cocktail that someone along the bar is drinking and ask for the same. "The best part of my job is actually figuring out what people would like to drink. You can change someone's entire experience by really finding out what it is that they enjoying drinking."
Marco's plan is to make the space more versatile come the New Year. That means building out the day bar by developing a lunch menu to pair with low ABV cocktails and coffee. That way, those looking to get work done on their laptops or in need of meeting space can do so in a hip environment.
He's also passionate about sustainability within the bar space, opting for paper straws, dehydrating fruit for garnishes and using leftover fruit to make leathers. He tends to think of waste simply as "bad organisation" but admits that might be the former chef in him coming out.
As for who he looks to hire? People who are humble. "Knowledge is relative. If you want to learn, you can." He goes on to tell us that he always asks what the bartender can offer the customer. As important as hospitality is, he's equally intrigued by a bartender's cocktail skills. Graphic Bar even hosts an annual Gin-Off whereby 4 bartenders are tasked with making 150 cocktails to compete. Around sixteen different gin brands get involved to have their spirit be transformed and voted on by the public. We're curious to see what they would do with Brockmans…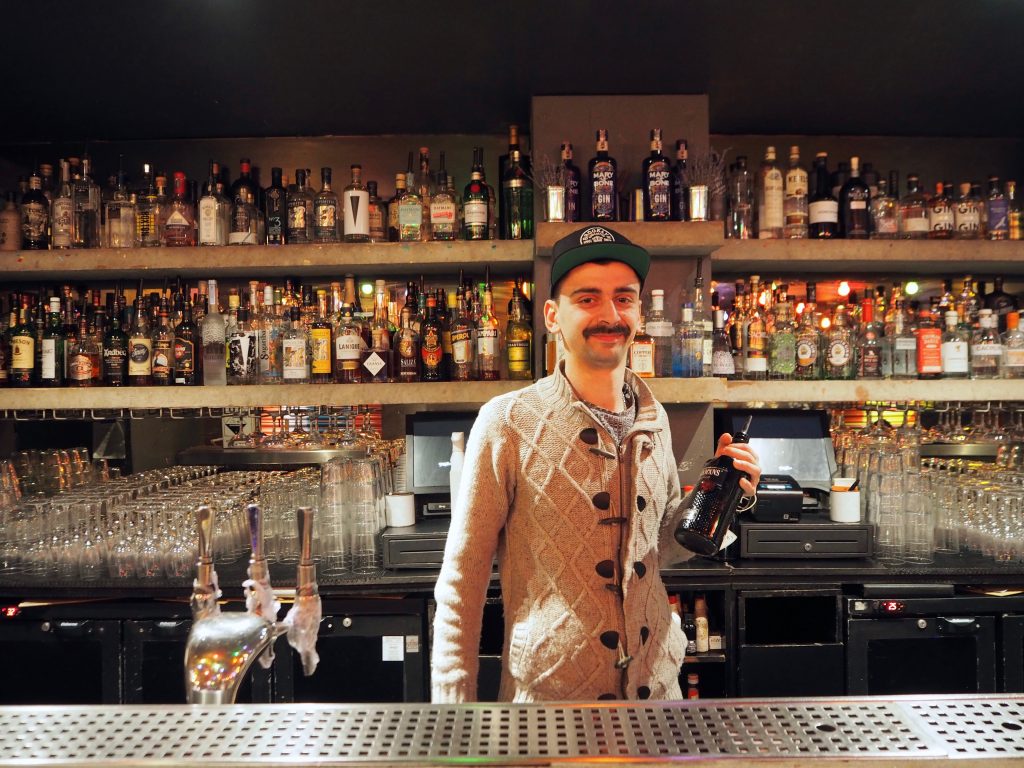 1. Describe Graphic Bar in a few words.
Artistic. It's a secret spot that's relaxed and friendly. At the weekend it's party mode, but during the week it's a bit of a speakeasy. A lot of bartenders come in telling us they've never seen a concept like this.
2. What is the best thing you have overheard at Graphic Bar?
I get asked often by the customers why I do various things with cocktails, such as why I put vermouth in the mixing glass to prepare a martini. A lot of customers tend to think they know best because they've learned it one way, but there are so many reasons we use different techniques or use certain products. So it's a great education tool.
3. Why is gin so popular?
Gin is cheap to produce and for a low price, you can find a great product. And cheap doesn't mean bad if you use a great recipe.
4. What about Brockmans appeals to you?
I like the combination of the botanicals. With berry gins you tend to think sweet, but the recipe with the blueberries and almonds makes Brockmans really dry and smooth. And it works well with tonic. I like to test different cocktails with it.
5. If you could have one last drink before you died, what would it be?
A Last Word.
Graphic Brockmans
By Marco
Ingredients
40ml Brockmans Gin
20ml Almond and black pepper infused Lillet Blanc
20ml Grapefruit Juice
15ml Blackberry and Liquorice Syrup
Grapefruit & Blackberry Fruit Leather
Method
Pour all ingredients into a shaker with ice and shake
Strain into a glass
Garnish with grapefruit and blackberry fruit leather