Michael Kolesar swore a bartender's oath not to spill everything he's heard from behind the bar. Have a Brockmans with him, however, and he might let a few slip…
Michael Kolesar has seen a few things. Now comfortably behind the bar at L'escale in Greenwich, Connecticut, Michael has worked at just about every kind of liquor establishment there is in his twenty years in the business. From the moment you sit down at his bar, you can understand why Michael has been doing this his entire life. You feel like you can tell him anything.
"Trust me, I've heard it all," he says, smiling coyly. "But I will never disclose. It's the bartender's oath."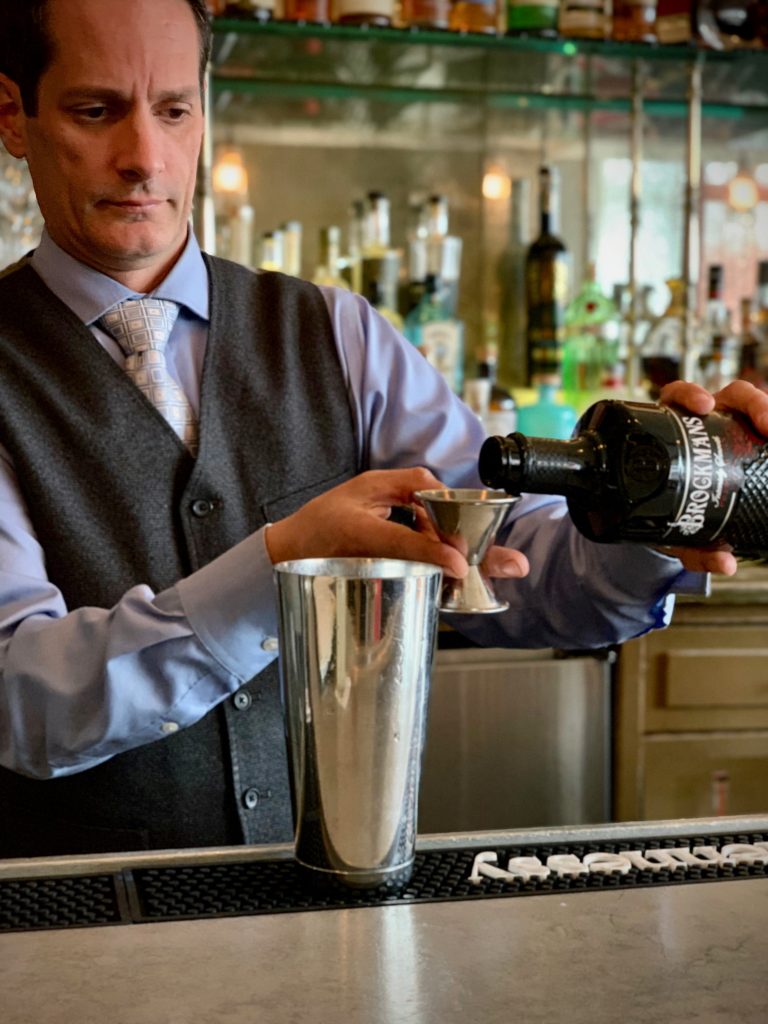 With a bit of prodding, Michael agrees to share some of his (tamer) stories.
"One time I had to cut this woman off at the bar. I told her I wouldn't serve her anymore drinks, and I put a water in front of her. She kept arguing, and finally threw her water at me. So I said, 'No one is getting served until you leave.' Needless to say, she was gone very quickly when about 15 patrons gave her a private escort to the door."
As he chats with us, Michael is also tending to a full bar, on a packed lunch service, on a Wednesday. Not only is L'escale a sought-after locale, but Michael is quite adept at making each of his customers feel like an old friend.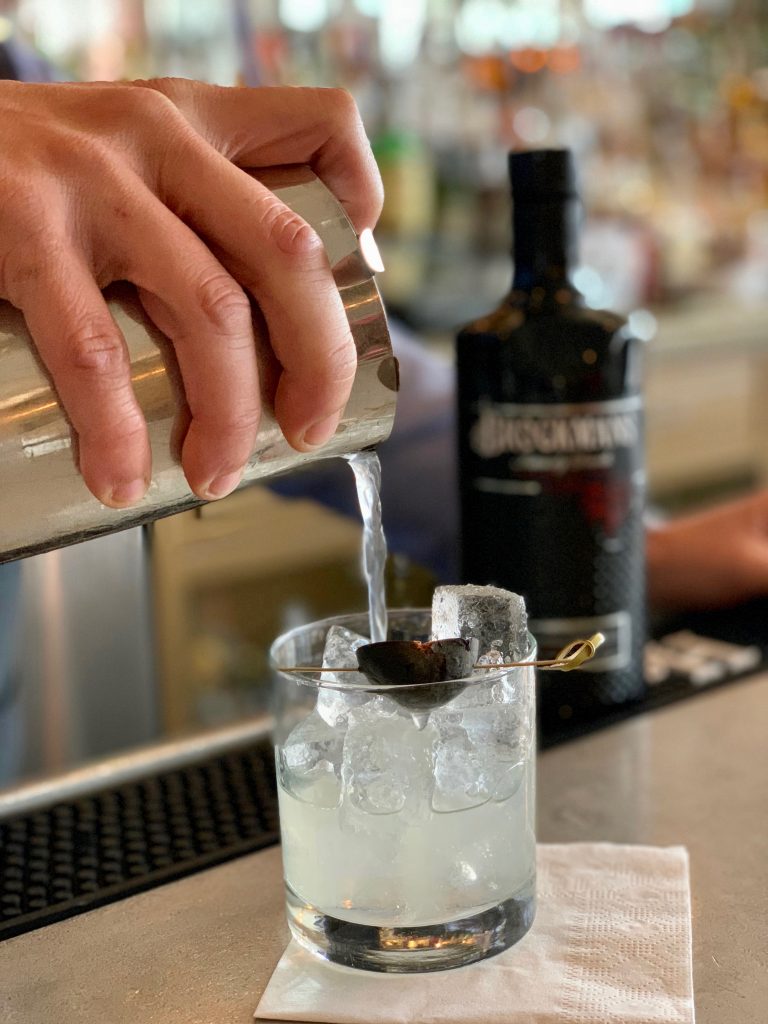 "Then there was the time Billy Joel was having lunch here one day. I knew it was him although he was disguised in a hat and plainclothes. He walked into the lounge and was looking at the piano. I said, "Excuse me sir, don't touch that thing unless you know how to play it,' and he proceeded to sit down and play. Everyone was dumbfounded when they realised who it was."
It is not difficult to see why L'escale has such draw. The space is very pretty, with water views and touches of distressed wood and wrought iron. Close your eyes and for a moment you're in the south of France, enjoying a bowl of steamed mussels. And, of course, the bar knows how to properly serve Brockmans.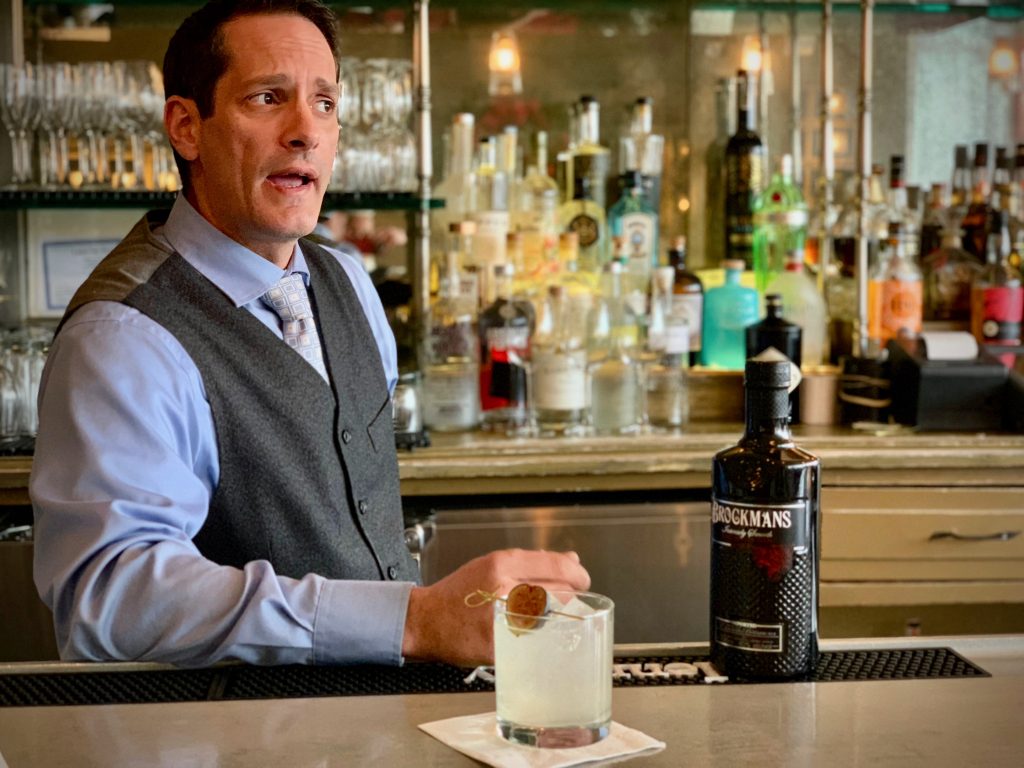 "I love that Brockmans is not heavy on the juniper, but rather on citrus and dark fruit notes. It's great for mixing cocktails but actually, it's even better on its own." We share a laugh, as Michael has just started making a cocktail with Brockmans for us, "La Dulce Vita." We agree that Brockmans is stellar on its own, but we also love seeing what bartenders can do with it.
We ask Michael if he's seen a shift in the gin category in his 20 years tending bar.
"I do see an upward trend in the new age gins over more traditional gin styles, for sure," Michael begins. "But I'll be honest: gin has always been consistent. Tequila, bourbon, vodka, they all trend, up and down. Gin is always at a steady pace. Here, I make a lot of gin martinis, but our gin cocktails have come a long way too."
La Dulce Vita
by Michael Kolesar
Ingredients
1.5 oz/45 ml Brockmans Gin
.25 oz/10 ml fig-infused honey syrup
.25 oz/10 ml lemon juice
ginger beer
Method
Add first three ingredients to shaker.
Shake vigourously, strain over fresh ice into a rocks glass.
Top with ginger beer and garnish with half of a fresh fig.
Pro tip: Feeling extra adventurous? Try this cocktail alongside a Brockmans Fruit Cake…