Introducing our latest Winter Cocktail Collection
For the festive season, we are serving up some stylish and elegant gin cocktails. Each one of them draws out the blueberry and blackberry notes and the bitter-sweet Valencian orange peel present in our gin.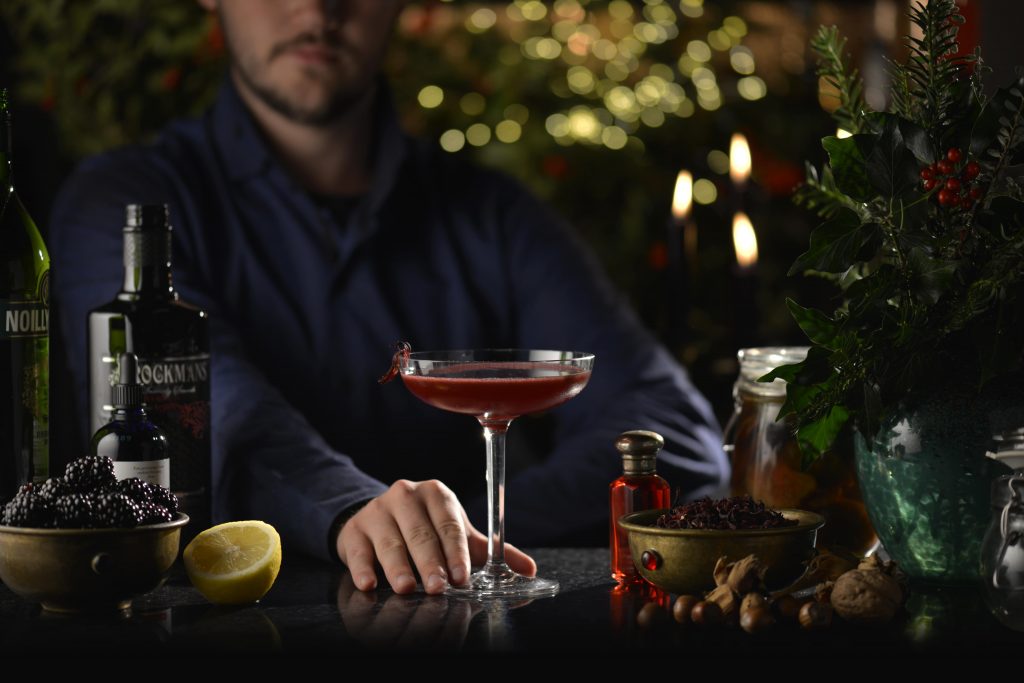 This is a wonderful wintery sip, with a refined and sophisticated complexity.
Ingredients
40ml Brockmans Gin
15ml Dry Vermouth
30ml Lemon Juice
20ml Hibiscus syrup
5 muddled blackberries
7 drops of Burlesque bitters
Method
Muddle the blackberries in a shaker and add all the ingredients then hard shake over ice cubes.
Double strain the liquid into a martini glass.
Garnish with a hibiscus plant outer leaf, a blackberry and thin plum slice on a wooden skewer or suitably dark edible flowers.

A smooth and heady golden cocktail that is elegant and delicious.
Ingredients
60ml Brockmans
20ml Calvados
30ml Apricot Brandy
2 dashes plum bitters
Method
Hard shake all the ingredients over ice cubes and strain into a coupette glass.
Garnish with two blueberries and a twist of clementine zest.

What sangria is to summer, this crowd-pleasing punch is to winter.
Ingredients
SERVES 6
150ml Brockmans Gin
1 bottle of Spanish Rioja
100ml simple syrup
100ml orange juice
1 sliced orange
1 handful fresh seasonal berries
6 cinnamon sticks (plus more spices such as star anise or cloves, if you like)
1 teaspoon whole peppercorns (in a sachet)
Method
Add all the ingredients to a slow cooker and stir to combine. If you like warm, winter spices you can add 5-6 star anise and cloves too.
Set the temperature to high and heat for one hour. Reduce the temperature to low to keep it warm for up to 5 hours. *If you don't have a slow cooker, simply place ingredients in a heavy-based casserole dish or saucepan, bring to the boil and simmer with the lid on leaving it on a very low heat for about 45 minutes without having a glass until your guests arrive!
To serve, spoon into insulated glassware. Add a few seasonal berries, a stick of cinnamon and a dehydrated or fresh orange or clementine slice.

A celebration of fruitiness…
Ingredients
40ml Brockmans
40ml Cream Sherry
1tsp red currant jelly
Method
Shake all the ingredients over ice cubes and strain onto crushed ice in a highball glass.
Garnish with a few seasonal berries, a sprig of fresh mint (if available) or a sprig of rosemary. To finish, sprinkle some ground cinnamon or mixed spice.