Come to New York for love, stay for your calling.
"Well, I moved to New York for love," Antonio begins. "But I quickly learned, New York is very expensive."
We're at Kill Devil, a dark, macabre new cocktail bar in Williamsburg, Brooklyn, where bar manager Antonio Molinero Gomez has a tale to tell. Having moved here from Mexico 11 years ago, Antonio confesses that the love that drew him to New York did not work out. But he doesn't regret his decision to move. Because while pursuing the means to support his new life (and love) in this expensive city, he unwittingly found himself a new passion: cocktails.
"I was getting food with a friend at a restaurant in the city, and my friend was friendly with the bartender there. The bartender turned to him and said, 'Man, I gotta fire my barback, he's drunk all the time, he's terrible. Do you know anyone?' And I volunteered myself. I had never been behind a bar, but I watched what the barback was doing, and I knew I could do it."
Antonio was hired on the spot, and without any formal training, spent his first day on the job figuring it out as he went. He quickly memorised what the bottles looked like, learned he should keep the ice well full, and figured out how to move quickly.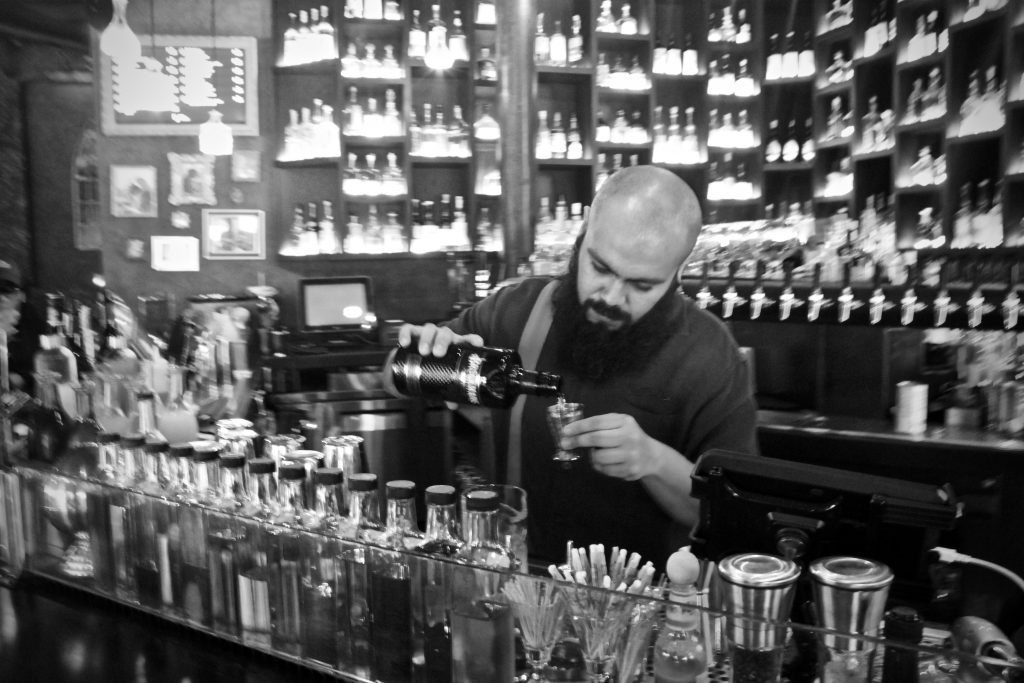 "At the end of the night, the bartender was counting tips, and after he gave me mine, I realized he made double than what I did. So I decided, I have to learn to do what he does. I need that money. I need to be a bartender."
So he taught himself–he bought books and a kit, asked friends, whilst practising in his free time. He learned the classics–martinis, margaritas, Manhattans–and watched the bartenders he worked alongside. One day, during a busy brunch shift, he took a risk and started to make drinks to help his coworker who was buried in tickets.
"So the bar manager came by and saw me shaking and I wasn't supposed to be shaking. He tasted one of my drinks, said, 'Ok,' and walked away. Later that day he called me into his office. I thought I was going to be fired. He turned to me and said, 'Ok, you have two days as a bartender, and two days as a barback.'"
Antonio has us captivated. We've asked him just one question and he has taken us on a journey from Mexico to the moment when his risk-taking got him his first bartending stint. Our surroundings certainly help. Kill Devil spared no detail in setting the mood: dimly lit, an extensive selection of rare and common liquor, and occasional animal skulls on the walls. It feels like this place was designed to serve Brockmans.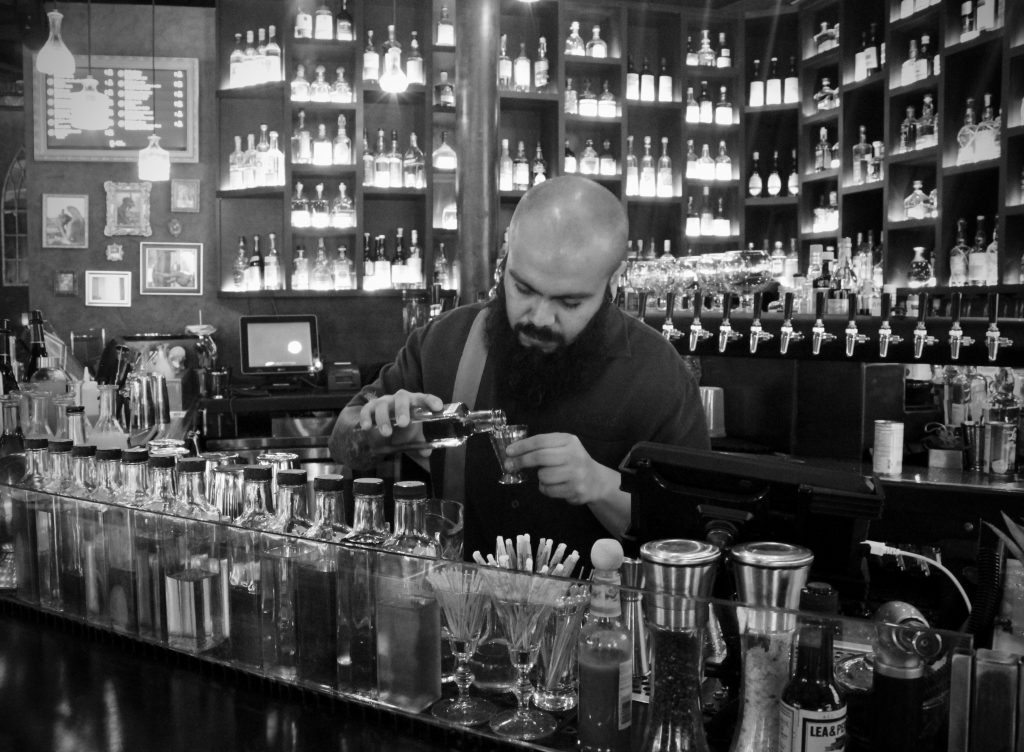 Which brings us to the biggest reason we're here. A fan of Brockmans from the first time he tried it, Antonio starts to make us his fall menu Brockmans cocktail, "Frozen Lake." But his story isn't quite finished…
The more he tended bar, the more he wanted to learn. The more he learned, the more interested in spirits he became. From learning to bartend out of necessity, Antonio found himself smitten.
"At work, I would walk into the liquor room, and take photos of the bottles I didn't know. Later, I would look them up. I was blown away by how many different flavours are available."
As incredible as Antonio's motivation to learn has been, his journey from his first shift bartending to running the bar at Kill Devil has not been an easy one.
"I hate to say it, but speaking as a Latino, it's hard to get bartending jobs sometimes," he tells us. "People think, because I'm Mexican, that I'm just a barback. Not everyone has this ideology, but some people still do. The good thing is, it's made me work even harder."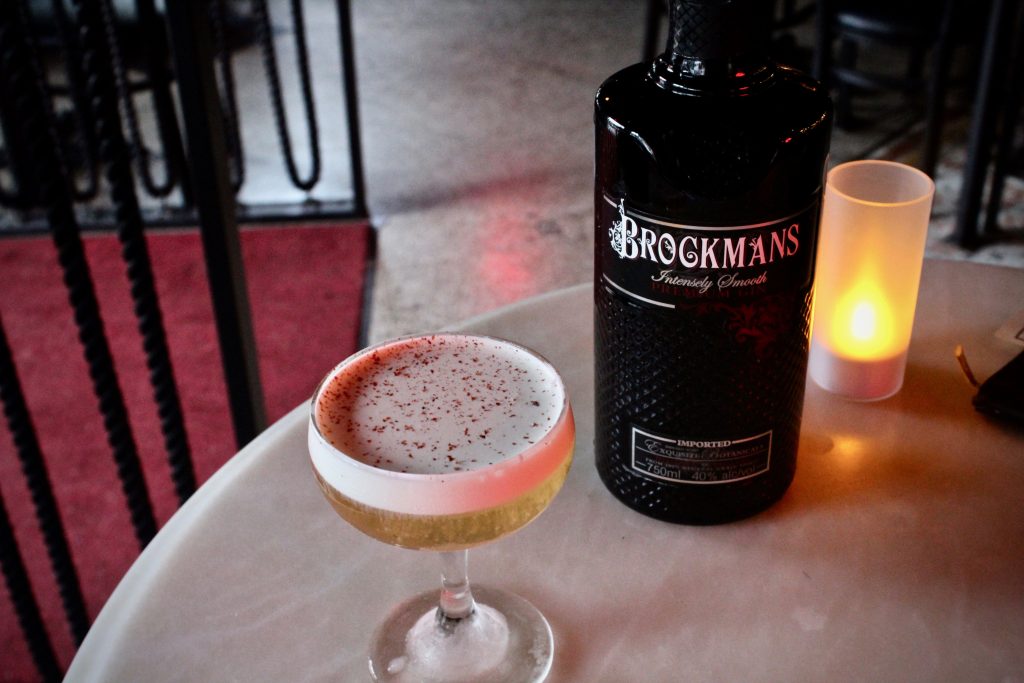 By now, Antonio has built, stirred, and strained his cocktail into the chilled coupe glass in front of us. The last step is a float of cream. After this story, we have no doubt this will be incredible.
"This place, this is an expression of all the places I've worked before," he says, looking around. "This is me. This is my savings for 10 years. All I'll say is, if you have an opportunity, take it.  
Not surprisingly at all, the "Frozen Lake" is a delight. Chocolate, orange, and vanilla compliment the spice and dark berry notes of the Brockmans, and the cream gives it richness.
Years of learning, hustling, and honing turned Antonio from a bartender out of necessity to a bartender out of love for the game. He may not still have the love that brought him to New York, but he unwittingly found another.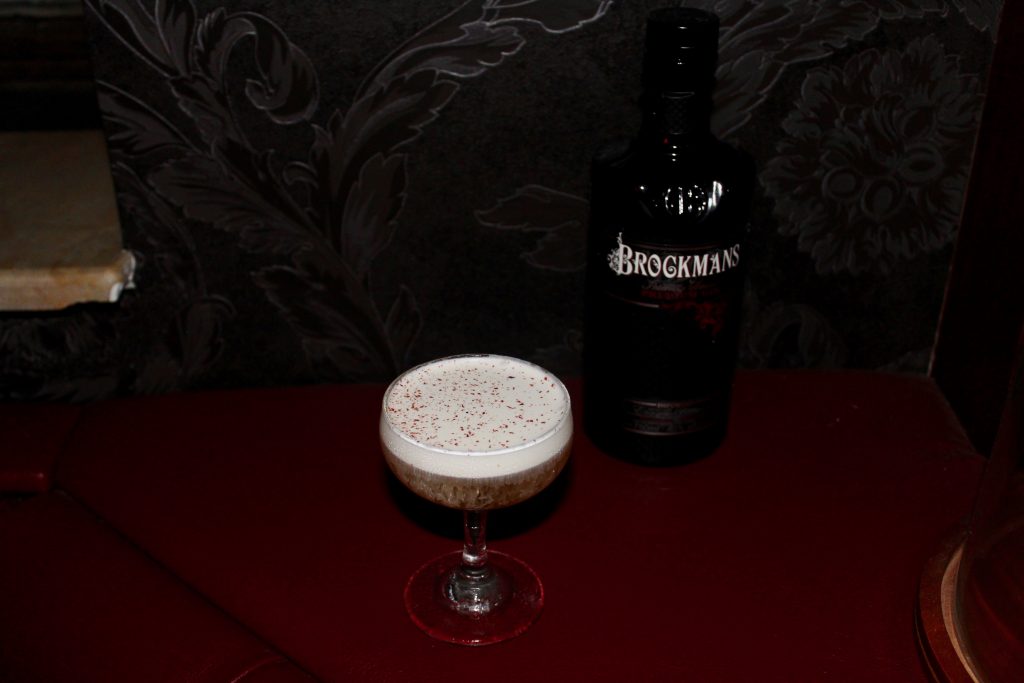 Frozen Lake
by Antonio Molinero Gomez
Ingredients
1.5 oz/45 ml Brockmans Gin
2 dashes chocolate bitters
.25 oz/7 ml creme de cacao
.25 oz/7 ml Licor 43
.25 oz/7 ml dry curacao
heavy cream, slightly whipped and flavored with biscotti liqueur
Method
Add all ingredients except whipped cream into mixing glass.
Add ice, stir until cold.
Strain into a chilled coupe. Top with a float of the flavored cream and freshly shaved cinnamon.
Tip: Have this drink alongside our newest recipe, Brockmans Gin Religieuse. You don't have to thank us…