A4cade, in Cambridge, Massachusetts, is unlike any other bar we've been to before. Hidden behind a grilled cheese shop, beyond a door that looks like it leads to a walk-in fridge, is a vast window-less bar packed to the corners with video games. Yes, you read that correctly. Plenty of bars have pinball machines, or a small handful of board and arcade games, but A4cade is different. Den-like and yet lit by the bright colors of arcade games old and new, this bar wants you to live your childhood fantasy with a drink in your hand. And would you believe it, games are a whole lot more fun with a Brockmans.
We're chatting with Tainah Soares, bar manager at A4cade, who tells us that their Brockmans cocktail, the "Bramble On", is a fan favourite.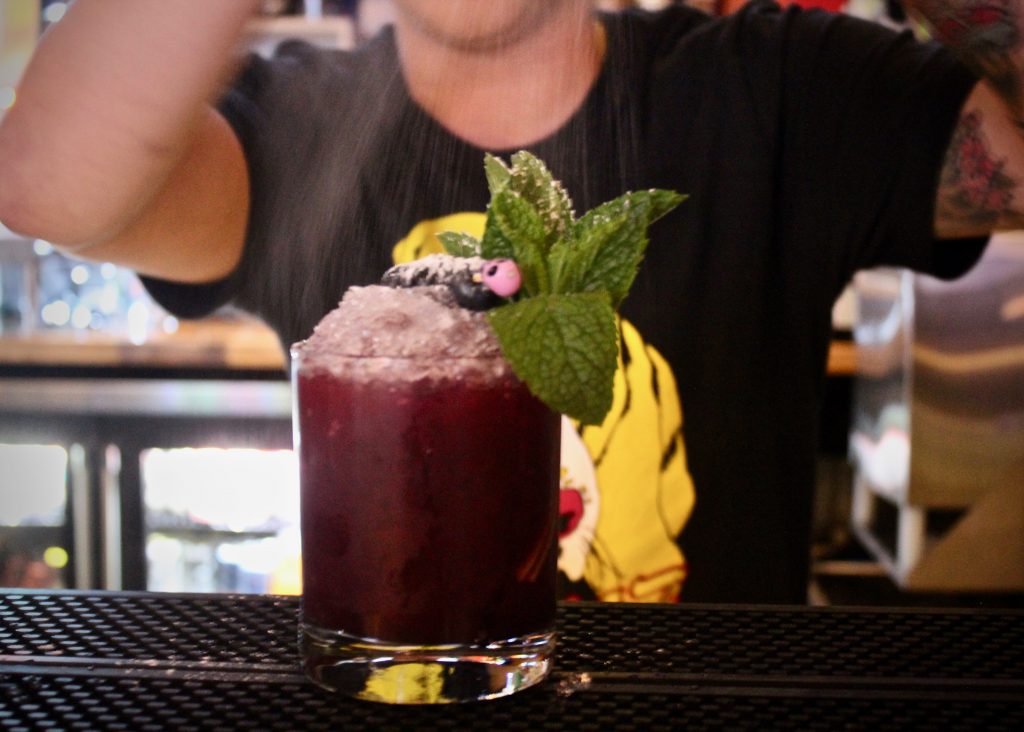 "The cocktail scene has grown so much here, and it's really awesome to see," she says. "And the crowd here is truly mixed. University people, after work crowd, even people travelling to Cambridge from Boston to have fun with us."
For a bar dedicated to play, we're not much surprised. As we talk, the sounds of racing games and pinball beckon us away from the bar. But we have a drink to drink first.
The name, "Bramble On" reveals only a part of what the drink provides. With blueberries, Brockmans Gin, and citrus, it is a bramble, to be sure. But there's something else coming through the blueberry, something savory, something unexpected.
"Szechuan peppercorn," Tainah says, smiling. She sees we're trying to figure it out.
For the uninitiated, Szechuan peppercorn is known for the tingly effect it leaves on your tongue. For some, it makes your mouth just a little bit numb. For others, it makes you salivate. In this drink, it's subtle, but certainly present—it gives the drink complexity, and a certain spicy je ne sais quoi. It is a little crazy, but it works.
Then again, that's what A4cade is all about. It feels like childhood, but it's also a bar. It's a popular bar, but it's hidden behind a grilled cheese shop. The cocktails are serious, but the vibe is most certainly not. It is a little crazy, but it works.
Bramble On
by Tyler Murphy (made by Tainah Soares)
Ingredients
1.5 oz/ 45 ml Brockmans Gin
.75 oz/ 25 ml blueberry Szechuan puree
.75 oz/25 ml 2:1 demerera syrup
.75/25 ml lemon juice
Method
Add all ingredients to tin.
With 3-4 pebbles of crushed iced, briefly shake to incorporate the ingredients.
Pour into the bottom of a rocks glass, and top generously with crushed ice.
Garnish with a mint bouquet, a skewer of blueberries, and a dusting of powdered sugar.