"It's just food and drink, guys," Max Fiore says, laughing. We're at Olives and Oil in New Haven, Connecticut, and Max, the bar manager, is regaling us with anecdotes from his tenure in the industry. As opposed to many, Max loves having his hands full. He enjoys solving problems, such as a cantankerous chef, or a pushy customer, and simply doesn't understand why being in a restaurant has to be so stressful.
Being in the gin business, we completely agree. Restaurant experiences are supposed to be relaxing (that's what gin is for), and Olives and Oil is a prime example of such a place. Located in the heart of a thriving food and drink scene near Yale University, the restaurant stands out for its superb Italian menu, delightful cocktails, and playful 1960s Italian décor. The menu is a perfect example of the restaurant's aesthetic: Fashioned like a magazine, it announces "grapes on tap" and displays lipsticked women on Vespas and vintage liquor advertisements.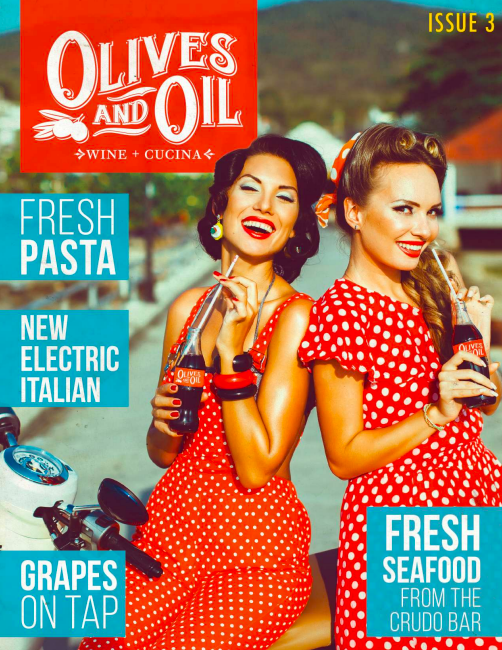 Having started in the kitchen, Max is no stranger to keeping it cheerful. At an old job, the sous chef would "lose it" often, and Max learned quickly how to diffuse the situation.
"All I had to do was whisper a dirty joke in his ear, and he'd start laughing immediately," Max tells us, mischievously. "He'd suddenly forget why he was so mad at one of his cooks, or at a server. From then on, I became the problem solver."
Thankfully, at Olives and Oil, Max seldom has to solve personnel problems. His clientele is mainly professionals, university students, and members of the industry, who come in to relax and have a pizza and a cocktail. When he wants to get inventive with cocktails, he finds that people are receptive to trying new things.
"If someone is taking a long time to figure out what they want to drink, I offer to make something up for them," Max tells us. "It almost always works. They feel special, and I get to play around with new ideas."
In the spirit of new ideas, Max makes us an autumn Brockmans cocktail he's been tooling with. As it is pretty new, it doesn't (yet) have a name. We don't really mind. It's just food and drink, after all.
(yet-to-be-named Autumn Cocktail)
by Max Fiore
Ingredients
1.5 oz/45 ml Brockmans Gin
1 oz/30 ml pomegranate juice
.5 oz/15 ml blueberry shrub*
.25 oz/7 ml lime juice
1 egg white
absinthe
cinnamon stick
Method
Add the first five ingredients to your tin.
Dry shake (without ice) vigourously for 15 seconds.
Add ice to the tin, and shake again.
Double strain into a chilled coupe.
Garnish with freshly grated cinnamon and a spritz of absinthe.
For the shrub:
1 cup/24 cl blueberries
2 cups/48 cl red wine vinegar
2 cups/48 cl white sugar
a large pinch of salt
Blend all ingredients together. Let steep for 20 minutes, then strain through a cheesecloth.