In Crown Heights, Brooklyn, on a buzzy street near the Brooklyn Museum, sandwiched narrowly between a hair supply store and another bar, is Butter and Scotch. With just a sandwich board and a neon sign advertising "Cocktails and Dreams" to usher you in, this narrow storefront may not seem like much. But inside, four women run a bar and bakery that serves a lot more than just sweets and drinks (although those are also quite sublime).
Step inside and you'll find a long, narrow bar adorned with Christmas lights, neon signs, tchotchkes, an impressive selection of booze, and various decorative pieces declaring feminist rallying cries such as "Mind Your Own Uterus" and "Believe Women." In a word, Butter and Scotch is not subtle. The two women who own the place infuse booze into their desserts and social justice into their business practices and are here to empower women, with both their words and their money (For example, a dollar from each cocktail sold goes to Planned Parenthood). True to form, as today was a primary election in New York State, several of the staff members are wearing "I Voted" stickers.
While the cocktails the staff create here on a seasonal basis are quite high-level, they are in no way pretentious about it. At each R&D meeting for the new menu, every member of the staff is encouraged to contribute flavors, specs, themes, and names, and it doesn't matter if you're a seasoned bartender, or a member of the kitchen. Case in point is Steph Gallardo, the Kitchen Manager-turned-General Manager who's never worked a bar shift in her life, but who's contributed a few drinks to the Butter and Scotch menu. Her Brockmans cocktail, the "Spirit Stick Spritz", has been one of the bar's biggest summer hits.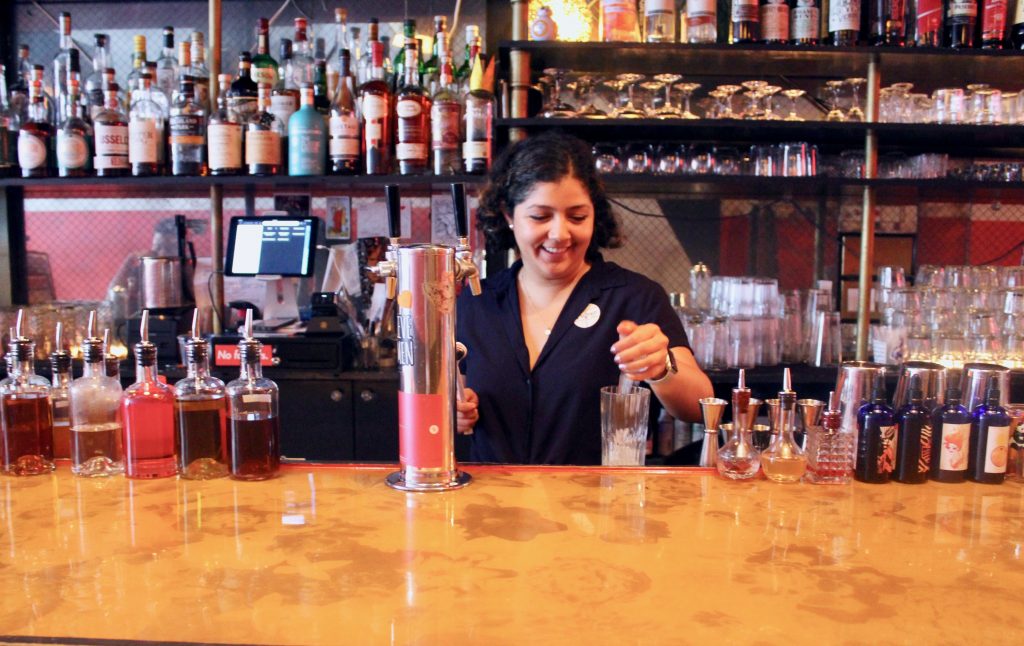 "I honestly don't know enough about bartending, or about what makes a sour a sour, for example," Steph admits. But what she may lack in technical bar experience, she more than makes up for in baking knowledge. Having been the kitchen manager on the bakery side for over two years, she certainly knows about flavor profiles.
"I try to keep things simple and minimal, like I do with my baked goods. So when it came to translating my idea into a cocktail, I didn't need to ask for that much help. Except if something should be shaken or stirred, or served over cracked ice, or whole ice, or up."
She chose to serve the "Spirit Stick Spritz" over cracked ice, which involves holding an ice cube in one hand and smacking it with a metal-ended ice cracker with the other. It can be messy and loud, and Steph laughs as she does it. She concedes that while she created the drink, she rarely has to make it in front of anyone else. We ask her how she came up with this cocktail, which has banana liqueur, cardamom, black pepper, and yuzu.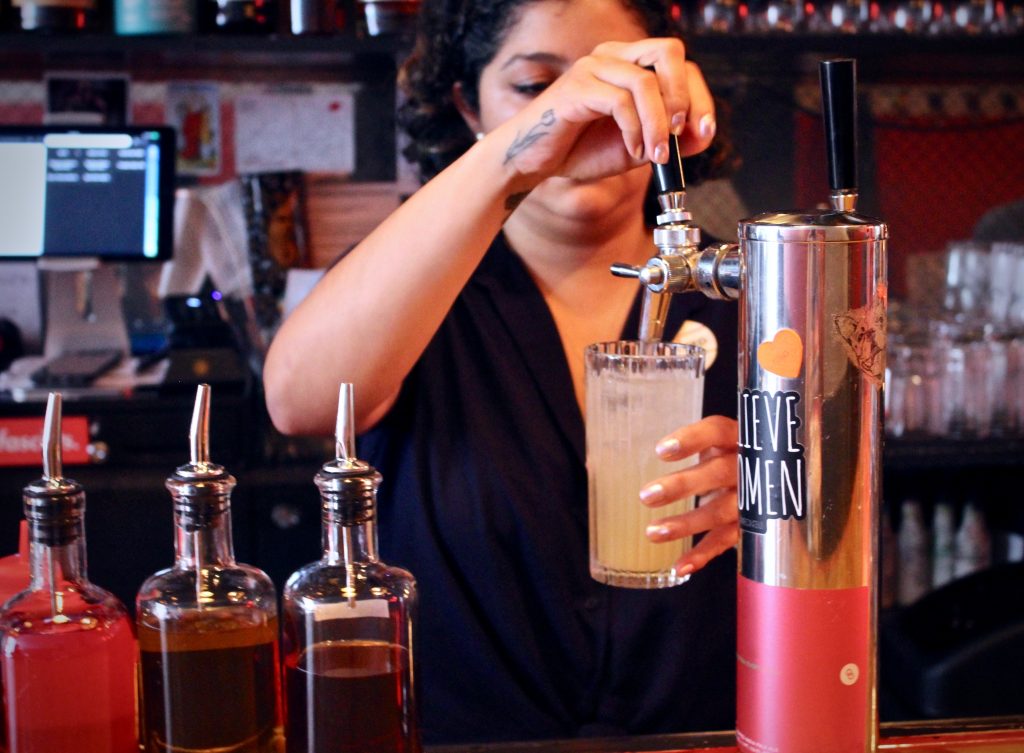 "A lot of the drinks I've made have been based upon baked goods I like," she says, piling her freshly cracked ice into a highball glass. "This drink is a riff off a banana bread I used to make at a previous bakery. Their secret was cardamom and black pepper. I thought it would work really well with Brockmans. The last thing it needed was something bright, so I thought yuzu, because it's just a delicious little citrus."
As Steph has transitioned recently from Kitchen Manager to General Manager, we ask how her new job has been treating her.
"It's been a learning journey, for sure," she says, laughing. "What it's given me is more time to do stuff like this, make more drinks, become more involved in front of house, which, as you know, I don't have a whole lot of experience in."
Tasting the Spirit Stick Spritz, however, you would never know its creator has never worked a day behind a bar. The cardamom and black pepper are great foils to the Brockmans, playing nicely off the spice botanicals layered in the gin. The banana gives it a hint of the tropical, and the yuzu lifts the whole thing up. Served over cracked ice and topped with seltzer, it is no wonder this drink flies off the kitsch-covered shelves.
The Spirit Stick Spritz
by Stephanie Gallardo
Ingredients
1.5 oz /45 ml Brockmans Gin
.75 oz/22 ml banana liqueur
.5 oz/15 ml yuzu-cardamom/black pepper syrup*
Method
Crack 4-5 cubes of ice into a highball. (The back of a barspoon will do, but be careful!)
Add Brockmans gin, banana liqueur, and yuzu-cardamom-black pepper syrup to highball glass.
Top with seltzer, and give a quick whirl with a barspoon or straw. Garnish with a paper or compostable straw.
For the Syrup:
1 c/240 ml white sugar
1 c/240 ml water
1 c/240 ml yuzu puree
.25 c/60 ml cardamom pods
.25 c/60 ml black peppercorns
Toast cardamom pods and black peppercorns in a small saucepan until fragrant, about a minute. Add water to boil. Add sugar and yuzu puree to dissolve. Take off the heat, transfer to a container, and allow to step overnight in the refrigerator. Strain.